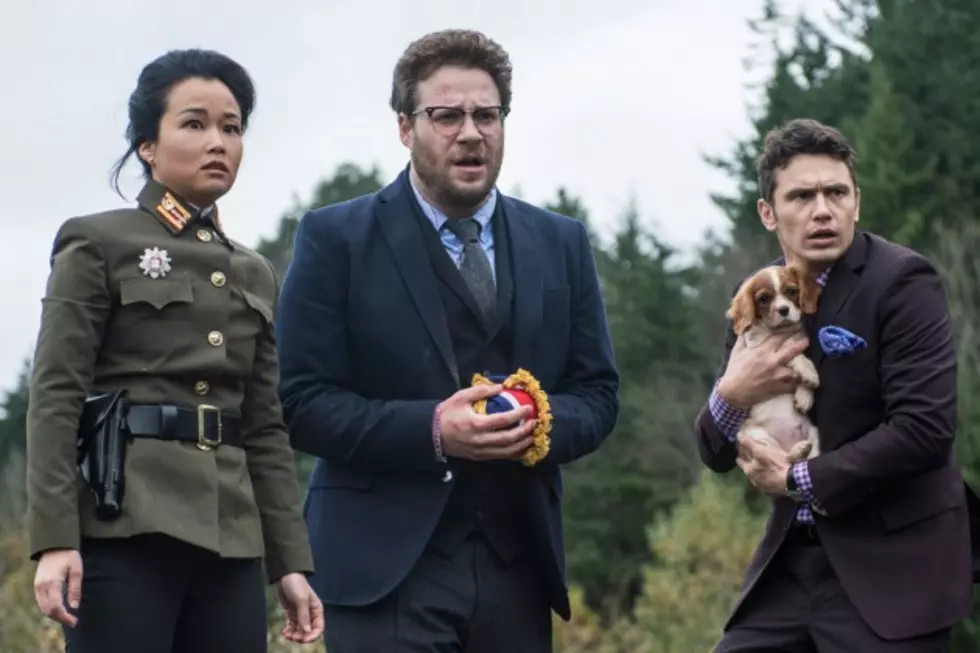 'The Interview' Had a Big Opening Weekend Online
Sony Pictures
Did you rent 'The Interview' online over the Christmas weekend? You did? I hope you were not assailed by nefarious hackers! Change all your passwords, just to be safe.
Regardless, your purchase or rental of 'The Interview,' Seth Rogen and Evan Goldberg's ultra-controversial poop-joke-laden comedy about the attempted assassination of North Korean dictator Kim Jong-un (and poop jokes), helped make the film the biggest digital release in the history of Sony Pictures. After many of the country's major theater chains declined to screen the film in the wake of threats of violence (by those same nefarious hackers), Sony canceled 'The Interview''s release outright. But then, early on Christmas Eve, they did an about-face, and made the film available on Google Play, YouTube, and Xbox Live. (It's since been added to Apple's iTunes Store as well.)
Despite the last-minute switcheroo, at a time when a lot of folks were away from their computers and (vom) spending time with their families, 'The Interview' still had a big weekend online. According to Variety, the film was "rented or downloaded more than 2 million times since hitting the web on Tuesday," and had "earned $15 million online through Saturday." Its limited theatrical release in arthouses and smaller chains around the country brought in another $2.8 million in that same time frame. Combined, that brings 'The Interview' pretty close to the $20 million in domestic grosses it was expected to make in its debut before the whole Sony email hack kerfuffle.
This could end up being even bigger news for the movie industry as a whole than it is for Sony and Rogen specifically. The major studios' past attempts to try day-and-date releases on big projects (or even early VOD and online sales a few weeks later) have all gone poorly. But charging a very fair price for 'The Interview'—and riding a major wave of publicity—they've made some very fiscally responsible lemonade out of some viciously hacked lemons. After all the controversy and backlash, 'The Interview' might actually be the first movie in an important new trend (releasing major studio films online; not bromantic comedies about the killing of cranky foreign dictators).