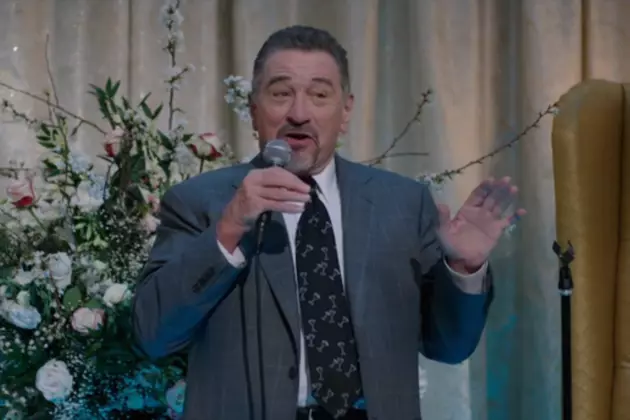 Robert De Niro, Uma Thurman and Christopher Walken Start 'The War With Grandpa' in New Comedy
Sony Pictures Classics
In the '70s, Robert De Niro and Christopher Walken starred in the seminal Vietnam War film The Deer Hunter. It ranks among the more harrowing entries in an already brutal genre, unflinchingly depicting the conditions of abject inhumanity in the war zone and then bringing the trauma home to spiritually gut a declining Pennsylvania industry town. A lot has taken place since then, however. We're now living in a post-Dirty Grandpa world. The news of another collaboration between De Niro and Walken no longer heralds an intense drama with awards potential in its very DNA. They're now the twin titans of Grandpa Cinema, and their latest project has to reflect that.
Deadline announced that all systems are go on The War With Grandpa, a new family-friendly comedy starring Academy Award winners De Niro and Walken as cantankerous oldsters. The Deadline item also announced the casting of Uma Thurman and Jump Street regular Rob Riggle in supporting roles, but moreover, it lays out the unlikely story of how this project came together: Rosa Morris-Peart, CEO of production house Marro Films, established a house rule that her son Marvin would have to read a film adaptation's source book before being permitted to see the movie version. (This is why the boy tore through all the Harry Potters at age five.) He brought his mother the kid-friendly novel The War With Grandpa and requested to see the movie, only to learn that none existed. One green light later, this now-11-year-old child has landed his first producer credit.
De Niro will star as a coot moving in with his adult children, forced to share a bedroom with his grandson, who does not take kindly to his new roomie. An all-out prank war breaks out between the two as each attempts to pressure the other into vacating the space; Thurman and Riggle will ostensibly portray the parents, though Walken's role remains unclear. What's clear is that this is a slam dunk of an idea! When has a studio taking notes from a child ever gone wrong before?