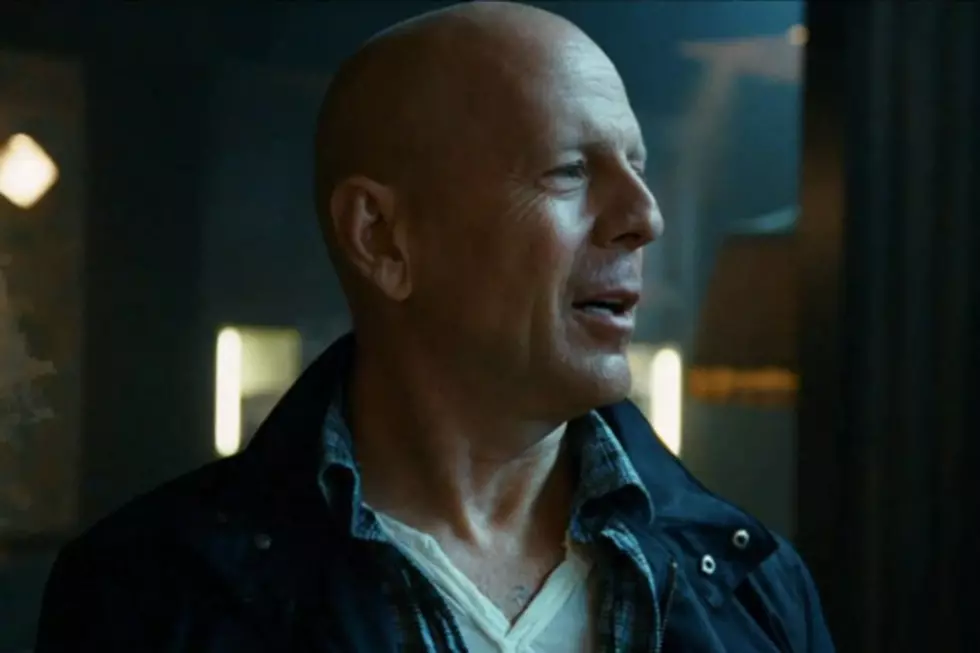 Weekend Box Office Report: A Good Day to be 'A Good Day to Die Hard'
20th Century Fox
In retrospect, it's easy to say "Of course the new 'Die hard' movie was going to open at number one at the box office!" but you can bet Bruce Willis and company were a little worried. After all, 'A Good Day to Die Hard' opened in the wake of the failure of 'The Last Stand,' 'Parker' and 'Bullet to the Head,' three other macho, R-rated movies starring modern action icons. However, the strength of the 'Die Hard' brand seems to have broken that trend: John McClane's fifth outing made $25 million over the weekend.
Film
Weekend
Per Screen
1
A Good Day to Die Hard
$25,000,000
$7,036
$33,239,000
2
Identity Thief
$23,437,000 (-32.2)
$7,405
$70,725,000
3
Safe Haven
$21,430,000
$6,649
$30,259,000
4
Escape From Planet Earth
$16,066,000
$4,886
$16,066,000
5
Warm Bodies
$9,000,000 (-20.7)

$3,107
$50,221,000
6
Beautiful Creatures
$7,460,000
$2,529
$10,002,000
7
Side Effects
$6,307,000 (-32.2)
$2,421
$19,128,000
8
Silver Linings Playbook
$6,088,000 (-5.2)
$2,765
$98,462,000
9
Hansel and Gretel: Witch Hunters
$3,470,000 (-39.7)
$1,650
$49,699,000
10
Zero Dark Thirty
$3,100,000 (-22.6)
$2,037
$88,029,000
When you combine 'A Good Day to Die Hard's weekend gross with its opening day (it opened on Thursday to take advantage of the holiday weekend), it's grossed $33 million so far, which is approximately what 'Live Free or Die Hard' made in its opening weekend five years ago. Not too shabby for a franchise whose best days began and ended with the first film. The previous 'Die Hard' ended up grossing $134 million, but audiences and critics aren't quite as hot on the new one. Next week will see whether or not it can match its predecessors.
In second place, 'Identity Thief' took a minor 32% drop for a $23 million gross, bringing its two week total to $70 million. $100 million is a certainty, but there's a strong chance at $150 million here is audiences keep coming back through March. In any case, Melissa McCarthy is officially a star, so expect to see her in a lot of movies in the next few years.
In third place, 'Safe Haven' opened with a strong $21 million ($30 million if you include Thursday), which is about what you'd expect from a Nicholas Sparks adaptation that hit theaters on Valentine's Day. It won't do 'The Notebook' business, but it's already made back its budget, so everyone else is just extra cash for everyone at this point.
In fourth place, 'Escape From Planet Earth' made $16 million in its opening weekend, which isn't too shabby for a cheap (by Pixar/Dreamworks standards) animated movie that no one seemed to know anything about. Unless it's completely abandoned next week, it should at least be a minor hit, mainly because it's the only kid-friendly thing out there right now.
In fifth place, 'Warm Bodies' took a minor drop for a $9 million weekend and a $50 million total. That's not amazing, but it's certainly not bad. It's solid. Everyone involved will get to work again, which is sometimes all you need.
In sixth place, the weekend's final new release, 'Beautiful Creatures,' limped onto the scene with $7.4 million. It'll vanish next week.
As for the rest of the top ten...
'Silver Linings Playbook' will hit $100 million in the next few days, just in time for the Oscar ceremony next week. 'Zero Dark Thirty' isn't too far behind it, but if $100 million is in its future, it'll have to hang on for a few more weeks. 'Side Effects' isn't doing too hot, but it also had a better-than-average drop, so it'll probably break even. And 'Hansel and Gretel: Witch Hunters' will crack $50 million any day now, which better than a movie with that title deserves.
Outside of the top ten, 'Lincoln,' 'Life of Pi' and 'Argo' continued to perform well, making this the rare year were virtually every Best Picture nominee is a hit. Heck, Michael Haneke's 'Amour' may be at spot number twenty, but with $4 million in the bank, it's handily out-performed the rest of the notorious director's other work.
Next week sees the release of 'Dark Skies' and 'Snitch.' Don't be surprised is one of this week's films clings to the top spot.