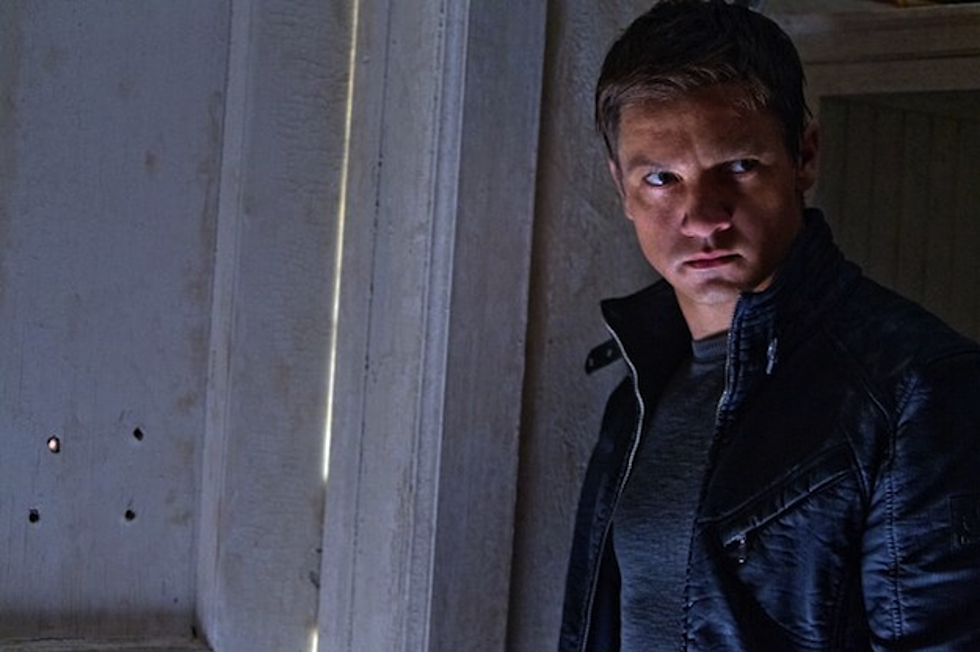 Weekend Box Office Report: 'The Bourne Legacy' and 'The Campaign' Take the Lead
After nearly a month at the top of the box office, Batman has fallen. In his place stand two new Hollywood champions: 'The Bourne Legacy' and 'The Campaign,' both of which opened to strong numbers. Still, these solid openings won't blow anyone's socks off, mainly because we've seen the likes of these do so much better in the past.
| | | | | |
| --- | --- | --- | --- | --- |
| | Film | Weekend | Per Screen | Total |
| 1 | The Bourne Legacy | $40,265,000 | $10,752 | $40,265,000 |
| 2 | The Campaign | $27,440,000 | $8,562 | $27,440,000 |
| 3 | The Dark Knight Rises | $19,540,000 (-45.3%) | $5,295 | $390,149,000 |
| 4 | Hope Springs | $15,600,000 | $6,607 | $20,053,000 |
| 5 | Diary of a Wimpy Kid: Dog Days | $8,200,000 (-43.9%) | $2,413 | $30,554,000 |
| 6 | Total Recall | $8,100,000 (-68.3%) | $2,249 | $44,188,000 |
| 7 | Ice Age: Continental Drift | $6,750,000 (-21.6%) | $2,176 | $144,064,000 |
| 8 | Ted | $3,290,000 (-41.7%) | $1,490 | $209,915,000 |
| 9 | Step Up Revolution | $2,850,000 (-51.9%) | $1,502 | $30,165,000 |
| 10 | The Watch | $2,200,000 (-66.3%) | $894 | $31,374,000 |
Let's first take a look at the current box office winner, 'The Bourne Legacy.' That $40 million opening is significantly higher than the $27 million that 'The Bourne Identity' opened to in 2002, but it's a step down from the $52 million and $69 million openings of 'The Bourne Supremacy' and 'The Bourne Ultimatum.' There's a pretty obvious reason for this: no Matt Damon. Although audiences generally like Jeremy Renner and he's found himself attached to plenty of blockbusters in the past year, his name alone isn't strong enough (yet) to bring out the audiences. The connection to the 'Bourne' franchise was more than enough to give this rebootquel a worthy opening, but we'll have to wait to part five to see if audiences are truly ready to embrace Renner as the new face for this franchise. Nothing to be ashamed of and probably expected by everyone at Universal.
In second place, 'The Campaign' opened strong, but both of its leading men have seen stronger. As a member of the 'Hangover' franchise, Zach Galifianakis is a key member of one of the most successful comedy series of all time and ever since 'Talladega Nights,' $40 million plus openings have been a common occurrence for Will Ferrell. What happened here? The reviews ran positive and the trailers killed, but the film's political story may have been a bit much for a nation currently exhausted by actual buffoons in/running for public office. 'The Campaign' will surely get to $80 million, but the big $100 may be just out of reach.
And then we arrive at 'The Dark Knight Rises.' $19 million. Nearly $400 million total domestic gross. It still has a few weeks of life it in. $500 million is a slim chance, but $450 will leave Warner Bros. smiling. Moving on!
'Hope Springs' opening to $15 million may not look particularly strong, but Meryl Streep movies tend to have stronger legs than most. 'The Devil Wears Prada,' It's Complicated,' 'Mama Mia' and 'Julia & Julia' all rode good-but-not-great openings to exceptional final grosses, so it would not be surprising at all if this one hung around for a bit and only took minor percentage drops from week to week. For a middle-aged woman who has no appeal for thirteen year old boys, Streep is one of the most reliable box office draws working today.
How embarrassing must it be for 'Total Recall' that 'Diary of a Wimpy Kid: Dog Days' outgrossed it this weekend? Although 'Total Recall' will ultimately gross more, the third 'Diary of a Wimpy Kid' movie will be seen as the bigger success. Ouch.
And then there's the rest. 'Ice Age: Continental Drift' is a hair away from hitting $150 million, which the bare minimum that this movie wanted and needed to be a success. 'Ted' is about to leave theaters as a massive hit, so these last few millions are just gravy. As for 'Step Up Revolution' and 'The Watch'? If their financiers are lucky, people will soon be done quietly shaming them.
Next weekend, the old school will take on the new school as 'The Expendables 2' arrives to take down 'The Bourne Legacy.' See you then!