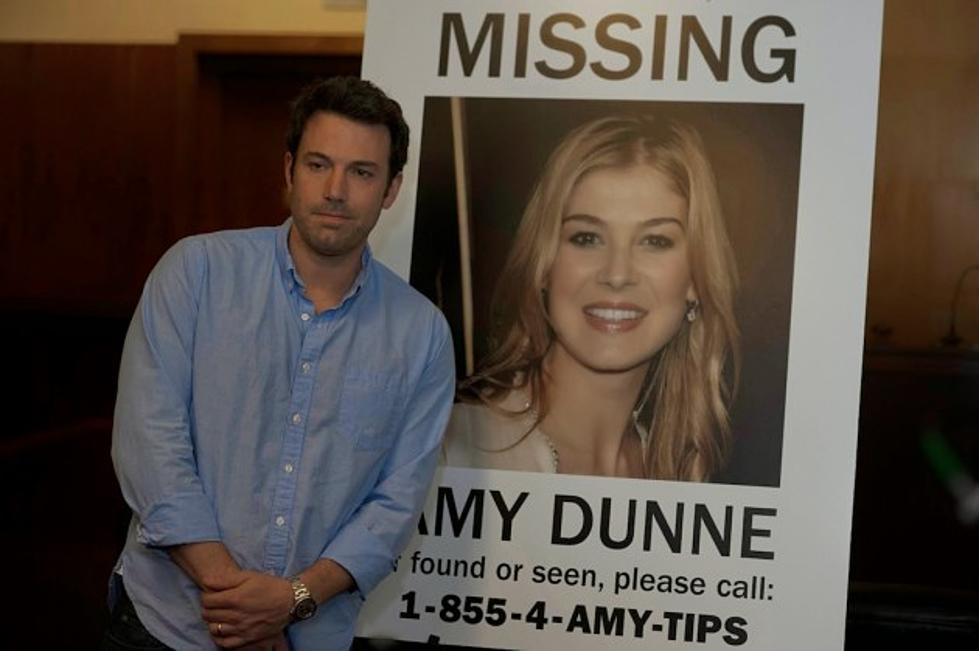 Weekend Box Office Report: 'Gone Girl' Vanquishes the Competition
20th Century Fox
'Gone Girl' may have barely won its first weekend at the box office over 'Annabelle,' but in its second week of release, it emerged as the real victor. Fighting off tons of new competition, David Fincher's thriller held onto the number one spot and made it look easy.
Film
Weekend
Per Screen
1
Gone Girl
$26,800,000 (-29%)
$8,161
$78,281,000
2
Dracula Untold
$23,456,000
$8,125
$23,456,000
3
Alexander and the Terrible, No Good, Very Bad Day
$19,100,000
$6,185
$19,100,000
4
Annabelle
$16,365,000 (56%)
$5,090
$62,155,000
5
The Judge
$13,330,000

$4,439
$13,330,000
6
The Equalizer
$9,725,000 (-48%)
$3,120
$79,885,000
7
Addicted
$7,600,000
$8,983
$7,600,000
8
The Maze Runner
$7,500,000 (-36%)
$2,441
$83,839,000
9
The Boxtrolls
$6,676,000 (-44%)
$2,042
$41,032,000
10
 Meet the Mormons
$3,500,000
$11,041
$3,500,000
'Gone Girl' dropped a tiny 29% in its second weekend, grossing $26 million for a $78 million total. A percentage drop that small is an indicator of positive word of mouth and strong water cooler buzz -- 'Gone Girl' did this well on week two because the people who saw it during week one went out and raved about it to their friends and family. That's the kind of advertising you can't buy. The only way to get that is to make a good movie. The film will definitely break $100 million (and definitely become Fincher's highest grossing film), but we'll see how far word of mouth can take it in the month ahead.
Meanwhile, 'Annabelle' did what horror movies always do in their second weekend: it sank like a stone, dropping 56%. But don't fret too much. That $16 million weekend and $62 million gross ensure that it is a massive hit and had made back its tiny budget many times over. Not even a plummet to fourth place can mask that.
It was a good weekend for the new releases, too. 'Dracula Untold' overcame toxic reviews to open with $23 million, which is a solid but unremarkable number. It could die on the vine next week, but it's a nice enough start for a potential franchise. Right below it, 'Alexander and the Terrible, No Good, Very Bad Day' opened with a decent $19 million. Like with 'Dracula Untold,' it's difficult to say if this will blossom into an actual hit, but everyone should be cautiously optimistic. (It probably didn't cost that much.)
Things weren't quite so hot for 'The Judge,' which opened with a mediocre $13 million. Like so many other non-Marvel Robert Downey Jr. movies, this one is doing decent but entirely unremarkable business. Sure, watching Iron Man team up with Robert Duvall is cool, but it's not the kind of thing that lights the box office on fire.
In the bottom half of the top 10, 'Addicted' opened with a weak $7 million and, somewhat inexplicably, 'Meet the Mormons' opened with $3.5 million, playing to its niche like a boss. Around them, 'The Equalizer' and 'The Maze Runner' continued their slow treks to $100 million, while 'The Boxtrolls' crossed its fingers and hoped for $50 million.