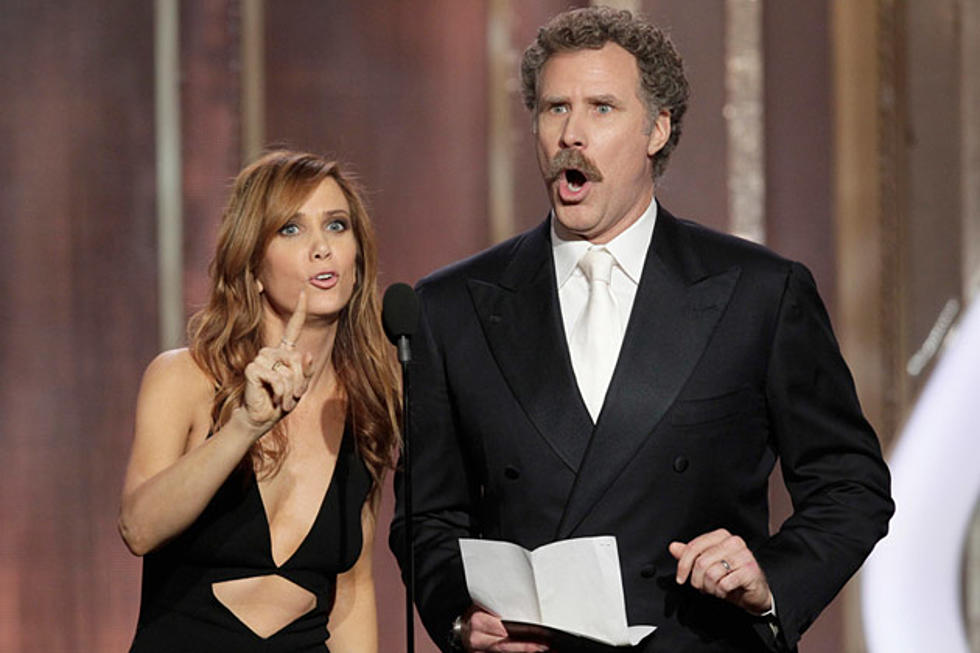 Watch Will Ferrell and Kristen Wiig's Hilarious Bit at the 2013 Golden Globes
NBC
At the 2013 Golden Globes, Will Ferrell and Kristen Wiig presented the award for Best Actress, Musical or Comedy and were intent on bringing some of their own laughs to the show. Not content to read the scripted banter off the TelePrompTer, the two came up with their own bit that left everyone cracking up ... except Tommy Lee Jones, that is.
Tina Fey and Amy Poehler did such a good job hosting the 2013 Golden Globes (you can watch their opening monologue here) and that would be a tough act to follow for most presenters who tried to be funny. But not Will Ferrell and Kristen Wiig.
The two 'SNL' vets came out and performed an extended version of the "Garth and Kat" 'SNL' skit from Weekend Update where Wiig and Fred Armisen play unprepared singers who don't know the lyrics to any of their songs and make them up as they go along.
At the 2013 Golden Globes it was Ferrell and Wiig playing unprepared Golden Globes presenters who clearly haven't seen any of the nominated movies and try to fake their way through announcing the nominees. It was all pretty funny and the audience seemed to really love it, with the exception of Tommy Lee Jones, who did not seem to love it.
You can watch the entire video of Will Ferrell and Kristen Wiig at the 2013 Golden Globes below.