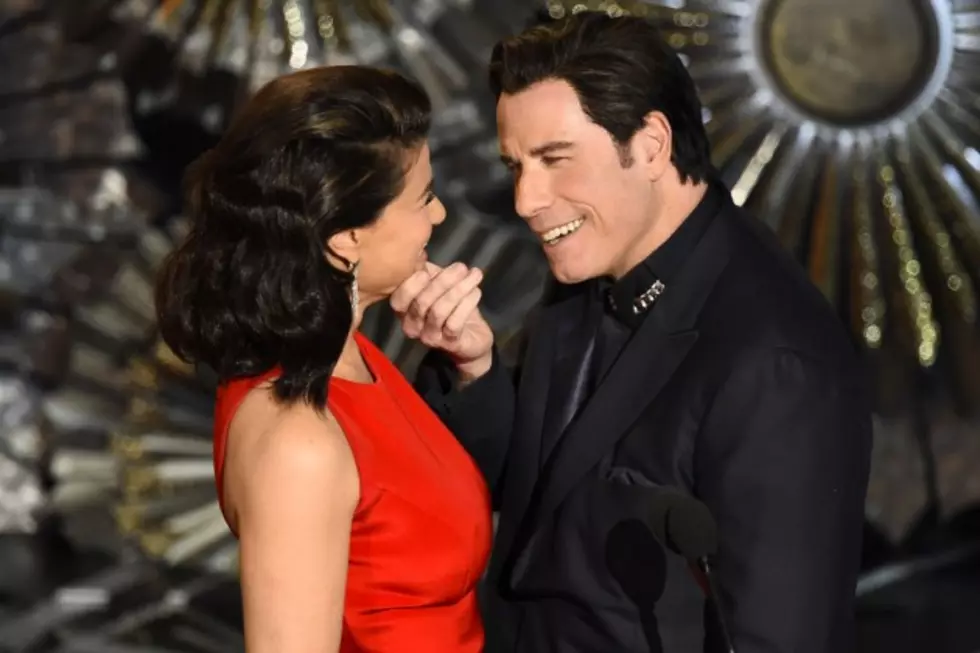 2015 Oscars: Idina Menzel and John Travolta Meet at Last
ABC
Last year, John Travolta took the Oscar stage to introduce Idina Menzel so she could perform "Let It Go" from Frozen. What should have been a very simple, teleprompter-aided introduction quickly became a Big Deal when Travolta stumbled over his words. Instead of "Idina Menzel," Travolta said "Adele Dazeem." An internet meme was born and everyone added another great John Travolta joke to their repertoire. The 2015 Oscars decided to revisit that memorable flub and the results were weird, awkward, and yeah, pretty funny.
After wisecracking that "Benedict Cumberbatch" is how John Travolta pronounces "Ben Affleck," host Neil Patrick Harris introduced Menzel so she could hand out the Oscar for Best Original Song. As the singer behind last year's winner, she seemed like an obvious choice ... but it was really a set-up for an silly gag where Travolta unexpectedly joined her on stage to prove that he really could properly pronounce her name. What followed went from surprising (Hey! It's Travolta!) to funny (Hey! I remember that joke!) to really weird (Why is he touching her face? WHY?!). In other words, it was John Travolta in a nutshell. We can never shed our affection for that weirdo.
However, now that the always-square Oscars have made a joke about it, it's time to officially retire Adele Dazeem jokes. Now that everyone is in on it, it has lost its power. Pack it up, internet.
A Complete List of Oscar's Best Picture Winners