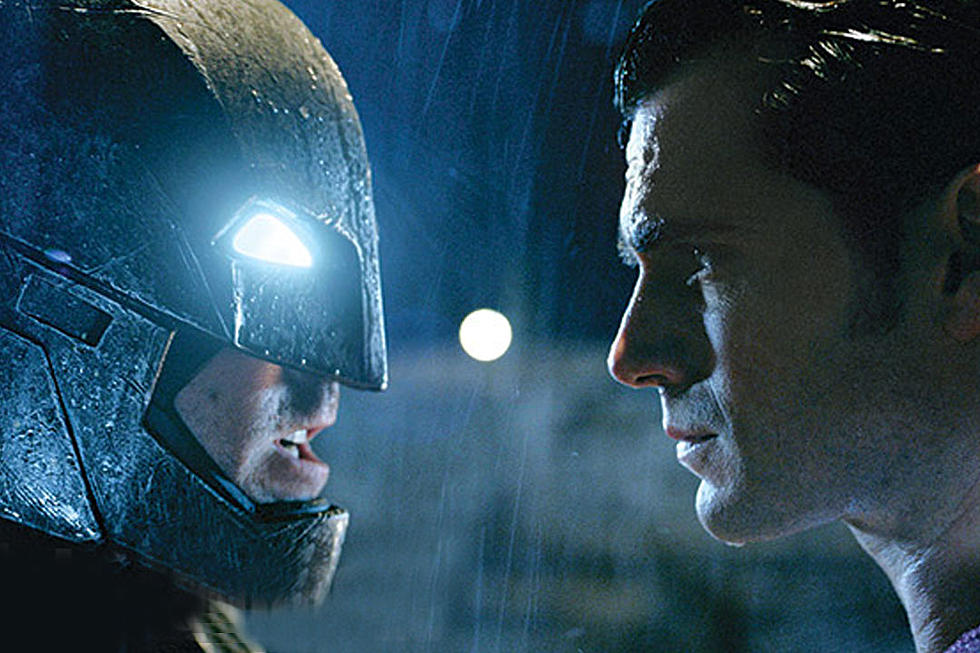 'Batman vs. Superman' Comic-Con Panel: The Cast Introduces Brand New Footage
Warner Bros.
The Batman vs. Superman panel at Comic-Con was one of the most anticipated this year, not just for what we knew was happening — stars Ben Affleck, Henry Cavill and Gal Gadot were all confirmed to be in attendance — but also for what we didn't know what would happen. Warner Bros. promised some "unexpected surprises" in addition to the new Batman vs. Superman footage and fans were camped out for many miles and hours to get a first look at the new DC Movie Universe.
Holly Hunter, Jesse Eisenberg, Amy Adams, Henry Cavill, Ben Affleck and Jeremy Irons were introduced on stage with director Zack Snyder who showed off some new footage, saying, "We put this together especially for you guys. It's not the whole movie, but I think youll get a taste for what it's about."
Footage starts showing the climactic battle between Zod and Superman from the end of Man of Steel from Batman's perspective. Bruce Wayne is seen running through the streets trying to save people as buildings collapse around him. You can tell already that Batman is pissed.
There are shots of Gal Gadot as Diana, but also later in action as Wonder Woman. It's hard to tell exactly if her battle scenes are with Batman and Superman.
In the footage, Jesse Eisenberg has a full head of hair, and we don't see him bald yet. There's confirmation that Luthor has gotten his hands on the corpse of Zod, as well as some Kryptonite. He ends the trailer by repeating "the red capes are coming, the red capes are coming" as you see Superman walk up to the Batmobile and rip the doors off confronting the man inside.
After the footage, Ben Affleck told a story about getting advice from Christian Bale. "I had this really weird experience i was getting my kid a Halloween costume and he's really into batman. we went to a costume story in LA and I hear this, "OY" and it's christian bale and here we are standing in the batman costume aisle. I go you were the best, do you have any advice? 'Make sure you can piss in that suit!'"
Regarding the Mecha-Suit that Batman wears in the film and that you've seen in the trailers and photos, Snyder says, "It's not enhancing his abilities it's protecting him [from Superman] and buying him time."
To tease the next DC Comics movie, they had some Suicide Squad footage to tease, introduced by director David Ayer. He called Suicide Squad a movie about bad versus evil and adds that DC has the best super-villains. "Not trying to start a fued with Marvel, but sometimes you gotta speak the truth."
Ayer introduced the first official footage from the film (after joking about all the leaks from the Toronto set), which essentially shows the entire team coming together. Amanda Waller explains her vision for the Suicide Squad as a group of expendable villains who, if their mission fails, they can blame with plausible deniability. The footage includes the Joker/Batman/Harley Quinn car chase that you've probably seen online, and ended with Jared Leto as Joker leaning over someone and saying, "I'm not going to kill you, I'm just going to hurt you."
Ayer brought out the majority of the Suicide Squad cast including Will Smith, Margot Robbie, Jai Courtney, Viola Davis and others (though Jared Leto was a no show, and considering he's gone method to play The Joker, that shouldn't surprise you). Will Smith told the crowd they had to get back to work, but promised they'd be back in full force at 2016 Comic-Con.
There wasn't much in the way of super unexpected surprises (you could even argue that it was something of a disappointment that the entire Justice League lineup didn't take the stage), but an altogether satisfying update , but if fans were paying attention to some of the bigger screens, they noticed that a Green Lantern Corps movie was announced and that Cyborg was confirmed as a part of the Justice League film.