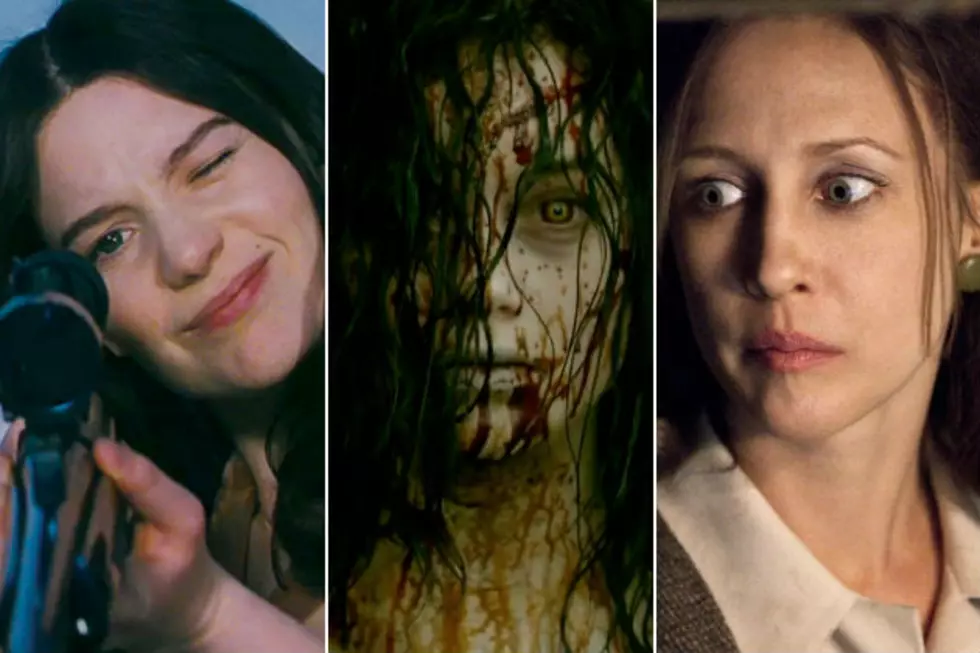 The 10 Best Horror Movies of 2013
Fox Searchlight/Sony/Warner Bros.
While everyone is busy talking about all the amazing films that will earn the most prestigious awards in the coming months, let's not forget all the best horror movies in 2013. Just because they're not about "very important" topics or don't tout some serious star power doesn't make them any less good or viable.
While there were certainly some eye-rollers (looking at you, 'The Purge' and 'Lords of Salem'), there were plenty of fantastic horror movies that scared us, thrilled us, and made us totally uncomfortable. From the major releases to lesser-known indies, we're counting down the best horror movies of 2013. Read on to see if your favorite made the cut! 
10

Adam Wingard and Simon Barrett return with the likes of Eduardo Sanchez ('The Blair Witch Project') and Jason Eisener ('Hobo with a Shotgun') for another inventive found footage horror anthology, considerably upping the ante from the first 'V/H/S' film. But the real standout is Timo Tjahjanto's contribution: a segment entitled "Safe Haven," about a devilish cult, that goes from unsettling to heart-pounding to mind-meltingly insane over the span of about 20 minutes, with some pretty impressive effects. Although 'V/H/S/2' has a couple of lackluster segments, we love the rowdy spirit, the consistently inspired approach, and the way these films keep introducing us to exciting new filmmakers like Tjahjanto.

9

Fede Alvarez's 'Evil Dead' isn't without flaw -- the characters could use some fleshing out (pardon our pun) -- but damned if we weren't thrilled and horrified in equal measure by this gutsy remake. For the incredible use of practical effects alone, 'Evil Dead' earns a spot on our list this year. Reminiscent of the commitment to practical effects in last year's 'The Cabin in the Woods,' Alvareze knows that practical is way more terrifying than digital, and the highly imaginative effects used in this film are gut-churning, to say the least.

8

A middle-class suburban father on vacation with his wife and kids at Disneyland loses his job and the happiest place on earth quickly devolves into a hellish landscape. The controversial indie flick 'Escape from Tomorrow' is what would happen if Vernon Chatman of 'Wonder Showzen' fame remade National Lampoon's 'Vacation.' It's a jarring, horrific, psychedelic odyssey inside the mind of a loathsome suburbanite -- the kind of film that explores very simple but scary ideas about what's beneath the surface of such seemingly nice, wholesome things. Spoiler: nothing good.

7.

Sony Pictures Home Entertainment

Sony Pictures Home Entertainment

'Magic Magic' is a film that played the festival circuit earlier this year, one of two films made by Sebastian Silva, starring Michael Cera. In this one, Juno Temple plays the mousy, introverted Alicia, who gets roped into a vacation in Chile with her friend Sara, but the vacation soon becomes a nightmare when Sara's boyfriend and his obnoxious friend start messing with her head. Is there something wrong with Alicia, are these guys slowly driving her insane, or are they simply exploiting her weaknesses? 'Magic Magic' is a disquieting, daring little psychological thriller with one hell of an ending and a delightfully wacky and sinister performance from Cera.

6

Brandon Cronenberg made his directorial debut this year with 'Antiviral,' a film that explores our society's obsession with celebrity via the story of a fictional not-so-distant future in which people can purchase and infect themselves with the same illnesses ailing their idols. Up and coming star Caleb Landry Jones plays Syd March, a broker of said viruses, who finds that even he isn't immune to what he's selling, and injects himself with the deadly illness belonging to a beautiful starlet. 'Antiviral' inevitably draws comparisons to the unnerving body horror work of Cronenberg's father, David Cronenberg, but the younger director's first feature is definitely a vision all his own ... and one you won't soon forget.

5

Antonio Campos' long-awaited follow-up to 'Afterschool' was worth the wait. 'Simon Killer' stars Brady Corbet ('Funny Games') as Simon, a recently dumped American who heads off to Paris for a little vacation. But when he falls for a prostitute, the truth about his dark past starts to creep up around the edges. Campos does wonderful work of slowly building quiet dread before punching you in the face, an effect reminiscent of the work of Michael Haneke. It's not your typical indie horror thriller, either -- 'Simon Killer' contemplates its character's issues with women with stark cinematography and a killer soundtrack, worming its way into your brain and sticking there for a while.

4

British director Ben Wheatley is always full of surprises. This year he returns with 'Sightseers,' his follow-up to 'Kill List,' but don't go in expecting another bleak affair. 'Sightseers' is a very, very dark horror comedy written by stars Alice Lowe and Steve Oram, who play Tina and Chris, respectively. Tina is a sheltered, odd bird of a woman who lives with her mom, but when she meets the equally off-putting Chris, it's love at first sight. Chris whisks Tina away on a holiday in his RV, but what starts as a dream vacation quickly devolves into a nightmare, since two nut jobs don't make a right. 'Sightseers' is sharp, unnerving, and impeccably written and acted by its leads, and yet another refreshing, exciting film from Wheatley, who always brings us something unexpected, original, and dark.

3.

It was only the most successful horror film of the year, James Wan is one of the most interesting voices working in horror, and even when his films don't particularly work ('Insidious Chapter 2'), they're always fun to watch. But 'The Conjuring' is, without question, great. Based on the true story of paranormal investigators Ed and Lorraine Warren, the film follows the couple as they encounter one of their most terrifying cases ever: trying to help a family who's just moved into a home tormented by demonic forces. Wan is firing on all cylinders here, working with a great cast, including Patrick Wilson and Vera Farmiga, and utilizing all of the tricks he's picked up over the years.

But what Wan really excels at is something many other horror directors haven't quite figured out yet: his ability to build and sustain dread. It's not about jump scares, it's about the moments leading up to the scares. There's not always a boogeyman waiting around every corner in every scene, and what's great about Wan's horror movies is his ability to extend these moments and really build your anticipation, which is far more terrifying than any ghost jumping out from a corner. In fact, one of the most horrifying moments in the film involves a little girl staring at an empty corner in her bedroom -- we keep expecting something to be there, which is scarier than something actually being there. The longer the scene plays out, the more stressful it gets when nothing is there. It's genius.

2

'You're Next' would have made our list two years ago had it not been delayed by Lionsgate, but the film finally made it to theaters this August, just sadly overshadowed by other releases. That's unfortunate because it's really one of the best horror films of the last decade.

From the team of Adam Wingard and Simon Barrett, 'You're Next' is an inventive little home invasion horror thriller that is intensely clever and just plain fun. A group of mysterious masked killers attack a family during their wedding anniversary celebration, but an unlikely guest catches the killers off guard with some unexpected survival skills. To say much more would spoil all the fun, but 'You're Next' is a twisty horror thriller that should have gotten more attention than it received. It's also highly rewatchable, and you won't be able to get "Looking for the Magic" out of your head for at least a week. At least.

1

Park Chan-wook's English-language debut is a stunner. Mia Wasikowska stars as India, a young woman whose father dies, leaving her alone with her unstable mother (Nicole Kidman) and her mysterious Uncle Charlie (Matthew Goode). As it turns out, the enigmatic Charlie may know India better than even she knows herself, as the film explores the darker aspects of nature versus nurture. Park's gothic family horror tracks coming of age beautifully, and as Charlie nurtures her darker urges, India begins to make startling discoveries about herself and her family, playing into her development and self-awareness as a young woman.

Park's 'Stoker' hit theaters the same year as 'Oldboy,' -- Spike Lee's remake of Park's film of the same name -- in which Lee tries and fails to capture that specific twisted but melodic tone originated by Park. The failure is especially underscored and made even more bittersweet by Park's almost effortless repetition of the mastery of such gorgeous horror in 'Stoker.'