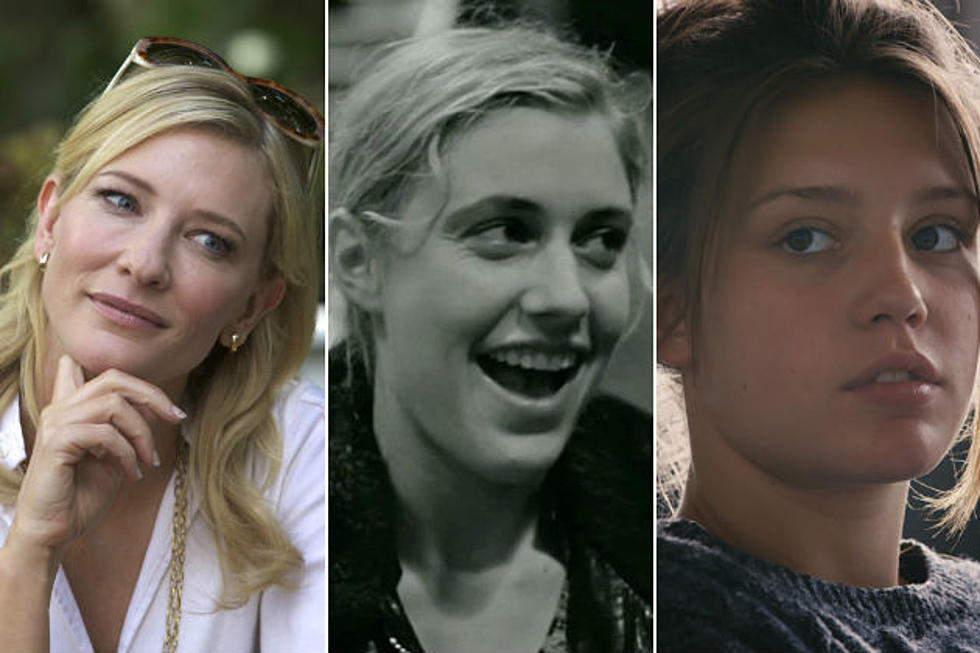 Reel Women: Our Favorite Female-Driven Films and Performances of 2013
Sony/IFC Films/Sundance Selects
It's that time of the year: time for top 10 lists, time to start gearing up for awards season, and picking the contenders and ensuring we shout their names in all caps from behind our laptops, and a time for critics to champion our favorite movies and performances -- which is why I think it's time to take a look back at my favorite female-centric (and gender politic-centric) films and female performances of 2013.
While this isn't a rundown of the top 10 best, it is a compilation of some of my favorite films and female performances from 2013 that have been relevant to the mission of this column: films that have a strong female presence or focus on the realistic complexity of women, stories that explore gender politics, and actresses who give powerful and honest performances.
Actress and director Sarah Polley follows up 'Take This Waltz' with the stunning documentary 'Stories We Tell,' which examines the life of her mother and the beautiful complexity of personal narrative. By interviewing her family and interweaving footage of her mother throughout, Polley creates a breathtaking cinematic effect that is richly layered. The story is different to every teller and the life of the subject means something different to each person they touched, and Polley is able to refract that subjectivity with startling grace. More than that, the film takes on a metatextual quality, speaking to the nature of narrative, both personal and public, and the way we personally interpret stories through the lens of our own experience, whether those stories are our own or someone else's -- whether it's a story told to ourselves or a film we're watching in a theater.

Cate Blanchett and Sally Hawkins

'Blue Jasmine'

Cate Blanchett's performance in 'Blue Jasmine' is electric -- all raw nerves and frayed edges. To echo my review at Badass Digest, she's like an epileptic Fabergé egg. Jasmine is the sort of character who talks to herself out loud, either while alone or in public spaces, in order to rehearse the stories she tells to others. The more we repeat a lie out loud, whether to others or especially to ourselves, the more it becomes the truth. Like Scarlett Johansson's Samantha says in 'Her,' our past is just a story we tell about ourselves, and, man, Jasmine is really great at telling stories about herself. Desperately struggling to grasp onto any remaining threads of civility after her ex-husband's Ponzi scheme robs her of the upper-class comforts to which she's been accustomed for most of her life, Jasmine is forced to live like the rest of us: to take menial work, complete a college degree, and get a place of her own so she doesn't have to keep living with her working class sister, Ginger.

Sally Hawkins' Ginger is equally fantastic as a mousy woman who has become similarly accustomed to a certain way of living, and a certain kind of man. Hawkins plays off of Blanchett's raw energy expertly, undercutting it with meekness and gentility, punctuated with a scrappy ferocity. Jasmine aptly accuses Ginger later in the film of settling for lesser men who treat her poorly because she's never thought she deserved any better. But thanks to Woody Allen's biting script and the incredible dynamic between Hawkins and Blanchett that creates years of history in mere minutes, you have to wonder how much of a favor Jasmine is doing for Ginger by pointing this out. For Ginger, her flawed life and these hard men hardly seem to sting anymore: they've become familiar and comfortable; she's used to it. If she doesn't know that it hurts, why tell her? 'Blue Jasmine' explores the converse dynamic between these two women and their similar obliviousness. Where Ginger's hardships aren't hurting anyone but herself, Jasmine's are intrusive, and thus the film explores the familial moral imperative of stepping in and saying "when."

Now that I've mentioned 'Her,' I have to give props to Scarlett Johansson for her voice-only performance in the film. Johansson portrays a full range of emotions as Samantha, the OS program who falls in love with her owner, Theodore Twombly (Joaquin Phoenix) in Spike Jonze's latest. From clever and cheeky to gentle and somber, Johansson's Samantha is complex and fully realized, often feeling as though she's right there in the room with Phoenix. Whether she's singing to him or trying to motivate him out of a bad mood or awkwardly expressing her newly-discovered feelings, Samantha is an incredible creation, and Johansson brings gorgeous depth to the character with her throaty rasp.

Brie Larson

'Short Term 12'

If Brie Larson isn't nominated for an Oscar, I won't be entirely surprised, but she does deserve it. I've been singing her praises for years now (if you haven't checked out Diablo Cody's short-lived Showtime series 'United States of Tara,' do so -- it's on Netflix Instant), and 2013 seems to be her breakout, between turns in 'Short Term 12' and 'Don Jon.' In the former, she plays a counselor at a youth facility who tries to juggle her personal life with the lives of the troubled teens she cares for, as her own past starts bleeding in around the edges. It seems no coincidence that her character's name is Grace -- Larson plays her with such an incredible amount of it, giving such subtle, layered work here that could have easily been lost in a script that's packed to the brim with punches.

From 'Catching Fire' to 'American Hustle,' Jennifer Lawrence killed it again this year. Even outside of movies, she continues to be an amazing presence -- she's just so damn likable with her goofy and down-to-earth personality. This year she returned as Katniss Everdeen in the franchise that is proving that young-adult movies don't have to be about girls choosing between hot guys in order to fulfill their destinies or have meaningful lives. Katniss is a badass lady who knows how to take care of herself, and often has to protect the men in her life from danger. Her story isn't about a love triangle, and instead 'The Hunger Games' films smartly satire that very element.

Lawrence's other big performance this year is in 'American Hustle,' where she holds her own opposite the likes of Christian Bale, Bradley Cooper and Amy Adams. It's a showy, fun role, but it also allows her a couple of great moments of outstanding emotion that continue to highlight why she is quickly becoming one of our best actresses.

A film that totally took me by surprise, Neil LaBute's 'Some Velvet Morning' is a tricky, stagey little piece about a man (Stanley Tucci, delightfully creepy) who leaves his wife and comes to the door of his ex-lover (Alice Eve), who also happens to be a former (or not-so-former) escort, expecting to be accepted with open arms. The film examines male entitlement and the expectations we develop over the course of a relationship, and how those expectations can transform, shift and linger over the course of minutes, hours or even years. A sudden plot development late in the film that feels sadly inevitable surprisingly drove me to tears, but the even later third-act twist feels truly revelatory and transcends an already effective and contemplative film. Although you might be tempted to rethink the entire film following said revelation, I think it actually cements the themes of the preceding hour or so.

A film that is most definitely on my top 10 list this year, 'Frances Ha' is nothing short of lovely and wonderful. Noah Baumbach and Greta Gerwig take the template of romantic-dramedy and instead paint over it with the story of a complicated and struggling 28-year-old woman (Gerwig) and her best friend, who is growing up and away from her. They break up, they move away from each other, they even have a drunken one-night stand and flirt with the idea of getting back together. But Frances has to find herself and who she is on her own before she can accept the love of someone else -- even if that someone else is her friend. This isn't a film about a woman that's concerned with romantic relationships, which is just one of the reasons why it's so damn fantastic. Gerwig is charming as all get-out and she's incredibly relatable to anyone who has ever been in their 20s and had a hard time figuring out what the hell they're doing with their lives. (Read: everyone; and if not, good for you -- I hope you stand up just a little taller than the rest of us.)

But seriously, 'Spring Breakers' is a surprisingly smart film that explores the fantasy of female agency amidst the garish dayglo excess of Spring Break -- four bored college girls dream of heading off to their ideal vacation to escape their boring hometown tedium, so they stage a robbery to acquire the funds for their week of debauchery. When they get into trouble in Florida, they're bailed out by a white rapper (James Franco) who idolizes 'Scarface,' but it's not him we should be worried about. The film asks us why we want to see these girls in increasingly dangerous situations, how they could be so empowered and take agency over themselves and the men who surround them, and ultimately why we don't believe they ever could have that agency. It's a film that does indeed highlight the worst, most obnoxious elements of humanity but surprisingly via reflection.

Adele Exarchopoulos

'Blue Is the Warmest Color'

While flawed, I'm still in love with this story of first love and first heartbreak -- the way that infatuation colors your entire life, and the way that it achingly lingers with desperation long after the other person has moved on. But of all the beauty in Abdellatif Kechiche's film, one stands out above the rest: Adele Exarchopoulos and her performance as Adele, the young woman who, on the verge of graduating high school, has a chance encounter with a lesbian that alters her course, opening her life up to beautiful possibilities as she experiences love, life, heartbreak and regret for the first time. Adele is so terribly human, and Exarchopoulos portrays her with a graceful awkwardness as she navigates judgmental teens and sorts out her life plans and goals while juggling a relationship that feels as though it's the center of her universe. Like so many of us, Adele tries to find herself through another person, without ever looking within, and the consequences are sad and all too familiar to anyone with a beating heart. Exarchopoulos finds the beat of that heart and translates it to a pulse we can hear, and the results will knock the wind right out of you.

Adams gives a bit of an understated performance in 'Her' this year, but it's the kind of performance that -- opposite a mutually mousy and introverted character (Joaquin Phoenix) who is also grappling with existential loneliness and relationship issues -- will take you by surprise when you realize that these are the same two actors who played off of each other much more aggressively as vastly different characters in last year's 'The Master.' But it's a lovely little performance that truly does support Phoenix with plenty of charm and warmth.

Conversely, Adams pulls out all the stops in 'American Hustle,' as one half of a scamming duo opposite Christian Bale (and his intense combover). One sequence in particular finds Adams' Evelyn, who uses a fake British accent, scorned by Bale, but agreeing to push forward with their deal with the FBI regardless of his continued relationship with the wife he claims not to love. Adams, wounded but resolute, slips in and out of her faux British accent perfectly, the way she's vacillating between sadness and spiteful anger. Her work here is so perfect that it's chill-inducing, and I'm beginning to think she might be the best actress of her generation -- certainly a bit underrated.