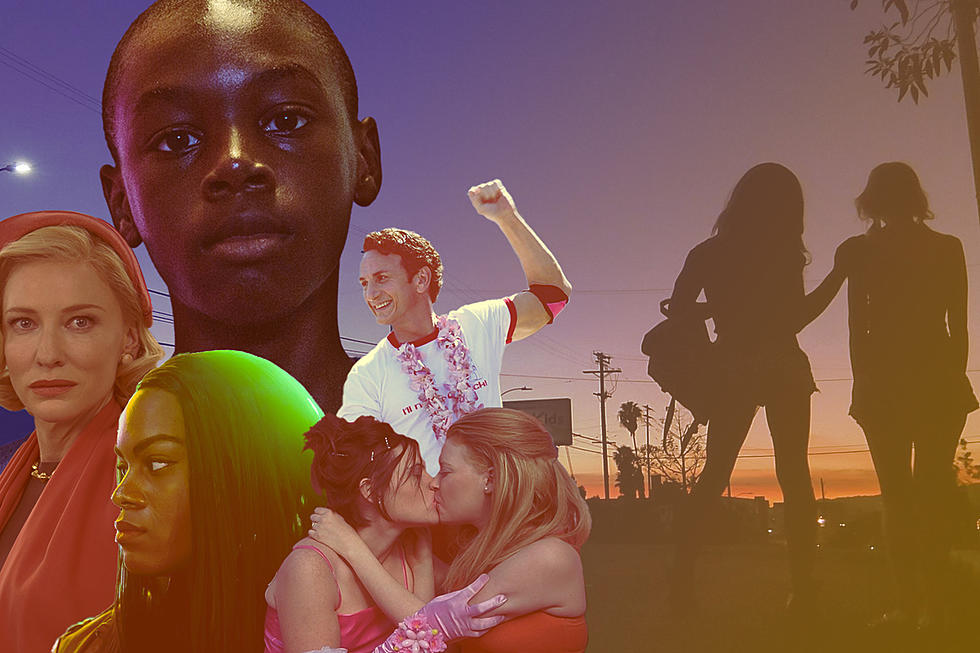 The 25 Best LGBTQ Movies of the Last 25 Years
Weinstein/A24/Magnolia/Focus Features/Lionsgate
This list is part of ScreenCrush's Our Hollywood, a month-long series about the past, present and future of transgender visibility in film and television. Stay tuned throughout June for in-depth profiles with photos shot by Amos Mac, essays, and exclusive videos.
In the earliest days of Hollywood, queer expression was banned from cinema, often reduced to allegory and subtext. Even after LGBTQ cinema began to flourish in the 1990s and went on to make history at this year's Oscars, the mere image of two men or two women kissing still feels radical, and exceptionally vital.
In honor of LGBTQ Pride Month, ScreenCrush is celebrating stories of lesbian, gay, bisexual, transgender and all spectrums of queer identity that made their way onscreen over the past 25 years. First, we compiled a shortlist of all the eligible theatrical releases, fiction and non-fiction, from 1992 to today – which is why you'll notice that 1991's Paris is Burning was, sadly, not included. Then ScreenCrush's editors and contributors went through several rounds of voting and ranking, resulting in the final list below.
Many of these stories are romances. Some are crime thrillers. Others are musicals, comedies, and melodramas. But each of them express something unique about LGBTQ identity that spoke to us, and stayed with us.
25. Love Is Strange (2014)
Directed by Ira Sachs
Perhaps Ira Sachs' Love is Strange is the perfect post-SCOTUS ruling film because of its winsome, bittersweet quality, but also because of its refusal to suggest that marriage was the thing to solve queer loneliness and melancholy. After 39 years together, the relationship between Ben (John Lithgow) and George (Alfred Molina) takes two important turns: they get married, and shortly after, George is fired, throwing their living situation into uncertainty. Their lives change, and the way they navigate their relationship changes, but the sweet beauty of ambivalence and change in and of itself shapes the love in Sachs' devastating queer riff on Leo McCarey's 1937 film Make Way for Tomorrow. – Kyle Turner
---
24. The Adventures of Priscilla, Queen of the Desert (1994)
Directed by Stephan Elliott
Priscilla isn't one of the three ABBA lip-syncing performers at the heart of Stephan Elliott's raucous Aussie road trip comedy. No, "Priscilla" is the tour bus that Anthony "Tick" Belrose (drag name Mitzi Del Bra, played by Hugo Weaving), Adam Whitely (a.k.a. Felicia Jollygoodfellow, played by a gam-tastic Guy Pearce) and Terence Stamp's Bernadette Bassinger board to make their way to a casino resort in Northern Australia, where they've been booked by Tick's heretofore secret ex-wife. Heartfelt and fabulous in equal measure, the film is not only endlessly quotable and wonderful to look at (with Oscar-winning costumes to boot) but a joyous celebration of drag culture. – Manuel Betancourt
---
23. Beginners (2010)
Directed by Mike Mills
Mike Mills seems like a pretty good son. In recent years he's made two of the best cinematic tributes I've ever seen to mothers (2016's 20th Century Women) and to fathers (2010's Beginners), both based on his memories of his own parents and their unique journeys through life. In the case of Beginners, the movie follows a Mills surrogate (played by Ewan McGregor) as he deals with the death of his father Hal (Christopher Plummer), who came out of the closet in his 70s and then passed away from cancer just a few years later. Hal's discoveries in his final years dovetail with McGregor's Oliver's attempts to come to a deeper understanding about his father's life while falling in love with a French actress (Melanie Laurent). Every time I watch one of Mills' films, I'm awed by their sensitivity; the way Mills considers and contextualizes his father's choices through flashbacks and montages juxtaposing modern life with images from the 1940s and '50s. It's too late to recommend you watch Beginners for Father's Day — but if you haven't seen it, make sure you do before Father's Day 2018. – Matt Singer
---
22. The Birdcage (1996)
Directed by Mike Nichols
I've watched few movies as many times as I've watched The Birdcage, and that may be because it was the first queer film I ever saw. Mike Nichols' comedy about a gay couple who run a drag club in Miami may not have the most nuanced perspectives on gender identity and sexuality, and if this is your only introduction to gay lifestyles, I recommend you check out other films on this list. But few things in the history of comedy are as rib-achingly funny as watching Robin Williams galloping on stage mimicking iconic choreographers, or Nathan Lane squealing as he pierces a slice of toast and attempts to strut like John Wayne. Nichols brought a charming sense of humor and warmth to a story that eventually shirks heteronormativity and celebrates being as loudly queer as humanly possible. – Erin Oliver Whitney
---
21. But I'm a Cheerleader (1999)
Directed by Jamie Babbit
Long before Jamie Babbit started grinding out episodes of some of your favorite TV shows (really — pick one and she's probably directed an episode or four), she gave us the gift of But I'm a Cheerleader. Natasha Lyonne headlines a stellar ensemble in this sublimely satirical and gloriously gay coming-of-age rom-com. That description may sound overwhelming, but Babbit really nails it all in this tale of a high school cheerleader who doth protest her sexual orientation too much — until her parents send her off to get deprogrammed at the campiest camp there ever was. With a hilarious cast of colorful characters including RuPaul, Clea DuVall, Melanie Lynskey, and Cathy Friggin' Moriarty, But I'm a Cheerleader is like great John Waters; it's kooky and campy and delightfully irreverent. But where Waters' films are more aesthetically and tonally queer, Babbit's film leaves nothing to implication. – Britt Hayes
---
20. Boys Don't Cry (1999)
Directed by Kimberly Pierce
Kimberly Pierce's fictionalization of the life and death of Brandon Teena, the Nebraskan transgender man who was sexually assaulted and murdered in 1993, is a complicated part of LGBTQ cinematic history. It certainly has its flaws, from telling a trans story from the perspective of a cis woman to Pierce's erasure of a black man's death, to the dramatization of Brandon's murder. But still, Boys Don't Cry was the first and still one of the only films to depict a trans person with empathy and dignity. Much like the real-life Brandon, Hilary Swank's character didn't have the language to understand his gender dysphoria at the time. But it's Swank's subtle, wordless moments that speak closest the the experience of living as a transmasculine person. It's in Brandon's swaggering, each step concealing his constant terror of being outed, and the electric smile that crosses his face when he finally recognizes himself in the mirror. Shortcomings aside, Boys Don't Cry holds up today as an urgent warning about the violence trans people continue to face, and a reminder of the freedom that comes with living as your truest self. – Erin Oliver Whitney
---
19. Hedwig and the Angry Inch (2001)
Directed by John Cameron Mitchell
Ladies and gentlemen, whether you like it or not, the story of this tragicomic trailer-park rock goddess by way of East Berlin and botched gender reassignment surgery is a universal one: the search for one's missing half. James Cameron Mitchell's one-woman-(plus-an-inch) show leapt from way-off-Broadway to the big screen in 2001, a rock musical that at last made good on the genre's promise to actually rock. With Mitchell in the title role, a baby-faced Michael Pitt as her naïve love interest, Miriam Shor in male drag as Hedwig's begrudging partner, and words and music by Stephen Trask, the film is a love letter to all the strange rock-and-rollers ("Here's to Patti and Tina / and Yoko, Aretha…") and to the bold, double-entendre-laden language of drag revue. A marriage of worlds was never more perfect. – Nicole Sia
---
18. Happy Together (1997)
Directed by Wong Kar-wai
"Let's start over." Over and over, those words haunt Wong Kar-wai's seminal film of a dysfunctional queer romance between Ho Po-wing (Leslie Cheung) and Lai Yiu-fai (Tony Leung), whose move to Buenos Aires is one of the many starts and stops in their complex, tempestuous relationship. Adrift and removed from their senses of selves, Wong pours equal amount of power into moments of high melodrama and quotidian subtlety, imbuing a late-night car ride or a kitchen tango – one that starts and stops – with eroticism and empathy. – Kyle Turner
---
17. Milk (2008)
Directed by Gus Van Sant
Nine days before his assassination in November of 1978, Harvey Milk (Sean Penn) sits down to record his will. His recollections — of how he moved out to San Francisco and reinvented himself as an activist shortly after his 40th birthday, and eventually became the first openly gay person elected to public office in California — form the spine of Gun Van Sant's moving biopic. Filmed on location in the Castro, with contributions from Milk's friends and colleagues, Milk brings precise period details to a story about the positive impact one brave person can have on society, one that suggests that each of us has that same potential within us too. The film won two Academy Awards, for Penn and screenwriter Dustin Lance Black, both deserved. My advice: Watch it as part of a double feature with the great documentary The Times of Harvey Milk. – Matt Singer
---
16. Blue Is the Warmest Color (2013)
Directed by Abdellatif Kechiche
Yep, pretty problematic that director Abdellatif Kechiche trained his camera's gaze on his young protagonist's ass, and then, unflinchingly, on a feverish seven-minute sex scene between his two lead actresses. But, man, did Adèle Exarchopoulos and Léa Seydoux nail the heady, intoxicating magic of first real love. A coming-of-age tale with magnificent emotional power, Blue follows Adèle (Exarchopoulos) from high school into her early 20s and the process of self-discovery and sexual awakening that unfolds in the hands of her older, blue-haired lover Emma (Seydoux). The passion is luminous, the yearning and heartbreak visceral — that kind of punch-drunk, head-first romance that changes who we know ourselves to be, if only once in our lives. – Nicole Sia
---
15. Pariah (2011)
Directed by Dee Rees
Before Moonlight, there was Pariah. Far too often, the narratives of queer women of color, particularly black women, are often overlooked. The film chronicles the life of Alike (Adepero Oduye), a 17-year-old girl working to embrace her identity as a lesbian against the backdrop of Fort Greene, Brooklyn. This revolutionary work was created by Dee Rees, an African-American female director who won awards at Sundance for her work. Pariah was also a learning curve for me. As I was struggling with my own sexuality, the film compounded the same emotions I was dealing with into 85 minutes. – Valerie Complex
---
14. Heavenly Creatures (1994)
Directed by Peter Jackson
Peter Jackson's best film isn't based on any fantastical, fictional world. His most resonant work to date is based on a true story ripped from New Zealand headlines. Heavenly Creatures does incorporate elements of fantasy (a clear precursor to Jackson's J.R.R. Tolkien epics) into his intense story of friendship, mutual obsession, and repressed sexuality. Melanie Lynskey plays Pauline, an isolated teen from a working class family who develops a close relationship with Kate Winslet's more affluent Juliet. As the two bond over their similar histories, they create a shared fantasy world where they can escape from their oppressive reality. But as they retreat further into this fantasy realm, the lines between fiction and reality are increasingly, dangerously blurred. The romantic connection between Pauline and Juliet, and the notion of repressing those achingly impossible desires, is not so much objective as it is thematic; constantly felt but not quite seen (the life of a teenage girl in a nutshell), and only really directly addressed by the suspicions of Pauline's therapist. Jackson takes the story of two murderous teens and paints an empathetic, heartbreaking portrait of codependency and longing between two girls in which the real tragedy is their inevitable separation. – Britt Hayes
---
13. Bound (1996)
Directed by Lana and Lilly Wachowski
The title is a many layered entendre, clearly an allusion to the physical confines of the closet Corky (Gina Gershon) is trapped in, as well as the more thematic notion of the secret-holding nature of queerness within a straight world. But the Wachowskis' Bound seems poignant beyond its seedy and slick genre trappings, its clever reversals and subversions of noir tropes, because Corky and Violet (Jennifer Tilly), the gangster's moll that falls in love with Gershon's ex-con, feel entwined emotionally and spiritually as well as physically. The Wachowski's impressive debut leaves you holding your breath while Corky and Violet wrangle the ropes and let go. – Kyle Turner
---
12. Orlando (1992)
Directed by Sally Potter
There are so many queer icons involved in this film, I don't know where to begin. The film stars queer legend, Quentin Crisp, as Elizabeth I. Most importantly, Orlando is the film that catapulted Tilda Swinton into the role of Hollywood's androgyny queen. What makes Orlando so good is seeing one character navigate life as both male and female, and witness the power dynamic between the sexes over several centuries. It also gave me my first experience with LGBTQ cinema as a child. It blew my mind and still holds up to this day. – Valerie Complex
---
11. All About My Mother (1999)
Directed by Pedro Almodovar
Pedro Almodóvar's red-blooded ode to women, motherhood, and actresses opens with a mother and a son watching the classic Bette Davis film All About Eve. It's an early indication that this Oscar-winning film wears its queer influences on its sleeve. From then on the film's labyrinthian plot (which involves a car accident, a pregnant nun living with AIDS, a production of Tennessee Williams' A Streetcar Named Desire, a pair of lesbian lovers, and chatty trans sex worker) is a celebration of queer notions of family and identity wrapped up in a sumptuous melodrama about grief.  – Manuel Betancourt
---
10. The Duke of Burgundy (2016)
Directed by Peter Strickland
Lepidopterology and human toilets collide in The Duke of Burgundy, one of the greatest — and most surprisingly down-to-earth — movie love stories. Evelyn (Chiara D'Anna) and Cynthia (Sidse Babett Knudsen) have a relationship full of role-play, bondage, and watersports. On the surface things look downright steamy, but as The Duke of Burgundy progresses, director and writer Peter Strickland slowly reveals that something is missing between Evelyn and Cynthia. The film never treats their particular proclivities as a joke or even as a spectacle; it is simply who they are. And for all its exotic subject matter, this relatable and empathetic film is about the humblest but most important of subjects between lovers: The importance of communication and compromise. Filled with ravishing cinematography, magnificently strange dream sequences, and some of the driest comedy you'll ever see, The Duke of Burgundy is a perfect tribute to the power of love (and, fine, human toilets too). – Matt Singer
---
9. Mulholland Drive (2001)
Directed by David Lynch
"I just came from Deep River, Ontario, and now I'm in this dream place," says Naomi Watts' Betty after arriving in Los Angeles in David Lynch's Mulholland Drive. The words seem very carefully chosen; Mulholland Drive buries Betty in a surreal mystery involving an amnesiac (Laura Elena Harring) who survives a car crash in the Hollywood Hills. Harring's character takes the name Rita (after Rita Hayworth) and together the pair try to piece together her past — and then fall for one another. A twist is coming, though, one that reframes Betty and Rita's relationship, and everything else in the film before it. Suddenly the dream becomes a nightmare. Famously developed as a TV series, and then converted from a busted pilot into a feature film, Mulholland Drive blends fantasy, fiction, and horror into an unforgettable Hitchcockian stew. – Matt Singer
---
8. Brokeback Mountain (2005)
Directed by Ang Lee
The story of Ennis del Mar (Heath Ledger) and Jack Twist (Jake Gyllenhaal), first dreamed up by writer Annie Proulx, always had the makings of a classic American tragedy. Ennis and Jack, who meet when they're hired to herd sheep in the Wyoming mountains one summer in 1963, encapsulated a kind of man whose ideas about masculinity, family, and identity didn't allow himself to name, let alone act, on the same-sex desires he harbored inside. Ang Lee's film follows their fiery romance even as they each marry and lead separate lives, offering a heartbreaking love story on an epic yet intimate scale. – Manuel Betancourt
---
7. The Handmaiden (2016)
Directed by Park Chan-wook
There's a deliciously twisted quality to the violence and eroticism of Park Chan-wook's films, and with The Handmaiden he folds those into a wickedly feminist tale of queer passion and romance. Equally sexy and thrilling, The Handmaiden is all about the subversion of the male gaze as two women take back control of their pleasure, their bodies, and their fate. Korean con woman Sook-hee (played by Kim Tae-ri) quickly falls for the Japanese heiress Lady Hideko (played by Kim Min-hee) in the middle of a plot to steal her inheritance. Their sex scenes are dripping with lust and sensuality, but Park also films the two women discovering their sexuality with delicacy and beauty, a stark contrast to the staged erotica Hideko is forced to read for an audience of horny men. Park's film is a masterpiece of filmmaking on many levels, from its ambitious storytelling to it's startling visual design. – Erin Oliver Whitney
---
6. A Single Man (2009)
Directed by Tom Ford
The visual metaphor of Tom Ford's filmmaking debut may be an obvious one, but it's a masterful expression of how vacant the world feels without love, and how blunted our senses become when we repress our desires. The muted color palette of A Single Man, blanketed in desaturated hues, visualizes the fog of depression Colin Firth's George is submerged in after the death of his lover (Matthew Goode). It's only through witnessing the sensualities of everyday life – the red of a rose, the pluming smoke on a man's lips, or the sweat-strewn abs of a tennis player – that George slowly finds a reason to live again. It's an exceptionally simple story, one that finds freedom and beautiful in embracing queer sexuality. – Erin Oliver Whitney
---
5. How To Survive a Plague (2012)
Directed by David France
"Plague! We are in the middle of a plague! 40 million infected people is a plague!" Larry Kramer's words, with their frustrated sense of urgency and righteous indignation, carry with them the sense of purpose that guides David France's 2012 documentary on the AIDS crisis. France, who'd covered the epidemic from its very beginning and lost his partner in 1992, put his journalistic background to great use in this, his feature film debut. Weaving archival footage that includes ACT UP meetings, sit-ins at the FDA, and marches in Washington with firsthand accounts from AIDS activists like Kramer, Peter Staley and Jim Eigo, How to Survive a Plague is both a necessary history lesson and a welcome template for what queer resistance can and should look like in the face of government indifference. – Manuel Betancourt
---
4. Weekend (2011)
Directed by Andrew Haigh
Consciously or otherwise, queer experiences in film are all about time. The way they're distilled, manifested, and portrayed onscreen is often, explicitly and implicitly, about our relationship to temporality, memory, and its relationship to identity. For Andrew Haigh, these ideas are imperative, perhaps even the foundational concepts behind his work in Greek Pete, 45 Years, HBO's Looking, and his 2011 masterpiece Weekend. In this film, queer time makes 72 hours, give or take, feel like a lifetime. The one-time tryst between Russell (Tom Cullen) and Glen (Chris New) evolves into something intimate beyond words, and the moments they spend together are packed with an unknowable amount of energy, trust, and vulnerability. Glen records his hookups and their experiences like an oral history art project; Russell keeps a document of his past sexual partners on his laptop. It's not that this relationship will be different or will change them, but that they have seemingly become more cognizant of how queer time can shape you, and how we as queer people shape time. – Kyle Turner
---
3. Tangerine (2015)
Directed by Sean Baker
One of the many — and there are many — things that makes Tangerine so special is the way it treats its two brilliant leads, Kitana Kiki Rodriguez and Mya Taylor. Director Sean Baker treats these transgender sex workers like any other women in a conventional comedy about one wild and crazy night in LA. That Baker had the good sense to cast Rodriguez and Taylor, real-life transgender women and former sex workers, never feels like a gimmick; these women are really relatable and hilariously human, perhaps no more so than when Rodriguez's Sin-Dee finds the cisgender white woman who's been sleeping with her boyfriend/pimp and drags her down the street by her hair. There's some debate over what's more impressive: That Tangerine was filmed entirely on iPhones, or that Rodriguez and Taylor's performances in it are so damn good — though maybe it shouldn't be so surprising that two former sex workers turned out to be great actors; sex work is, after all, a performance art in its own right. – Britt Hayes
---
2. Carol (2015)
Directed by Todd Haynes
The jolt of locking eyes across a room, the dizzying rush of sharing a car ride, or the fireworks in your chest as the phone rings, and you know it's them. Todd Haynes' Carol captures the intoxication of falling in love with someone you've hardly spoken to, the aching desire to be beside someone you've never touched. It depicts a love story between two women with a tenderness and a startling passion rarely shown in film. Cate Blanchett's commanding presence as Carol Aird alongside Rooney Mara's timidity-turned-assurance as Therese Belivet made for two of the most arresting performances in years. From Carter Burwell's swelling score to Sandy Powell's costume design, from Haynes' sumptuous Edward Hopper-inspired canvas to that phenomenal final shot, Carol is nothing short of perfection. – Erin Oliver Whitney
---
1. Moonlight (2016)
Directed by Barry Jenkins
Moonlight is a flawless film. Stories that jump through time aren't the easiest to tell in cinema, but director Barry Jenkins manages to direct a solid story that ties up its loose ends with ease and finesse. If you've ever struggled with your sexuality, dealt with poverty, dealt with drugs or violence, there is something you can take after leaving the theater, regardless of color, gender, or sexual orientation. Moonlight is a film that reaffirms why I love movies. This isn't just an "important" film. This is a vital piece of cinematic history. – Valerie Complex