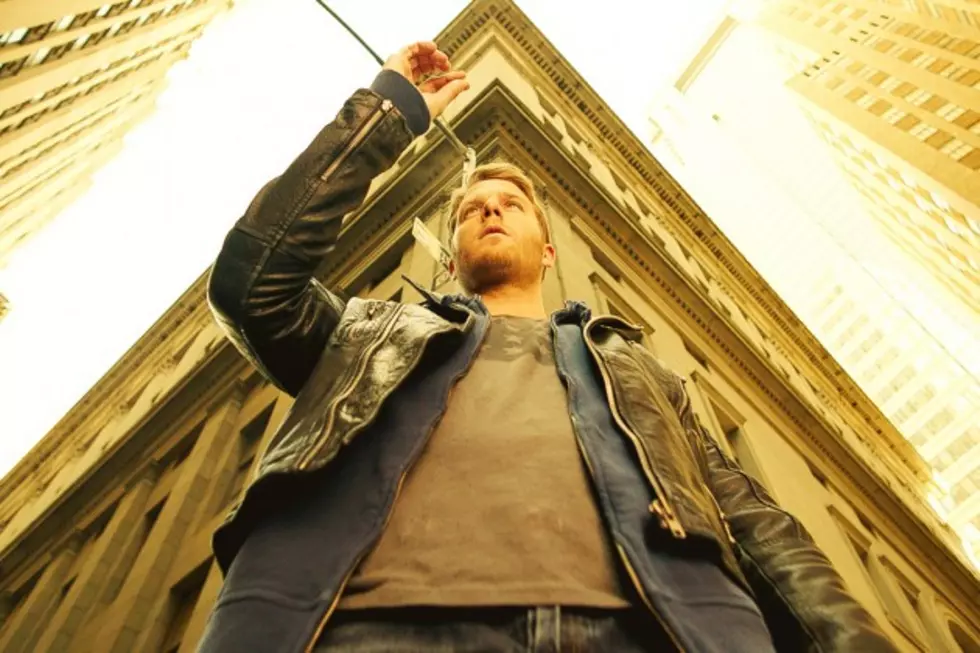 Comic-Con 2015: CBS 'Limitless' Brings Bradley Cooper Back to TV
CBS
It can be difficult to wrap your mind around Limitless, a movie that semi-rebooted itself to TV, keeping the same general continuity while still having nothing "Comic-Con" about it, but a dose of NZT will make everything clear. Find out what CBS' forthcoming Limitless TV series revealed from Comic-Con, and what we'll see from the series this fall!
We were on hand in Ballroom 20 to catch the Limitless pilot, as well as listen to cast and crew lay out the movie-adapted drama, in which Bradley Cooper reprises his role in a supporting fashion. So, what did Limitless have to offer on its future?
We won't get into every detail of the pilot just yet, though it's safe to say things start in media res, with Brian Finch already on the run, pursued by FBI agent Rebecca (Jennifer Carpenter). The story dips back to show the state of Brian's life beforehand, including a tense dynamic with his ailing father, before showing how Brian gets mixed up in NZT.

Bradley Cooper's presence is also acknowledged early on, but as you've seen from the trailer, we get a much more personal check-in with Eddie, er…Senator Edward Morra later on. Cooper also phoned in a recorded message from London, welcoming fans to Comic-Con and introducing the pilot.

The pilot also brings with it some intriguing visual flair to show Brian's thoughts while on NZT, including talking to himself in split-screen.

NZT has become something of an "arms race" in the time since the movie, as Rebecca's FBI overseer reveals they'd been trying to replicate the drug. As you might expect, Finch ends up joining their task force as a resource, but how he gets around the NZT side effects may prove surprising to fans.

Rebecca has a family history of addiction, including the mystery of her father's own substance-related death.

There's a talking fetus in-utero. We offer no context on this development.

After the panel, producer Craig Sweeny, director Marc Webb, Jake McDornan and more took the stage to answer questions. Sweeny expressed his enthusiasm for the series' macguffin as a drug that anyone could take, rather than a radioactive spider, something that made Webb grimace. Aww.

McDornan was happy to not have to follow Bradley Cooper in the central role, Limitless instead shifting the story to focus on a new character, rather than simply remake the film.

Acknowledging the Spider in the room, Webb offered of Brian Finch that he becomes a much more intellectual superhero than Peter Parker, which allows for some more interesting visual flourishes than a physical power. In either case, Webb "likes to see his characters torn apart," and worked to focus on the emotional undercurrent.

As to what separates Limitless from other procedurals, Webb cites the playfulness at work, as well as the visual components. McDornan offered that the drug could create other NZT-enhanced allies and villains alike, while Sweeny reminds that Brian won't be super-intelligent all the time.

One fan ignited a debate about the premise glorifying drug use, to which Webb acknowledged that it was important to acknowledge the consequences of Brian being dependent on a substance, albeit with an antidote that disables the side-effects. Sweeny hoped more to think of NZT as a pharmaceutical enhancement in development, rather than a back-alley, harmful drug.
Premiering September 22, CBS' Limitless reboot synopsis reads thusly:
LIMITLESS, based on the feature film, is a fast-paced drama about Brian Finch (Jake McDorman), who discovers the brain-boosting power of the mysterious drug NZT and is coerced by the FBI into using his extraordinary cognitive abilities to solve complex cases for them. Working closely with Brian in the major case squad in New York City is Special Agent Rebecca Harris (Jennifer Carpenter), a formidable investigator with a dark past, and Special Agent Boyle (Hill Harper), a former military officer and Rebecca's confidante. They report to Special Agent in Charge Nasreen "Naz" Pouran (Mary Elizabeth Mastrantonio), a canny manipulator of the reins of power.

Unbeknownst to the FBI, Brian also has a clandestine relationship with Senator Edward Mora (Academy Award nominee Bradley Cooper, recurring), a presidential hopeful and regular user of NZT who has plans of his own for his new protégé. Fueled now with a steady supply of NZT that enables him to use 100% of his brain capacity, Brian is more effective than all of the FBI agents combined, making him a criminal's worst nightmare and the greatest asset the Bureau has ever possessed.

Craig Sweeny, Marc Webb, Alex Kurtzman, Roberto Orci, Heather Kadin, Bradley Cooper, Todd Phillips, Ryan Kavanaugh, Tucker Tooley and Tom Forman are executive producers for CBS Television Studios in association with K/O Paper Products and Relativity Television.

The pilot was directed by Marc Webb ("The Amazing Spider-Man" 1 and 2 Feature Films).
We've included the Limitless trailer again below, but does the new CBS series sound like it'll live up to the movie?