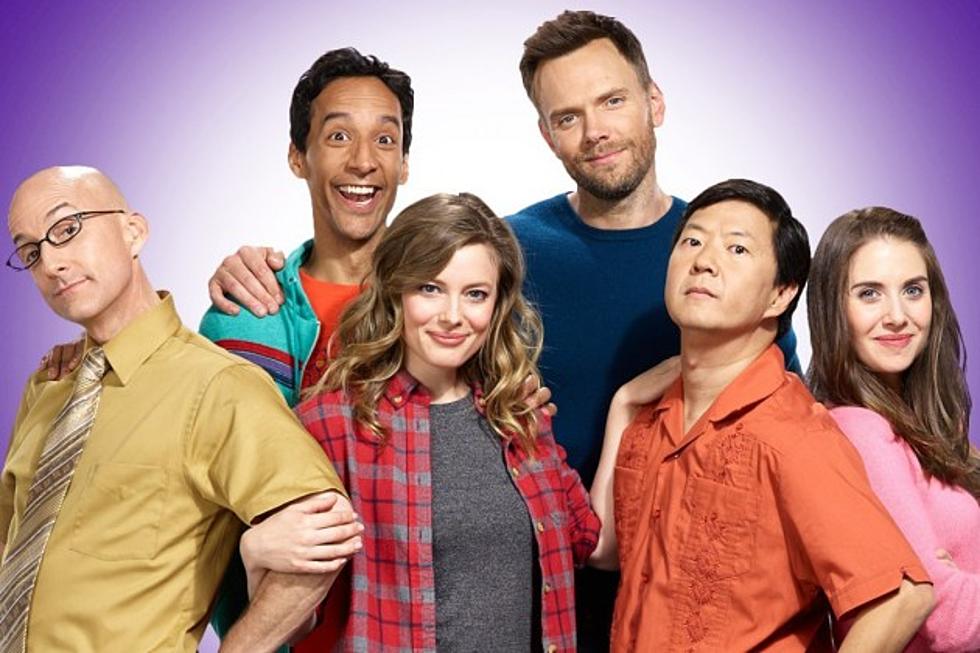 'Community' Season 6's Finale Was Bittersweet and Beautiful, But Do We Want Season 7?
Yahoo
That old familiar standby of Community signing off has again arrived, perhaps a bit more under the radar than in previous years, but nonetheless completing the first half of its #SixSeasonsandaMovie pledge. Meta as ever, "Emotional Consequences of Broadcast Television" said a heartfelt goodbye to Season 6 as it envisioned a potential Season 7, but would fans (or Dan Harmon) even want it?
You'd be hard-pressed to chart any real narrative thread though Community's sixth season (and likely series) finale, though the concept of saying goodbye permeates its every opening moment, lingering on the empty Greendale halls before Leonard cheers the end of another semester. No Subways or City Colleges to thwart, no pirate rescue, just a group of unlikely friends and cohorts around a table, contemplating the end of a vague "Save Greendale" project.
Instead, the mounting sense of finality pushes everyone to follow Abed's lead in contemplating a seventh year (or season, for shorthand), allowing just enough wish fulfillment to bring back Yvette Nicole Brown's Shirley, or at last take advantage of Yahoo's lax standards with a few well-placed F-bombs. Fantasy or otherwise (including "pitches" that almost invariably end with the Dean in a diaper), the ending looms. Annie earned herself an internship with the FBI in Virginia. Abed, a PA position in California. Elroy, similarly westward bound, but for a job with LinkedIn. Namely, what is this mysterious linking service, and who are the people using it?
Even with the loose format of of envisioning Season 7 pitches, "Emotional Consequences of Broadcast Television" still finds time to check off a few finale questions, forcing Jeff to confront his long-simmering feelings for Annie, or even perhaps outing the latter as the fabled Ass-Crack Bandit of Season 5. The focus on Jeff feels particularly important, as while everyone's "pitch" plays mostly on narcissistic humor, Jeff's multiple suggestions reveal a much more tenable fear, in and of itself communicating the titular emotions of its series creator.
There's fear, in Jeff envisioning a study group populated with such ancillary figures as Leonard, Garrett or Vicky, the others all since having left him behind. There's anger, in a study room full of murdered Abeds, as Jeff reacts to learning of his PA position out west. There are vague hints of both denial and optimism, as Jeff pictures the gang all having graduated to positions at the school, Chang even having achieved some semblance of stability. Dan Harmon has worn all these emotions on his sleeve in the course of Community's run, frustrated and hopeful of lightning in a bottle that never quite lived up to its promise.
Behind the scenes, a seventh season of Community seems especially unlikely, due to "hemhorrage" further cast members Danny Pudi back to NBC, Ken Jeong to ABC, Gillian Jacobs to Netflix, and perhaps even Alison Brie to Marvel, should she stay on their good side. Yvette Nicole Brown returned out of sentiment, though Donald Glover was predictably nowhere to be found, quashing our pipe dream of a closing tag movie setup. Even the finale's "#AndAMovie" button seemed less like a promise, and more a resigned celebration.
There's certainly truth in Abed's talk of a "horse pill-sized contrivance" that would bring the entire group back together, be it Season 7 or a movie, and we wonder perhaps if "Emotional Consequences of Broadcast Television" was Dan Harmon's way of saying goodbye to those kid stuff dreams, or a need to compete with Hollywood's blockbuster market (cough, Marvel dig). Like the best of finales, honesty and self-reflection go hand and hand with profound sadness, all amid a celebration of TV's ups and downs.
[TV] has to be joyful, effortless, fun. TV defeats its own purpose when it has its own agenda or is trying to defeat other TV or being proud of ashamed of itself for existing. It's TV. It's comfort. It's a friend you've known so well, and for so long, you just let it be with you. And it needs to be okay for it to have a bad day, or phone in a day. And it needs to be okay to get on a boat with LeVar Burton and never come back, because eventually, it all will.
Community has always been our friend, one who always seemed a hair's breadth from oblivion, and one we'd even prepared to let go after Season 4. Miraculous recoveries do happen however, bouncing back from a gas leak deathbed and with Dan Harmon back at the helm, not quite so mobile as in prior years, but a more hopeful return than we'd ever thought possible. The latter two seasons of Community taught us the value of saying goodbye at the right moment, and the moment feels apt.
We'd welcome the movie of course, whatever time it might take, though a seventh season would feel horribly off-brand for Community, and the stalling of an inevitable end. Like the Greendale Seven themselves, our time at Community college may not have seemed like the complete fulfillment of Dan Harmon's dream, but an invaluable experience that brought such unlikely friends together. "Emotional Consequences of Broadcast TV" gave us all that and more, a beautiful meta meditation on sadness and uncertain destiny, and acknowledging the love it takes to let something go.
:::fart noise::: And so on.
Much as I've followed reviews of every episode all season, I can't recall anyone bringing up Dean Pelton's lack of colorful costumes. The immutable Jim Rash, never reliant on a simple gimmick.
Keith David and Paget Brewster both nailed it this year, but why Elroy's early exit?
For anyone curious, that was Justin Roiland of Rick and Morty fame voicing "Ice Cube Head."
Well, should Community live another day, or should we forgo Season 7 in hopes of an eventual movie? Should "Emotional Consequences of Broadcast Television" prove the last ever, did the Greendale Gang have a satisfactory exit?