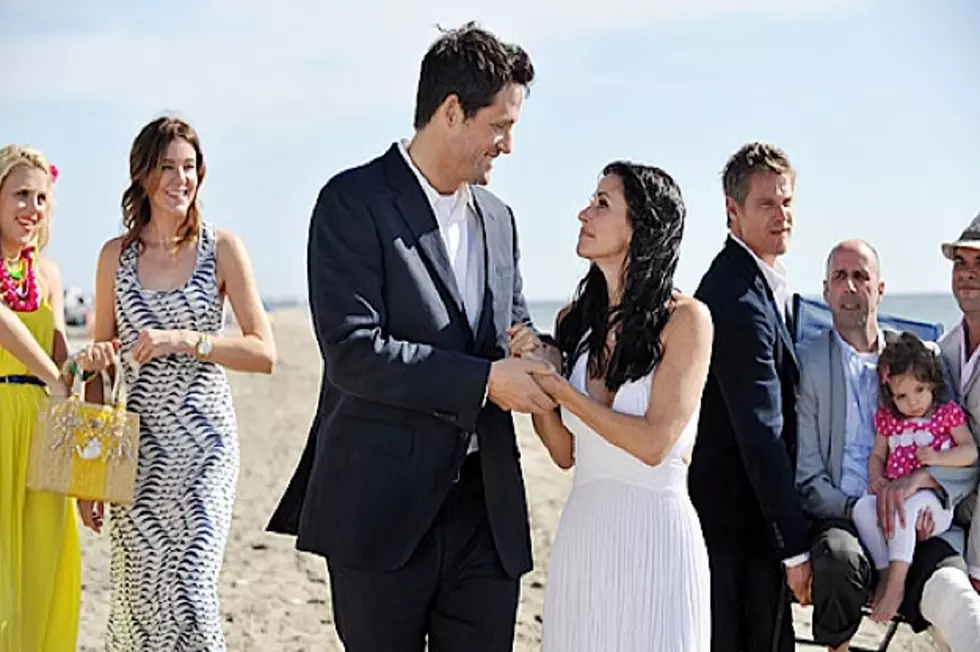 'Cougar Town' Season Finale Review: "My Life/Your World"
We're finally at the end of season 3 for ABC's 'Cougar Town.' It's been a long road littered with hiatus and possible cancellation obstacles, but the Cul-de-sac gang's made it and goes out in this season finale with a bang.
The show starts with Grayson's house which is now officially up for sale, with the help of Jules. Grayson describes his former home as his own "island hideaway" where he can get some privacy from everyone. Once Grayson and Jules arrive back in her house, the entire gang is in there. Grayson tells Jules that he doesn't want them in there all the time, but she counters that by giving everybody their own key to her house. "I'll see you everyday forever" she says with a smile.
Hey look, it's Tom. He needs to borrow Jules' ladder so he can get his frisbee off her roof. Poor Tom, playing frisbee by himself. Meanwhile Ellie and Laurie are brainstorming as to what they'll be doing for Jules' bachelorette party. Laurie wants to go out on the town while Ellie quietly fumes over the fact that she's taking responsibility for every maid of honor duty. Jules decides that she'll wear a tiara and the three of them will sit down and watch "Groundhog Day," more so they'll explain to Jules what's going on with the movie because she doesn't understand a lick of it.
Penny Can! Bobby, Andy and Travis are playing an all day round of Penny Can with Stan standing near the can, wanting to play. When Travis makes a particular shot, Bobby and Andy refer to the Penny Can book to see what Travis has to do because of it. "It's more like a bible son," says Bobby. Unfortunately Travis has eat something from the mystery bucket, which ends up being a snail. It's cute how much Penny Can reflects Calvin Ball.
Meanwhile Ellie is still upset over Laurie wanting to take over all maid of honor duties. Ellie proclaims that if this goes any further she'll drop the "grenade." However, Grayson ends up getting his hands on the invisible grenade before she gets the chance to use it. Everybody enters Jules/Grayson's bedroom and he does not like it. When he discovers that they all have their own keys to the house, Grayson blows a fuse and punches the wall.
Jules and Grayson are back at Lynn, the therapist's office. Lynn tries to explain to Jules how Grayson does need his space in order for this to work, but doesn't think it's too great that Jules gets so turned on when he gets violent. Lynn leaves the room for a second then returns, finding Jules wildly making out with Grayson.
Jules and Grayson return to their house where she dubs the bed as his new island hideaway. Grayson lies down on the bed and says "You're invited onto my island... right now," but stops Jules after she says okay because he's too tired from the sex they had at the therapist's office.
Jules continues to struggle, trying to understand "Groundhog Day" as her two maids of honor try to explain it during her lackluster bachelorette night. At one point she thinks that the townspeople are robots because of what they do on the repeat day. "Already praying for death" says Ellie. This may be the single most boring bachelorette party ever, especially for Ellie.
At the same time Bobby and Andy are writing up more Penny Can rules which includes skip running across the boat and brushing dog Travis' teeth. Human Travis doesn't like Penny Can too much anymore. "You speak ill of the can again you'll find yourself in a Cobb headlock," says Bobby. Travis challenges him to a no frills Penny Can just to prove to him that it's still fun. Once Bobby and Andy realize how boring Penny Can is, they proclaim that the game is officially dead. Bobby replies with the sudden death with "Why can't it be someone nobody cares about, like hockey or the golden globes." Meanwhile the lame bachelorette party is still going on and Ellie can't take much more of watching "Groundhog Day" and being in the same room as Laurie for a long amount of time.
Once again everybody is bugging Grayson in his newly proclaimed island hideaway. Tom even joins in on bothering Grayson too which ends bad for him since he falls off the ladder and hurts himself pretty bad, but nobody cares about it. Grayson has had enough of the intrusions. To top it off, he drops the invisible grenade and tells Laurie that Jules only chose her as her co-maid of honor because she felt sorry for her.
Now Jules and Ellie are both upset at Grayson for telling that to Laurie. Ellie tells Travis that he has to fix Penny Can. Laurie is all sorts of hurt over the situation and can't really stand to be around Jules. Tom pops up at her kitchen window as always, this time in a wheelchair. Meanwhile Bobby is golfing as Andy watches, reminiscing about the good old days of Penny Can. Travis tries his best to cheer them up but still needs to think of a way to revive Penny Can.
Ellie goes to Grayson's bar to talk to a sulking Laurie. She's still completely heartbroken over the news but Ellie thinks she can find a way to fix this with the help of her nicotine gum. "It makes you see things super clearly, it's like epiphany gum." But how do they handle Jules and make her fix everything?
The entire gang gets together and does their own version of 'Groundhog Day,' reenacting the things they said and did at Jules' house the day before. On the other side of town Bobby and Andy are trying to make up a new game that's equally as fun as Penny Can but can't think of any. Travis interrupts the two and explains the reason why he wants them to start up Penny Can once again; because it was something he loved doing with his dad. When he says that, Stan even tells Andy that he wants to play. Andy replies with "Oh my God, it's like Field of Dreams!" Penny Can is back and the balance to the universe has been restored.
The group is going through their second rendition of Jules' 'Groundhog Day' and she's tired of it. She finally apologizes to Laurie and tells her that she still wants Laurie to be her co-maid of honor. When the two of them hug Tom is really digs it. Pervert.
Jules goes upstairs and talks to Grayson, telling him that she finally gets 'Groundhog Day.' "Bill Murray comedies will do that," he says. All she wants to do is to make him happy. Grayson says that they should elope, go off to Napa and get married. Jules and Grayson show up at a vineyard only to find out that the rest of the gang has followed them. Once again, Jules doesn't understand that when Grayson asks to do something just the two of them that it doesn't include everybody else.
The second half of the episode begins with Jules crying and drinking wine with all of her friends around her. "I'm sorry, it's like I feel like I'm meeting God." Laurie plans to make a wedding cake for Jules and Grayson to be an exact cake replica of the Cul-de-sac which includes real asphalt. Jules asks Bobby to stay out of trouble but he's already got himself inside a wine barrel. To top it all off, Jules' dad appears for the sudden wedding. Grayson isn't happy over any of this and kicks Bobby/the wine barrel down the hill.
Laurie's in the kitchen making the cake for the big day with Travis watching. He talks about how horrible his birthdays normally are and how he hopes that his twenty-first birthday tomorrow will be special. Laurie decides since Wade isn't there that Travis will be her date at the wedding tomorrow. Will they finally hook up? So much tension!
Jules and Grayson are in their room and he tells her how he just wanted to elope, just the two of them. Jules still doesn't get it and thinks that nobody will leave because they love her too much, but Grayson convinces her to ask them the next day.
It's midnight and it is officially Travis' birthday. They literally lift Travis out of his bed and wish him a happy birthday with a wine glass with a candle on it. "I've drank wine before but I'm not a big fan... but I can learn!" He should never say that in front of the Cul-de-sac crew ever again if he wants to live.
Wow, Ellie's flirting it up with the hotel connoisseur (played by David Arquette!) who's completely into her. Aw, poor Andy, he sees all of the flirting going on between the two of them and he doesn't like it.
Jules is hanging out with her dad and drinking it up. He agrees to this and gets a new beer from a bellhop that he paid off to do this, just like what Jules has done to one with her wine glass. "I don't trust anything without a soul, that's why I don't trust German people." He asks him to officiate the wedding and the both of them start tearing up in which Jules' makeup start making her look like Alice Cooper. Coopering!
Meanwhile Laurie and Travis are bonding while she makes the cake. They almost finally kiss but then suddenly Wade shows up. Laurie runs into his arms while Travis is out in the cold once again.
Jules finally gets the group together and asks them to leave the vineyard after a couple of days so her and Grayson can get married by themselves. Everybody agrees which doesn't make Jules too happy. Grayson finally tells her that he tricked her and she chugs her wine. Grayson gets on his knees and asks the group to marry him which includes a couple of conditions including funding Bobby and Andy's short film called "Bromancing the Stone." Can they make that into an actual short please?
This is her dream wedding now. Jules still wants to do something special for him, but doesn't get why the first thing Grayson would think of is robe sex. Grayson tells Jules that he'd love it if his daughter were there for the wedding.
The next morning Wade and Laurie are together talking about the great night they had. Travis is being tortured by their talk while Ellie pines for the connoisseur that she can't have. Travis storms off and takes a couple of bottles of wine with him.
Meanwhile Jules' dad is trying to practice saying the ceremony without crying. Bobby and Andy give him a couple of suggestions which include pretending to be angry while he reads it, bad idea. Grayson's solution is simple "You know how I keep from crying? My nuts. Peace out sir." Bobby suggests that he locks eyes with him in order not to cry. Instead Bobby and Andy are starting to cry along with Jim.
Ellie is going to use Daniel, the hotel connoisseur, to bring Grayson's baby over. Andy is pissed off over Ellie's sexy outfit for him. She goes to Daniel and asks if he'll sneak a baby onto a plane, import the baby while flirting like crazy with him at the same time. Jules makes her reel it back in but the end result of their baby transporting scheme ends badly with Daniel in handcuffs.
It's nighttime and they're holding a small dinner where Jules discovers that Wade's at the table. "Wade's here, is the war over?" Jules finally tells Grayson that she can't elope out there, though she still wants to marry him. Grayson decides to go back to Florida with everybody but then Travis bursts in, completely naked and drunk. Travis finally confesses his feelings to Laurie which makes her feel uncomfortable.
It's the next day and Jules and Grayson are packing up, bringing with them a suitcase loaded with wine. Travis is asleep on the couch with a fake mustache drawn on him. Travis finally wakes up back in Jules' house with everybody else and immediately remembers what he did and said. He thinks he's ruined all the chances he's had with Laurie but Bobby proclaims that "Every great love story stars with a man embarassing the crap out of himself." Although Daniel got arrested earlier she's still texting him which ticks off Andy. Andy reminisces about the first time he took out Ellie then Grayson does so with Jules. Jules ends up Coopering over it. She really needs some waterproof mascara.
Now they're at the therapist where Jules talks about having a happy stroke about the wedding before but she's not looking forward to it now. The therapist  recommends that the two of them should make sure there's some spontaneity in their relationship. The therapist also tells her that she hasn't been invited and Jules writes an invitation for her on a piece of notebook paper to come to their wedding.
Grayson and Jules are all bundled up underneath a blanket at the beach where Jules talks about how badly she still wants a beach wedding, but the law prevents her from doing so. Jules and Grayson decide to be spontaneous and hold their wedding at the beach, walking while doing the ceremony that way the cops don't arrest them. Jules' dad rides in on his horse and does the ceremony, looking at the horse at one point to prevent him from crying. Laurie and Travis forgive each other but what's this? Laurie's eyeing Travis now! Stan runs in with the rings and the whole crew walks with Jules and Grayson as the ceremony wraps up. They all pause from walking when Grayson finally kisses the bride. After that happens, Jules and Grayson gallop away into the sunset on a horse while the rest of the gang distract the cops.
It's nighttime and Ellie is still texting Daniel. Andy is not happy about this at all. Poor Andy ends up taking a sexy picture of Ellie to send to Daniel and asks if he can at least get the picture, in which Ellie says it's up to Daniel. Poor Andy.
The last episode of this season of 'Cougar Town' is really touching, hilarious and a great way for the third season to wrap up. It's obvious that the writers thought this could possibly be the end of the show, and if the show wasn't renewed then it would have been a perfect ending. But since we'll be seeing this come on TBS again next year, it'll be interesting to see what happens to the Cul-de-sac crew next time. Will Travis and Laurie finally hook up? Will Ellie keep flirting with Daniel? Will Andy become mayor? Oh, if only the next season started today so we could find out.