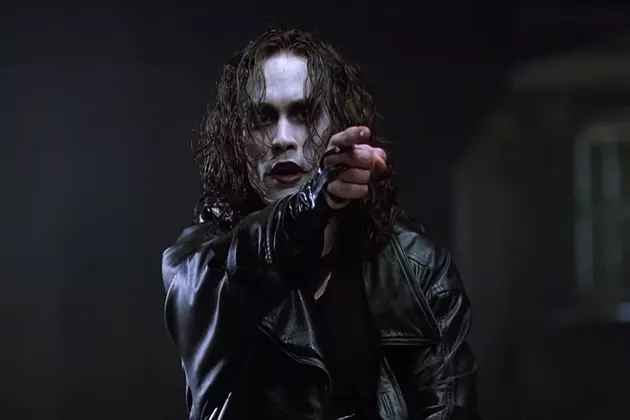 'The Crow' Remake Is Still Happening With Director Corin Hardy
Dimension
Of all the films currently in development, the one that has had perhaps the most surprisingly difficult time pulling everything together is The Crow. Following a few director and casting changes, the long-developing remake suffered a huge stumble with the collapse of Relativity Media, and it didn't seem like it would move forward anytime soon — if ever. But good news for those who are interested in The Crow remake: it's still very much happening.
According to The Wrap, director Corin Hardy has reached a holding deal with Relativity after he briefly considered abandoning the project back in September. Hardy expressed his excitement about staying aboard The Crow to EW:
The Crow is happening. I'm going to make it! We were making it, and it was going very well, until this Relativity situation occurred. But it's something that I'm very excited about, very passionate about. We're all waiting to resume preproduction. Ed Pressman (Wall Street, the original Crow) is the producer. Creatively, everyone's excited. Relativity is sorting itself out — which I can't speak about. But you can read about it online.
Hardy made his debut with the haunting 2003 short Butterfly, and recently made his feature directing debut with the Irish horror film The Hallow. Edgar Wright suggested Hardy for The Crow after a series of directors had exited the project, including Juan Carlos Fresnadillo (28 Weeks Later), F. Javier Gutierrez (Rings) and Stephen Norrington (Blade).
The Crow has also had some tough luck keeping a lead actor attached, with Jack Huston dropping out of the project over the summer due to scheduling conflicts. Luke Evans was attached to the lead role previously, with Tom Hiddleston and James McAvoy rumored before that.
The remake is based on both the 1994 film starring the late Brandon Lee and the graphic novel series by James O'Barr, and centers on Eric Draven, a rocker who is brought back to life to seek revenge on the men who murdered him and his fiancee. Although Huston is out, it's unclear if Jessica Brown Findlay, Andrea Riseborough and Forest Whitaker remain attached.
The Crow will begin shooting in March 2016, presumably for a 2017 release.