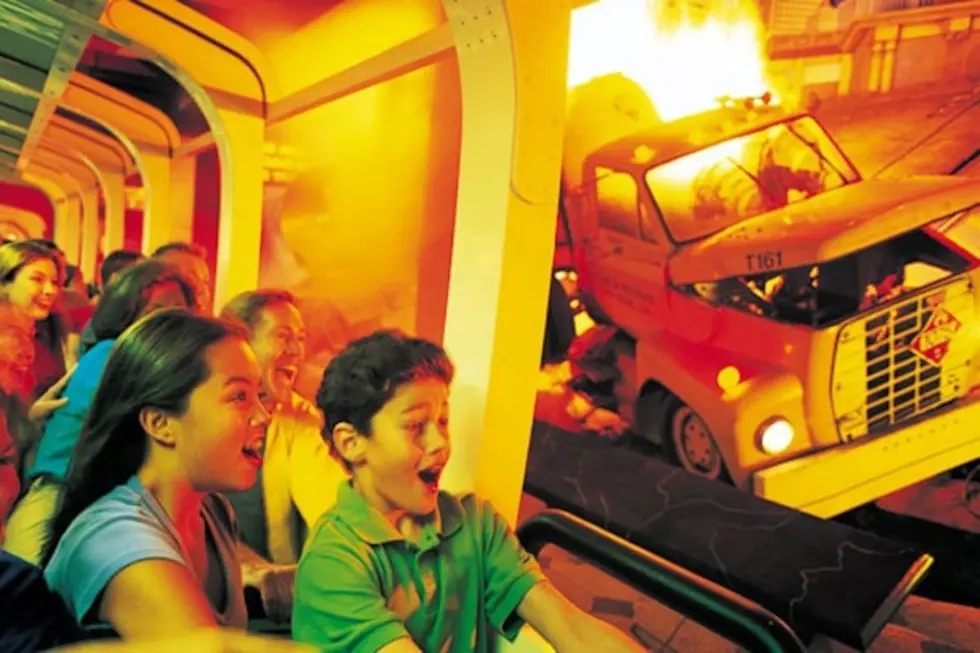 The Death of 'Disaster!' and Remembering the Universal Studios That Was
Universal Studios
"Disneyland will never be completed. It will continue to grow as long as there is imagination left in the world."
That Walt Disney quote can be attributed to just about any theme park, but it's especially true for Disney's number one theme park rival, Universal Studios. Themed entertainment is a like a shark or a relationship – it has to keep moving forward or it has to die. Today, September 8, 2015, marks the day that Universal officially leaves its past behind. Disaster!: A Major Motion Picture Ride Starring You, is closing to make way for a Fast and Furious themed ride. It's closure marks the definitive end of the park's original intentions, for better and for worse.
Because it has spent the past 25 years in direct conflict with the Disney theme park empire, Universal Studios has been in a constant state of "change or die." The only way to battle the world's largest, most powerful, and most influential vacation empire is to be smaller, faster, and more clever. This is especially true for Universal Studios' Orlando, Florida location, which is home to two massively successful theme parks, a burgeoning hotel complex, and rides and attractions based on everything from Harry Potter to The Simpsons to Marvel Superheroes (as part of a deal established long before Disney acquired those characters). The resort's slogan tells their what to expect: "Experience the movies." Disney may have its large and popular stable of characters to play with, but Universal has Minions and monsters and Men in Black. It has Jurassic Park and the Terminator. Disney is for the powerful Disney cult, but Universal Studios is for the generalized pop culture junkie. You liked that movie? Good. Now relive it via a high tech simulation that lets you participate in the action.
Universal is very, very good at making these kinds of rides. They're faster than Disney. They're wilier and more willing to experiment. They won over J.K. Rowling after her meetings with Disney about a potential Harry Potter theme park went south (and the rest is history). However, there's a melancholic underside to the rapidly changing Universal Studios. In their largely successful quest to be the slickest and most hip theme park destination, they have abandoned their original mission statement: to educate and inform tourists about the craft of filmmaking. When it was first conceived, Universal Studios was all about "edutainment," a made-up but accurate buzz word that's all about educating and entertaining an audience is equal measure.
Universal's California location still leans heavily on this angle because it literally doubles as a major film studio. The iconic tram tour still gives visitors a glimpse at old and new films, with the occasional dramatic visit from classic film characters like the shark from Jaws and King Kong. When Universal opened a second park in Florida in 1990, there was no proper tram tour. Those Jaws and King Kong vignettes were spun out into their own, full-fledged rides. Among the attractions was Earthquake: The Big One, based on the kinda-sorta classic 1974 disaster epic starring Charlton Heston.
Here's how it went down in broad strokes:
The crowd was ushered into a standing theater, where a video featuring Heston set up the concept of Earthquake and played scenes from the film. After a few minutes, the movie screen would rise, revealing the actual models of devastated buildings that were used in the film. Crowds were then ushered into the next room, a larger theater themed like a sound stage, where enthusiastic hosts recruited audience participants to show off various practical special effects and stunts. From there, everyone was loaded onto a massive ride vehicle shaped like a subway car and got to experience an earthquake first hand. However, the shaking and crumbling and explosions and flooding were all in the service of one thing: showing off "movie magic." This, in vague but entertaining terms, is how movies are made, the ride declared.
There used to be a lot of rides and shows like this at Universal Studios Florida. '90s crowds received a cheesy but memorable look at television production through shows like The Murder She Wrote Mystery Theater and Hercules and Xena: Warriors of the Screen. The Boneyard offered movie fans a chance to check out iconic movie props and vehicles up close. Any '90s kid knew that Universal Studios Florida was home to Nickelodeon Studios and getting to go on that studio tour was a badge of honor. Hell, even the Hanna-Barbera simulator ride opened with William Hanna and Joseph Barbera appearing on big screens to talk about the art of animation.
Most importantly, the park was home to Alfred Hitchcock: The Art of Making Movies, an attraction that literally changed my life. It was a series of theaters and showrooms – a clever montage of Hitchcock clips that is interrupted by a 3D bird attack, a recreation of the Bates Motel, and finally an interactive "playground" that let visitors participate in various films. A projection screen built into a staircase let you experience Jimmy Stewart's vertigo. You could stand on a "rooftop" and use binoculars to spot the murder from Rear Window. One lucky tourist got to stand in front of a green screen and re-enact the finale of Saboteur.  I walked into that show as a casual movie fan and left begging my mom to buy me copies of Psycho and The Birds from the gift shop. My serious movie fandom, the reason I spend my life professionally writing about movies and art and pop culture, begins right there.
This is why I remain a theme park fan to this day and why I refuse to justify myself when I'm accused of holding on to a childish devotion to a hobby that can seem tacky to the uninitiated. Old school Universal Studios, with its often ham-fisted but always enthusiastic edutainment, literally changed my life.
Even the rides that weren't deliberately about making movies benefited from being surrounded by those that were. After learning about moviemaking up close and personal somewhere else in the park, a ride on Jaws or Kongfrontation taught me to appreciate the dramatic timing of special effects and story elements. Learning that the astonishing Back to the Future ride was co-directed by the legendary special effects maestro Douglas Trumbull led me to 2001: A Space Odyssey, Silent Running, and Blade Runner. Universal Studios taught me that movies were the result of hardworking men and women who deserve to be recognized and appreciated.
These days, Universal Studios is all about hiding those seams. Like an actual blockbuster movie, a modern Universal Studios ride is all about total immersion. You are so enthralled, so surrounded by detail, that you can only exist in the moment. A modern Universal ride is pure, perfect entertainment. You may not learn anything, but whatta' ride!
And that's okay. It's easy to be cynical, but let's get real: Shrek 4D, which replaced Alfred Hitchock: The Art of Making Movies in 2003, simply gets more butts through the turnstiles than a look back at a filmmaker who passed away in 1980. As it became more and more clear that its Florida location would never be a destination for major film productions (direct-to-video sequels to Bring It On, Beethoven, and Ace Ventura were recently filmed there), Universal steered the ship away from education and toward movie-themed thrill rides. And it's worked out for them. Have you seen the Wizarding World of Harry Potter? It's spectacular.
To be fair, Universal took a long time to ease into this new mindset. In 2007, Earthquake: The Big One was shut down for a brief refurbishment. It reopened in 2008 as Disaster!: A Major Motion Picture Ride Starring You. The basic layout was the same, but the tone was different. No longer based on a decades-old movie, the attraction was themed around disaster movies in general. Charlton Heston was replaced by an astonishing hologram of Christopher Walken (playing an eccentric film director), who would interact with a live tour guide. The grand earthquake climax featured a a cute video appearance by Dwayne Johnson. The ride was sillier and significantly more broad, but the basic gist was the same. Making movies is hard work, but the results can be amazing.
Now, Disaster! is officially closing its doors forever and once you wave away the fog of nostalgia, it's understandable. The earthquake effects are showing their age. The three-room show system doesn't move crowds nearly fast enough. And let's face it: a Fast and Furious ride that utilizes modern theme park tech could be something truly special* and get a lot of visitors (and their vacation money) down to Florida to check it out. All we know for sure is that the new ride will require all of the space occupied by Disaster! and the neighboring Beetlejuice's Graveyard Mash-Up show, which is set for closure later this year.
A few major attractions still pay lip-service to the park's educational origins. Revenge of the Mummy takes place on a cursed film set and features Brendan Fraser as himself. Director Steven Spielberg personally sets up the simple story for E.T. Adventure through monitors hanging above the ride queue. Bill Paxton and Helen Hunt awkwardly guide crowds through the line at Twister: Ride It Out. The latter is the most interested in talking about actual filmmaking, but it's vague...and the ride itself is supposedly on the chopping block. After today, the only major Universal Studios Florida attraction that is actually about making movies is the Universal Horror Make-Up Show and calling that "major" is being generous. It's a wonderful show, but no one makes it a priority.
You can't blame Universal Studios for changing and you can't blame them for embracing what's popular. It's working out well for them so far. Heck, their recent success has to led to Disney officially engaging them in a Cold War of theme park design. What are Disney's upcoming Avatar and Star Wars "lands" if not a direct response to Universal Studios' Harry Potter? These two are going to force each other to go bigger and grander than ever before and fans of themed entertainment are looking at a new golden age. People who want to "ride the movies" (to quote Universal's old catchphrase) are in for an exciting few years.
But let's pour one out for the Universal Studios of old, which passes away today. It's mission statement found at least one convert in me and I will never forget it. Disaster! and the rides like it are gone, but they will not be forgotten. Universal Studios is dead. Long live Universal Studios!
*There is a new Fast and Furious scene on the California park's tram tour, but the Florida version is expected to be different.