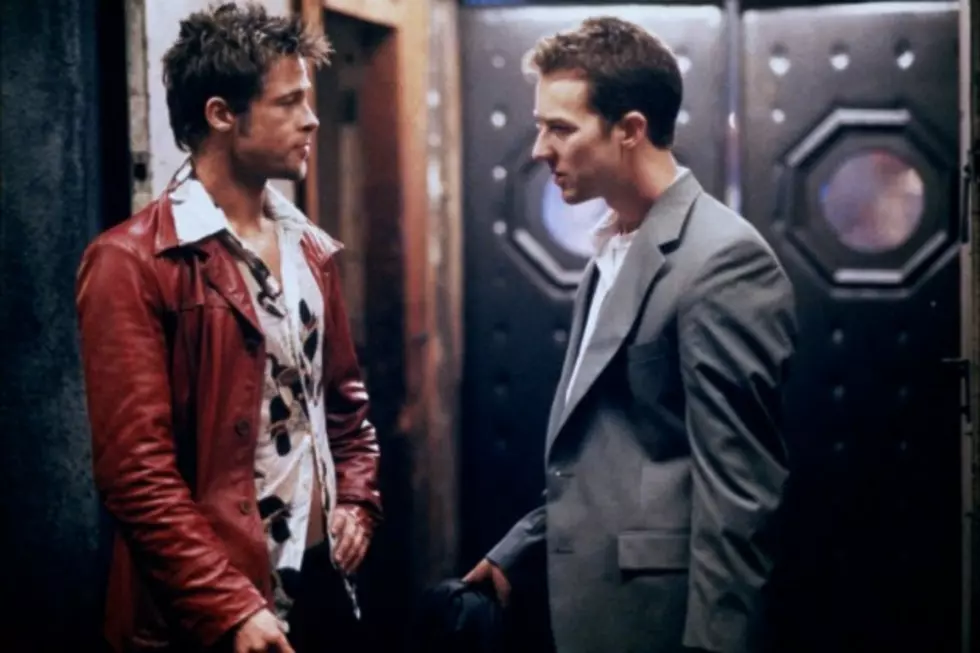 'Fight Club' Rock Opera in the Works With David Fincher, Trent Reznor and Julie Taymor
20th Century Fox
This isn't the first time we've heard of plans for a Fight Club musical — director David Fincher has spoken about it for years, originally targeting the film's 10th anniversary in 2009. That obviously didn't happen, but according to author Chuck Palahniuk, we may be closer than ever to seeing the dream of a Fight Club rock opera made reality.
During Comic-Con, Palahniuk sent out a tweet that said "Julie Taymor working with David Fincher on a FIGHT CLUB rock opera? You didn't hear it from me. :)" That tweet has since mysteriously been deleted, but then Jeff Goldsmith of The Q&A podcast tweeted this:
In addition, Slashfilm found this quote from Palahniuk back in April, when he was promoting the Fight Club comic book. Here he adds that Trent Reznor is involved with developing the music :
For the time being, I'm keeping it for myself. But right from the get go, when we signed that 60-page contract back in 1996, it gave FOX rights to create sequels and television shows and, so, I don't have control over a lot of that. Fincher is optioning the stage rights. He's finally moving on to the big rock opera. David says that there's been a rock opera for every generation, you know, "Tommy" and then "The Wall," but there really hasn't been a really big one for the current generation – and he and Trent Reznor are really determined to make that happen. And David's been consulting with Julie Taymor, the director, and she's been kind of coaching him on what it takes to get a huge stage production.
Reznor and Atticus Ross have provided scores for Fincher on The Social Network, The Girl With the Dragon Tattoo and Gone Girl, so working with Fincher on a "rock opera" version of Fight Club seems like a good call.
Taymor directed the films Titus, Frida and Across the Universe, and was the director behind the notorious Spider-Man musical, Turn Off the Dark. She also won the Tony for directing The Lion King musical.
That's quite an interesting trio of talent for a Fight Club rock opera, which is a fairly intriguing project, and one we'll hopefully see get off the ground in the next few years.