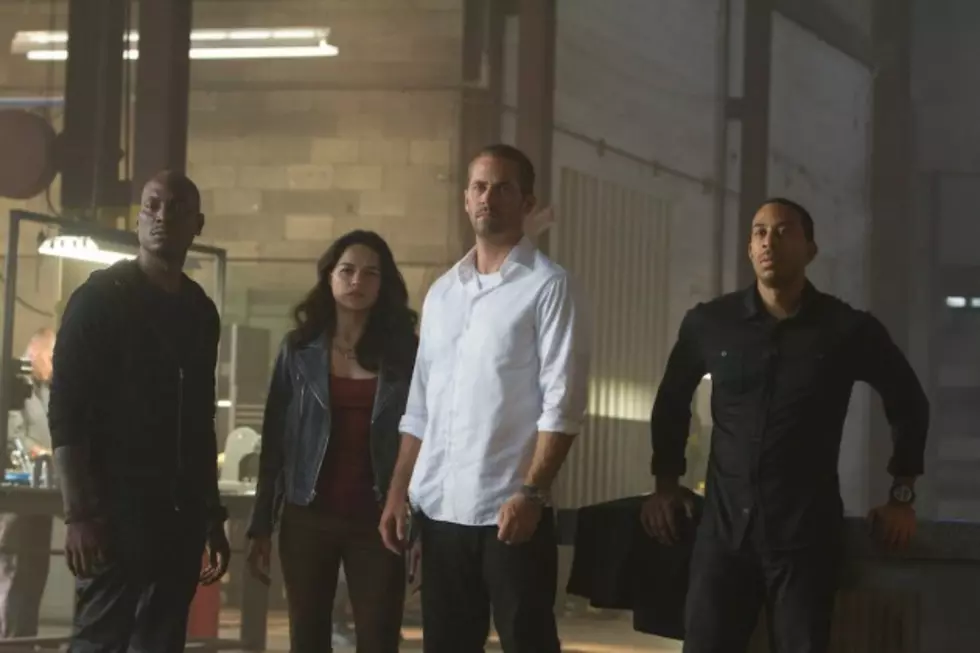 'Furious 7' Review: One Last Ride, and It's a Good One
Universal
Furious 7 almost certainly won't be the last Fast & Furious movie. But at times it feels like the series' farewell. There are numerous callbacks and homages to the franchise's entire 15-year history. The setpieces are bigger and crazier than ever, and it's hard to imagine anyone topping them. And before the chases really get rolling, the mood is often downright mournful. Two different scenes are set in graveyards. Characters talk ominously about taking "one last ride" together.
It's impossible to watch these moments and not think about Paul Walker, who tragically died in a car crash in November 2013 before production had wrapped. Even though Furious 7 delivers the franchise's requisite thrills, Walker's real-life fate is never too far from the surface. It's on the audience's mind when his character, Brian O'Conner, dangles off the edge of a cliff from a mangled bus, or when the camera begins to cut carefully around the actor's face in scenes that were clearly completed after his death. Even though Walker is still present, his absence is already felt. It is strange to watch a movie that is this much fun and this sad all at the same time.
For years now — ever since the original cast returned in 2009's Fast & Furious — the series has been building one of the densest and most complex mythologies in all of modern Hollywood, a trend that continues here as the characters deal with the fallout of their actions in Fast & Furious 6 (which was, in turn, a response to the aftermath of Fast Five, which dealt with the blowback from Fast & Furious). In the last film, street racer and master thief Dominic Toretto (Vin Diesel) and his team defeated a British criminal named Owen Shaw (Luke Evans); in Furious 7, Shaw's older brother Deckard (Jason Statham) vows revenge. Newcomers won't notice, but hardcore Fast vets will be delighted, particularly when this Fast & Furious concludes a scene that originally began way back in The Fast & Furious: Tokyo Drift almost ten years ago.
Deckard murders one of Dom's buddies, blows up Dom's house, and nearly kills his amnesiac lover Letty (Michelle Rodriguez), Brian's wife (and Dom's sister) Mia (Jordana Brewster) and Brian and Mia's young son. He also attacks Dom's secret agent pal Luke Hobbs (Dwayne Johnson), who's no pushover. So Dom vows revenge on Deckard for vowing revenge on him. This is a lot of revenge for one movie to contain, and that's before Dom and the rest of his crew (which also includes computer expert Chris "Ludacris" Bridges and comic relief Tyrese Gibson) hook up with a shadowy government operative named Mr. Nobody (Kurt Russell) and then start skydiving out of planes behind the wheel of their custom cars, a sport I guess we have to call "skydriving."
Though Fast & Furious began in 2001 as a movie about an undercover cop in the world of Los Angeles street racing, it has long since abandoned that milieu — along with the laws of physics — for globe-trotting espionage and heists involving wildly over-the-top action sequences. Furious 7 spans three continents and features a truly international cast, another major part of its appeal (new members of the ensemble include Thai martial artist Tony Jaa, West African actor Djimon Hounsou, and Bollywood star Ali Fazal, along with MMA champ Ronda Rousey). When it ramps up to full speed, it really delivers on the knowingly absurd stunts that Fast fans have come to expect, along with four epic showdowns: Rock/Statham, Walker/Jaa, Rousey/Rodriguez, and Statham/Diesel. (Diesel's funniest line comes during that last one: "You think this is gonna be a street fight? You're goddamn right it is!")
Director James Wan, a man previously known for horror movies like The Conjuring and Insidious, replaced longtime franchise steward Justin Lin on Furious 7, but the visuals don't miss a beat. By the big finale, Wan's juggling three or four interconnected lines of parallel action, and doing so with a deftness and precision that a lot of veteran genre filmmakers still lack. Even with the tough choices he made out of necessity in order to keep Paul Walker in the film, this might be the best-looking and best-edited Fast & Furious so far. (I'd still rate Fast Five as the best overall movie in the franchise for sheer brio and entertainment value, and a plot that holds together a bit better than this one.)
Fast & Furious 6 made something of a catchphrase of the line "Ride or die." It's repeated by Michelle Rodriguez at the start of Furious 7, but this time Diesel suggests she try just the ride part and skip the rest. In the wake of Walker's death, the creators of Furious 7 could have chosen to rein in some of the outrageous car chases and crashes. Instead, they went in the opposite direction; this Fast & Furious seems to contain a record number of brutal collisions that characters walk away from like they're invincible. It's a choice that could have backfired, but it feels right, and it makes Furious 7, which is already a fitting and moving send-off for Walker, even more poignant, because the characters in the film can do what people in the real world cannot: Defy death.