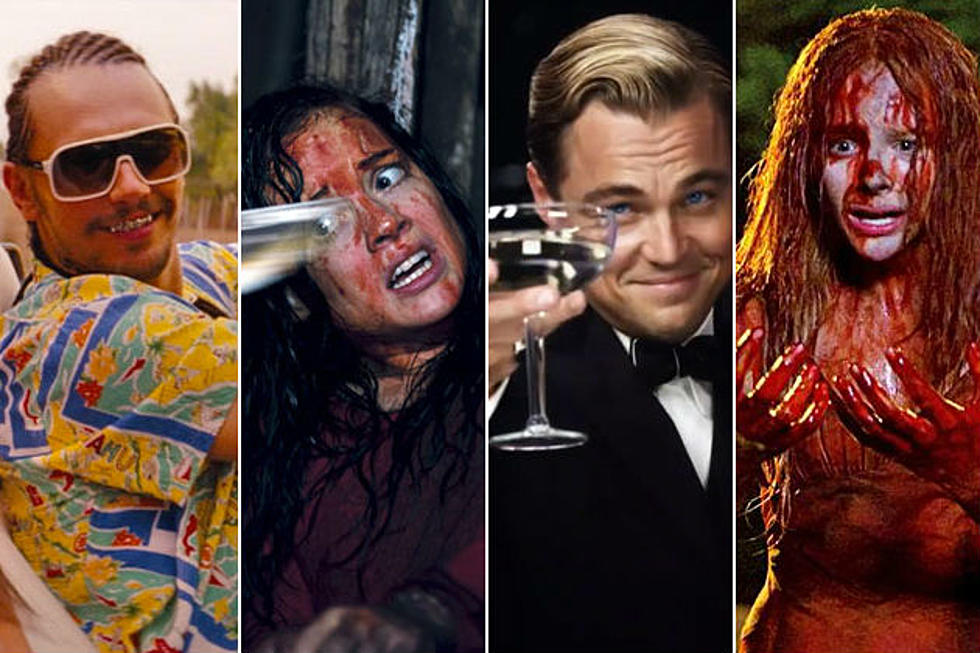 Halloween Costume Ideas Inspired by 2013 Movie Characters
A24/Sony/Warner Bros./Screen Gems
Halloween is right around the corner, and if you're a movie fan, choosing your costume this year could be pretty tough. Will you go as Alien from 'Spring Breakers,' or make an old classic new again by dressing up as Carrie White from 'Carrie'? Don't worry -- we've done all the heavy lifting for you. Whether or you're a male or a female movie fan, we've put together this guide to Halloween costumes inspired by 2013 movie characters. We'll tell you what to buy and where you can buy it so you'll be the best dressed this Halloween. 
Alien from 'Spring Breakers'

You can steal the show just like James Franco did in 'Spring Breakers' by dressing up as fictional Florida rapper Alien. The main outfit components are the easy part (Hawaiian-style shirt, sunglasses, fake grill for your teeth), but what really makes this costume work are the accessories: an AK-47 (fake, please), a bottle of CK One, and a Blu-ray of 'Scarface.' Find the nearest Blu-ray player wherever you end up on Halloween, and make sure to put 'Scarface' on repeat.

Why should guys get to live 'Spring Break' forever?! If you're a female 'Spring Breakers' fan, you can dress up as one of the lead girls in the film. A neon-colored bikini, shorty-shorts, and some flip-flops (which most of us already own) can be accentuated by a fake joint, a fake gun, and a pink ski mask. There are even sellers on Etsy who have made some screen accurate unicorn ski masks so you can keep it legit.

'Pain and Gain' Musclehead

You don't have to be totally ripped to dress as Mark Wahlberg or Dwayne Johnson from Michael Bay's 'Pain and Gain.' In fact, it's probably funnier if you aren't. The costume is super basic and won't cost you much: a muscle tank top, some old school Zubaz workout pants, stacks of cash (play money works; we're not all flush with cash), and a dumbbell so you can work on your biceps all night. Don't forget to rub your arms down with baby oil so you're as impossibly shiny as Dwayne Johnson.

No one's going to laugh at you (okay, they might) in this costume. With the remake of 'Carrie' in theaters now, it's a good time to bring back a classic Halloween costume. We can't teach you how to make things move with your mind, but we can tell you how to pull off a solid Carrie White costume. First, you'll need a light pink prom-style dress. You can splurge a little and buy one online, or you can hit the thrift stores for something cheaper if you want to really bloody it up. Speaking of which, you'll also need to cover yourself in blood. Lots of it, preferably. Add a prom queen tiara and sash, and don't forget the tampons.

Jay Gatsby is like the classy, refined version of Alien from 'Spring Breakers.' A basic suit (which you can find at a thrift store if you don't already own one) serves as the basis for this costume, and again, it's about the props. You'll need to drink champagne all night (as if you need convincing), and randomly toss confetti at people with party poppers. To really sell this one, carry around a stack of multi-colored shirts and toss them at fellow party guests, shouting, "Look at all my shirts! I have shirts in every color!"

This costume works for men and women, since no one is going to see your face anyway. But instead of finding one of the officially licensed 'You're Next' masks, go the DIY route and make one yourself. It's cheap and totally easy -- pick out a plastic animal mask (sheep, fox, wolf) and grab a can of white spray paint. Lightly spray the mask to eradicate any color, but don't heavily coat it. You want it to look a little dingy. For clothes, you'll need a tactical vest and pants, and for accessories, a fake machete and a copy of Dwight Twilley's greatest hits. Find your nearest CD player and put "Looking for the Magic" on repeat.

Dressing up as Jane Levy's character from 'Evil Dead' is easy and totally fun -- and bonus, you don't have to dirty up your dress unless you want to. ModCloth has a red dress that looks pretty similar to Mia's dress from the last act of the film. It's a little pricey, but you can wear it after Halloween, too, so consider it an investment. Grab a bottle of blood and go nuts on your face, arms, and legs, and don't forget the chainsaw to make Ash proud. You'll have a tough time finding a Necronomicon replica, but there are a few sellers on Etsy who make some pretty adorable Necronomicon necklaces, which we think are a totally acceptable substitute.

This is another one that's a bit easy to pull off, but it's all about the attitude. Pair black skinny jeans or leggings with a tank top (basics most of you probably have already), with a faux fur vest (keep it animal-friendly) and you're already most of the way there. Accessorize with outlandish faux bling -- the more the better, a pair of exaggerated sunglasses, and a Starbucks cup (which you may or may not fill with booze), and voila! Make sure to take plenty of selfies while you dance the night away, but don't go too far and actually commit theft.

Ron Burgundy from 'Anchorman: The Legend Continues'

Yes, you can feel free to dress up as Ron Burgundy again. With 'Anchorman: The Legend Continues' hitting theaters this winter, now's a great time to dig your old Ron Burgundy costume out of the closet, or buy one for the first time. A burgundy suit isn't too hard to come by (you can find one online or in most thrift stores, or your dad's closet), and neither is a fake mustache. Grab a striped tie to complete the outfit and don't forget to accessorize! A bottle of scotch (Ron loves scotch, scotchy scotch scotch), a flute, and your very own Baxter should make this outfit complete. Just don't let anyone kick Baxter off a bridge, okay?

Theodora from 'Oz the Great and Powerful'

Here's the thing: you can buy an officially licensed 'Oz the Great and Powerful' costume, but where's the fun in that?! Impress everyone by putting together your own Theodora costume with the following: a pair of leather-esque black leggings, a Lolita-style gothic skirt, and a corset-style black top. Add a classic witch hat and broom, and top it all off with a little face paint. Mix green and white together until you get the desired witchy green color, or ditch the face paint entirely and spend the party looking for your James Franco.