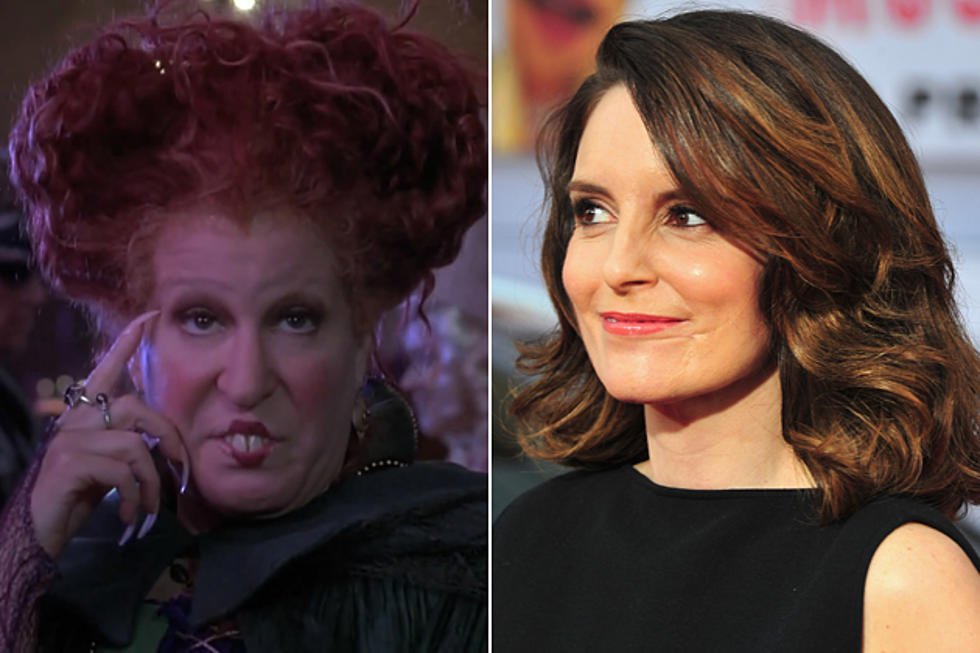 'Hocus Pocus 2′ Summons Tina Fey for More Witchy Shenanigans [Debunked]
Disney/Getty Images
What's the prophesy, again? If a virgin lights the black-flame candle on All Hallow's Eve, Sarah, Winnie and Mary will rise up from the grave. Well, Tina Fey may not have lit any sketchy candles (that we know of), but 'Hocus Pocus 2' has reportedly enlisted the comedienne to bring her magic touch to this beloved film for another go.
UPDATE: We knew this was too good to be true. A rep for Tina Fey tells Variety "their report is not accurate — Tina is not developing a sequel to 'Hocus Pocus.'" We'll keep our eyes peeled for more updates on 'Hocus Pocus 2.'
UPDATE #2: While The Wrap confirms Tina Fey won't be producing 'Hocus Pocus 2,' a source does relay that the comedienne is in talks with Disney to produce and star in an "untitled witch project," said to fall in the vein of 'Ghostbusters.' Original article continues below.
According to The Tracking Board (via Empire), the '30 Rock,' 'Mean Girls' and all-star Golden Globes co-host joined the still untitled 'Hocus Pocus 2' as a producer through her production company, Little Stranger. While we all may want to see her star in the film, perhaps even belting a tune similar to Bette Midler's rendition of "I Put a Spell On You," that is left for fate to decide.
The sequel will pick up years after the original, which saw a teenage boy light the previously mentioned black-flame candle and resurrect three wickedly hilarious sister witches who maintain their immortal physiques by sucking the life out of children. 'Hocus Pocus 2' will reportedly take a similar angle by focusing on "a housewife who is related to the Sanderson sisters, who teams up with a witch hunter to save her children after they run afoul of some resurrected witches while out trick-or-treating."
No casting has been announced yet, though Disney originally had in mind Fey and 'Tammy' star Melissa McCarthy for leads, and nothing would make us happier than to see these two team up on-screen. Though, again, nothing is confirmed.
It'll probably be some time before we see 'Hocus Pocus 2,' but in the meantime, we can reminisce on Bette Midler, Sarah Jessica Parker and Kathy Najimy's famous performances.