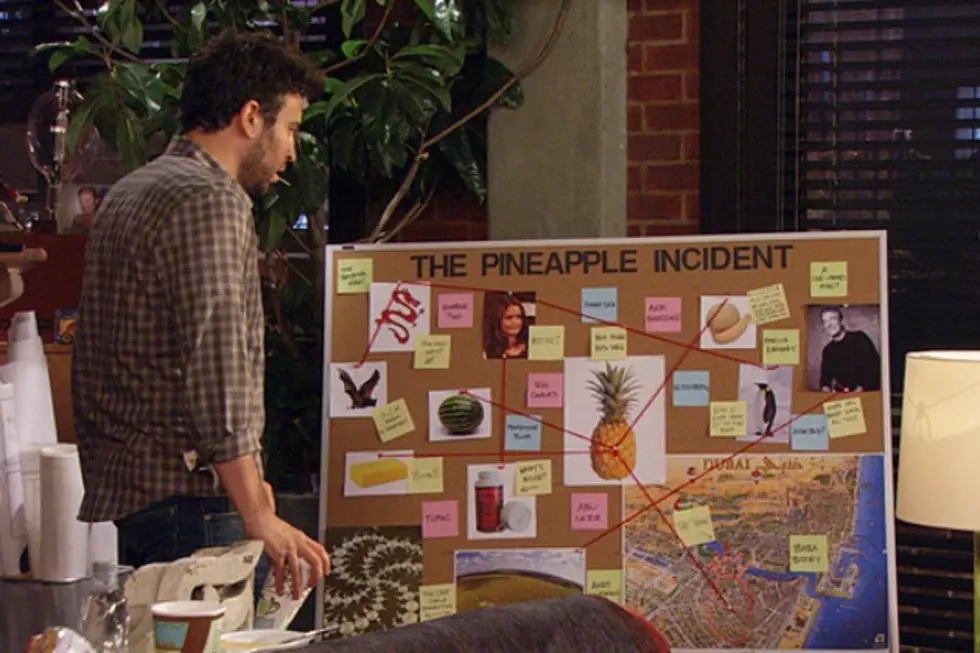 'How I Met Your Mother' Review: "Mom and Dad"
CBS
Read on for your in-depth recap of everything you need to know about the 'How I Met Your Mother' season 9 episode 10, "Mom and Dad!"
Barney and Robin scramble to find a replacement minister for their wedding, though James quickly solves the problem by bringing in his biological father Sam (Ben Vereen). Shortly therafter, Barney greets his own father, Gerry, and his wife, but immediately mistakes Gerry's cordial greeting with Loretta for a sign they're getting back together.
Barney tasks Ted with holding onto a signed photo of Wayne Gretzky as a present for Robin, while elsewhere on the road, Marshall and Daphne have been getting along famously. Robin worries that Barney has already put a scheme into motion to get his parents back together, as we see that Barney trapped the two in an elevator, and plied them with romantic accessories to set the mood, also arranging for Ranjit to drive Gerry's wife away on an imaginary para-sailing trip. Meanwhile, Ted emerges from the shower to find calligraphy ink all over the Gretzky photo.
Ted sets about tracking down the culprit, believing it to be a vengeful Billy Zabka, a shifty bellhop, or Robin's cousin, while James liberates Gerry and Loretta from the elevator. However, James has also been looking to get his father Sam and Loretta together, as both brothers fight over their respective musical fantasies of living in harmony with a reunited family. Ted first confronts Billy Zabka, but sees that Billy was signed in for a massage at the time of his shower, while none of the other suspects check out either.
Out on the road, Marshall and Daphne's relationship quickly sours once more, as Daphne reveals that her daughter asked her not to attend her model U.N. speech, given how often Daphne misses her daughter's events for work. Back at the Farhampton inn, Barney and James agree to a truce, before discovering that Sam and Loretta have already gotten together. Rather than as James' doing however, the pair had apparently been getting back together for some time.
While Gerry frantically searches for his wife, showing the police a fake suicide note that Barney wrote out, Ted learns from an attendant that Billy Zabka actually bought Gerry a massage and signed his own name, just as Lily discovers upstairs that the ink-stained photo was actually of Billy, as a taunt for Ted. Meanwhile, Daphne wakes up to find that Marshall drove her to her daughter's speech, though Marshall grimaces at the pro-drilling sentiment, and leaves Daphne behind to continue his trip. Back at Farhampton, Robin reminds Barney that James' divorce puts him more in need of a family reunion than Barney.
Lily tackles Billy on his way to deliver the real photo to Barney, as Billy admits that his classic film roles have led people to hate him his entire life, his brief stint as Barney's best man being the biggest break he'd gotten. Moved, Ted allows Billy to take credit for "replacing" the photo, while Barney chides Ted for ruining the original.
Barney next traps Sam and Loretta in an elevator as a blessing to their union, unaware that James was in the elevator with them. Elsewhere, Gerry leaps onto the hood of Ranjit's car in search of his wife.
Well, what do you want? It's been no secret that the final season's Farhampton format has produced notably weaker episodes than any diminishing quality eight seasons could have inflicted upon the series, the strongest of which arrived last week with an episode that both returned to familiar locales in flashback, and found a way to integrate the mother into the proceedings without compromising the series' premise. "Mom and Dad," on the other hand, gives us more of the same we've come to expect from the final season: trot out another wedding guest who'll surely disappear into the bowels of the Farhampton hotel in the coming weeks, and teach Barney a minor lesson in the process.
And as tends to be the case with Farhampton-set episodes, bits and pieces of the comedy actually work, among the highlights an extended musical sequence between Wayne Brady, Neil Patrick Harris, John Lithgow, Ben Vereen and Frances Conroy, something we'd have accepted any excuse to see. Lithgow once again seems game to dial up Gerry's exasperation, here in his exhaustive attempts to undo Barney's mischief and find his wife, but overall we might have hoped for a bit more development between father and son, as we've yet to top the emotional conflict between the two in 2011's "Legendaddy."
Ted and Lily's efforts to find the best man saboteur made for a mildly amusing aside as well, though again playing to the more cartoonish aspects of 'HIMYM' writing that feel especially grating against the claustrophobic backdrop of the Farhampton inn. That same claustrophobia goes for Marshall's Daphne scenes as well, though mercifully it seems as if the thread has finally been closed.
All in all, another passable hour of a once-great series, just barely placed over the line by John Lithgow's return. Otherwise, we'd throw "Mom and Dad" in the forget pile, along with all the other Farhampton one-offs. It's certainly nothing to have us looking forward to 'How I Met Your Dad,' newly ordered to pilot as well.
Well, what say you? Did 'How I Met Your Mother''s latest "Mom and Dad" warm your heart to the final season format?  What did you think about John Lithgow's return appearance? Give us your thoughts in the comments, and join us again next week for another all-new recap of 'How I Met Your Mother''s latest episode, the rhyming "Bedtime Stories" on CBS!