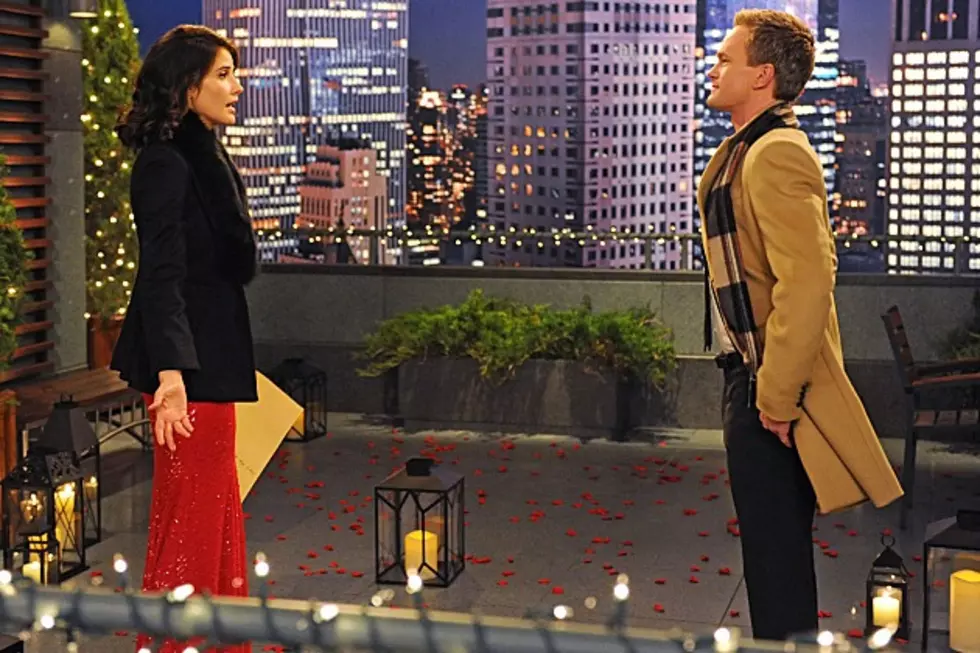 'How I Met Your Mother' Review: "The Final Page, Part 2″
CBS
'How I Met Your Mother' Season 8 puts into action an engaging last play with its eleventh episode of the (potentially) final season "The Final Play, Part 2" as on the night of his big GNB unveiling Ted wrestles with whether or not to tell Robin of Barney's proposal to Patrice, while Marshall and Lily find it difficult to leave Marvin behind for a night out.
Previous 'How I Met Your Mother' episode "The Final Page, Part 1" saw Ted returning to his alma mater Wesleyan to confront his former architecture professor, Marshall and Lily encountering their creepy old classmate Daryl (Seth Green), Barney suffering a jinx and Robin facing a difficult decision at work, so what did tonight's second episode bring?  Are we any closer to learning how the last year for Ted, Robin, Barney, Marshall and Lily plays out?
Read on for your in-depth recap of everything you need to know about 'How I Met Your Mother' season 8 episode 11, "The Final Page, Part 2!"
Despite his promise to Barney, Ted resolves to tell Robin of the proposal to Patrice, only to find himself interrupted by Marshall and Lily.  The four are abuzz with Ted's gala GNB building opening that night, even if Marshall and Lily are leaving early for meticulously-planned alone time, and Barney isn't coming for mysterious reasons. Rather than tell her about the proposal however, Ted invites Robin to be his date to the party.
Later, Marshall and Lily prepare Mickey to take Marvin overnight, including their elaborate lullaby, but once outside find themselves worried about Marvin's safety.  Their meticulous plans are interrupted however, as Ted calls Marshall urgently to the bar to discuss the Robin situation. To Ted's surprise, Marshall urges him to be selfish with the information and go after Robin himself, Marshall having always believed the two were meant to be and that Ted deserves some happiness.
Ted decides to take Marshall's advice, but the moment a dolled-up Robin gets in the car (driven by Ranjit!) to attend the gala, Ted blurts out that Barney plans to propose to Patrice.  He offers her the chance to do something about it, while at the gala itself, Marshall and a drunk Lily sulk about how much they miss Marvin.
With occasional interjections from Ranjit, Ted insists to Robin that she's still in love with Barney, especially after Robin reacts badly to hearing Barney plans to propose atop Robin's own favorite location, the roof of the World Wide News building.  Robin stays firm to be rid of Barney and attend Ted's gala, while Marshall and Lily sink even deeper into depression at the party.
Arriving at their destination, Robin looks out to instead see the WWN building, while Ted continues pushing her to get Barney before it's too late. Even if she lacks a plan, Ted advises her to willfully make a fool of herself as he'd done for her a number of times, and presses as her friend to go after what she truly wants.  Tearfully, Robin agrees and gets out of the car, while Ted continues on to his party.
Robin finds the WWN roof romantically decorated but empty, save for a piece of parchment on the floor. She picks up to find "The Final Page" of Barney's playbook, simply titled "The Robin." The play details how Barney had meticulously planned everything from as far back as "Splitsville," staging their drunken kiss, his fake relationship with Patrice, burning the playbook, and relying on his friends' lack of boundaries to further push Robin toward going after Barney one last time. One of the final steps would see Ted breaking his promise to Barney to keep the proposal a secret, confirming that he'd finally let her go.
As Robin realizes herself under a mistletoe, Barney steps out to confront her.  Robin instead berates Barney for believing such a manipulative and insane plan could ever bring them back together, but Barney urges her to turn the paper over.  The flip-side contains the final step in the plan, "hope she says yes," as she sees Barney kneeling before her with a ring. Snow begins to fall on the roof, as Robin happily accepts the proposal.
Meanwhile, the party toasts Ted for his accomplishments, Marshall and Lily relax at home with Marvin, and Barney and Robin embrace on the rooftop. Ted looks out the window of his own building, gazing toward an unknown future.
Well, we'd be hard-pressed to have any real complaints about such a relentlessly sweet, and touching (albeit insane) resolution to Barney and Robin's inevitable coupling.  At times we've been hard on the (potentially) final season of 'How I Met Your Mother' for dragging out what seemed to be such an inevitable resolution to the various couplings of Barney, Robin and Ted, but the ultimate end was heartwarming enough to undo any of the ill will.  Of course, "The Final Page" representing the last episode of 2012, and the true fork in the road for whether or not 'How I Met Your Mother' will end in May or continue on to season 9, we hope only that whatever path can be constructed with as much enduring sweetness as we saw here tonight.
Was your heart warmed by "The Final Page, Part 2," or did it feel too over-the-top?  Do you think it made for a solid midpoint to the (potentially) final season? Join us in 2013 for an all-new episode recap of 'How I Met Your Mother' mid-season premiere "Band or DJ?" on CBS!