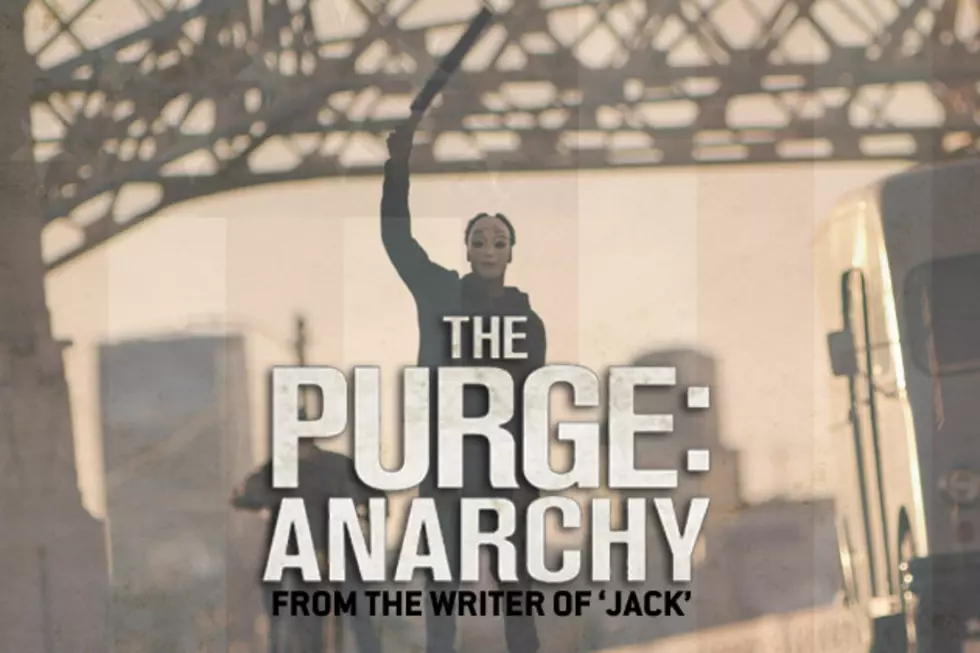 Wait, The Director of 'The Purge' Wrote the Robin Williams Movie, 'Jack'?
Universal Pictures
In the mid '90s, Robin Williams was starting to take some risks. He had just filmed two crowd-pleasers in a row – 'Mrs. Doubtfire' and 'Jumanji' – and it was apparent that he was looking for something, let's say, meatier. Williams would later find those roles with 'The Birdcage' and 'Good Will Hunting' (a movie that would win him an Academy Award), but, before that, Williams eyed a script that had been the subject of a bidding war between every major studio in town.
After Disney won the rights, Williams convinced director Francis Ford Coppola to direct. On the surface, it appeared to be a prestige project. But that project turned out to be 'Jack' – a movie about a young boy who, by the age of 10, appears to be 40 -- a now almost legendary critical failure that was written by James DeMonaco … the man who also wrote and directed a movie nothing like 'Jack' - 'The Purge' and its upcoming sequel, 'The Purge: Anarchy'.
How does the writer of 'Jack' go on to write and direct 'The Purge'?
When I presented this question to DeMonaco, his eyes lit up, which honestly was the opposite reaction that I was expecting, "I feel like if I was on your side, that's the first thing I would notice. The guy who wrote 'The Purge' wrote 'Jack'?"
Listening to DeMonaco talk about 'Jack' is like listening to a director talk about one of his characters. It's almost as if DeMonaco doesn't quite believe that, at one point in his life, he wrote 'Jack,' describing the experience as "an anomaly."
So, anyway, how does that happen?
DeMonaco explains that when he was in film school at NYU, he worked on a short film with his buddy, Gary Nadeau. While DeMonaco usually wrote scripts with a crime theme, this particular one had, as he calls it, a "feel good, Chris Columbus" tone.
"I wrote a short film, it won the student Academy Award," says DeMonaco, "and we got William Morris to represent us. I had a trunk of crime thrillers, but they needed something for him that was more in line with the short film -- this sweet, Chris Columbus thing. So, they're like, "You need to write something quick ... write a script in 20 days."
That script would turn out to be 'Jack,' a script that actually only took 17 days to write -- a script that William Morris wasn't crazy about. DeMonaco remembers, "They were like, 'It's OK. Hey, it's cute. We don't know." But things quickly changed, "We fly out on Monday, we get off the plane and there's a bidding war."
Disney eventually won the bidding war, and there were a slew of (at the time) A-list stars who wanted to play the lead in 'Jack.' A list that, according to DeMonaco, included Robin Williams, Eddie Murphy, John Travolta and most strangely … "Kevin Costner wanted to do it," says DeMonaco. "One of the studio heads, I won't say who, but when it came up in the room, he said, 'Oh, Costner is as funny as a heart attack.'"
Eventually Williams was cast in the title role. The original plan was for Nadeau to direct, but with an A-list star like Williams on board, that wasn't going to happen.
"They kick my buddy off the movie because Robin Williams wants to be in the movie and he wants Francis Ford Coppola," remembers DeMonaco. "Robin wanted to make it with Barry Levinson, Francis Ford Coppola and there was a third name, like Jim Abrahams, that would made more sense to me because he had made 'Airplane,' even though this wasn't a comedy."
Looking back now, DeMonaco remembers all of a sudden working with the man who had directed three 'Godfather' movies as a surreal experience, "I was still living with my parents. Francis Ford Coppola would call, 'Hey, Mrs. DeMonaco, it's Frances. Is James there?' We're all like, 'This can't be happening.'"
Then, DeMonaco and Nadeau basically moved in with Coppola, "So me and my buddy were literally living on Francis' winery for a month doing a re-write with Francis Ford Coppola."
'Jack' was savaged by critics. Roger Ebert wrote:
Who was this movie made for? […] My best guess is that the premise blinded everyone. Robin Williams is a 40-year-old in a 10-year-old's body? Great! When do we start shooting? If anyone dared to bring up the possibility of a better screenplay, he was probably shouted down.
Despite the critical hate, 'Jack' wasn't really a box office bomb, and it eventually grossed $58 million. But, for a first-time writer of a major studio film, how did DeMonaco escape relatively unscathed? Remember, this is a guy who has a sequel coming out next week to a movie that grossed $90 million on a $3 million budget.
Luckily for DeMonaco, he had already sold a script for a movie more in line with his usual tastes, called 'The Negotiator.' That movie would go on to star Kevin Spacey and Samuel L. Jackson and, more importantly, it received positive reviews. A lucky break for DeMonaco?
"I always think that," reflects DeMonaco, "if 'Jack' was my only thing at that point, I wonder what would have happened to my career."
Mike Ryan has written for The Huffington Post, Wired, Vanity Fair and GQ. He is the senior editor of ScreenCrush. You can contact him directly on Twitter.