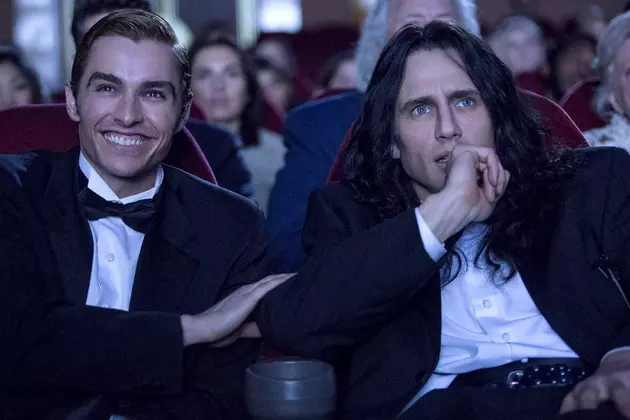 A24 Says 'Hi, Doggy!' to 'The Disaster Artist,' Sets December Release
Warner Bros.
The world has come one step closer to bearing witness to the full scope of James Franco's artistic vision. As the latest component of his ongoing interrogation of celebrity, performance, artifice, and vague pseudo-intellectualism, he's adapted The Disaster Artist, actor Greg Sestero's true account of his time behind the scenes of the calamitous production of The Room. Famed as one of the most bafflingly incompetent movies of all time, the real weirdness came off set, where director/writer/financier/star/madman Tommy Wiseau (played by Franco in the movie) engaged Sestero in a bizarre, homoerotically charged rivalry. Which makes the fact that Franco's brother Dave will play Sestero just that much stranger.
This seemingly harebrained idea garnered some pretty positive notices when a work-in-progress cut screened at SXSW, and today brings the news that the rest of us will get the chance to form our own opinion within the year. Deadline reports that A24 has laid claim to The Disaster Artist in partnership with New Line, and that they've jointly set a date for a U.S. release on December 8, following an "exclusive engagement" (whatever that might mean) one week earlier. A slot so late in the year inevitably invites awards talk, but regardless of how glowing the SXSW reviews may have been, I've got my doubts. Voting bodies like their showbiz satires adulatory, not, uh, whatever this is going to end up being.
It's got one humdinger of a cast, though. Seth Rogen, Josh Hutcherson, Zac Efron, Ari Graynor, Jacki Weaver, and Hannibal Buress will all appear in the film, among many others. There's plenty of cause for optimism, albeit guarded. But you gotta appreciate Franco's unstoppable belief in his own abilities to mine a movie out of any text, no matter how adaptation-unfriendly.