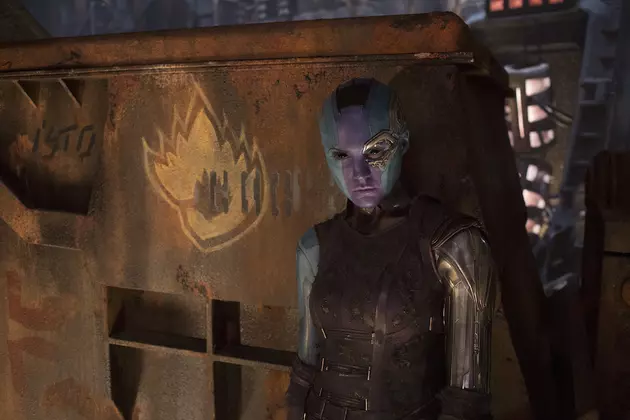 Watch James Gunn Narrate a Key 'Guardians of the Galaxy Vol. 2' Scene
Marvel
When it comes to cinematic influences, James Gunn is a bit of a sponge. His original Guardians of the Galaxy film not only drew on other films in the Marvel universe, but also from a slew of movies  —  both big and small  —  in Hollywood's action and science-fiction history. It's always fun to listen to Gunn talk about his film influences, which is what makes this New York Times commentary track of Guardians of the Galaxy Vol. 2 such a kick. Who else but James Gunn would drop references to Alfred Hitchcock and MAD Magazine in the same sentence?
As part of the publicity for the film's release, Gunn walked audiences (via /Film) through a short fight scene between Gamora and Nebula, the daughters of Thanos and blood rivals to boot. Here's the full scene for your enjoyment:
In his commentary, Gun highlights Hitchcock's North by Northwest and the famous series Spy vs. Spy as two influences on the fight between Gamora and Nebula. Gunn also admits that he storyboarded this fight scene before he even began work on the Guardians of the Galaxy Vol. 2 script, making this one of the earliest conceptual scenes in the film. Finally, Gunn notes that Gamora's giant gun  —  which she picks up from the wreckage of Nebula's shuttle  —  was inspired by the scene in Furious 7 where Dwayne Johnson's character picks up a machine gun off a destroyed vehicle and goes to town. Gunn decided to "one-up that" by having Zoe Saldana's character grab a gun that is "eight times" the size of Johnson's turret. It's a lot of information packed into a scant two minutes, but it really highlights where Gunn's head is at as a filmmaker.
Here's the full plot synopsis for Guardians of the Galaxy Vol 2:
Set to the backdrop of 'Awesome Mixtape #2,' Marvel's Guardians of the Galaxy Vol. 2 continues the team's adventures as they traverse the outer reaches of the cosmos. The Guardians must fight to keep their newfound family together as they unravel the mysteries of Peter Quill's true parentage. Old foes become new allies and fan-favorite characters from the classic comics will come to our heroes' aid as the Marvel cinematic universe continues to expand.
Guardians of the Galaxy Vol. 2 is now playing in theaters everywhere.