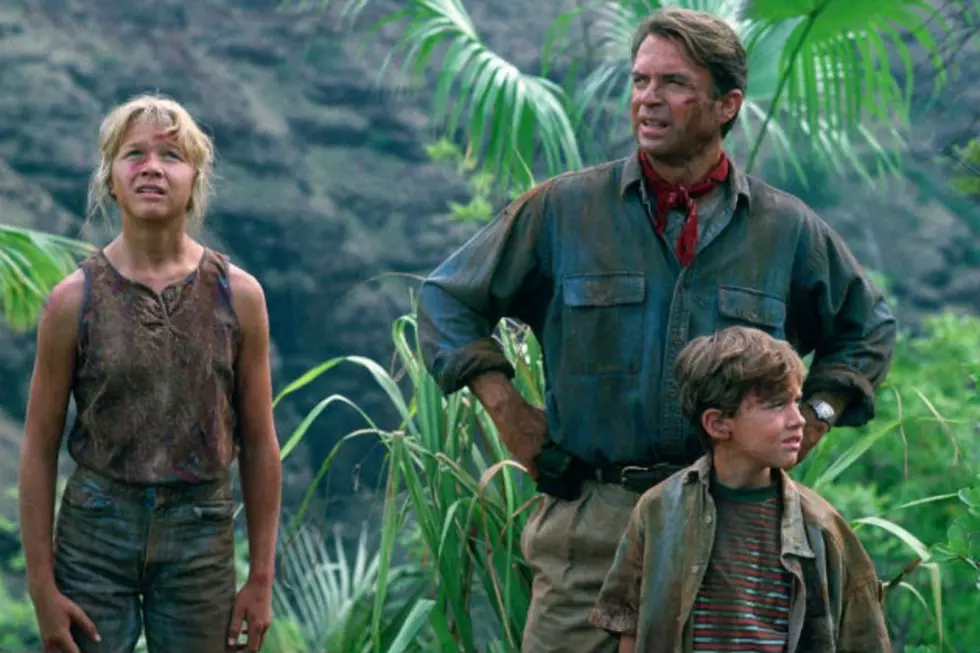 See the Cast of 'Jurassic Park' Then and Now
Universal
Steven Spielberg's 'Jurassic Park' first hit theaters in 1993 and introduced audiences to a mind-blowing world of dinosaurs, putting us on the edge of our seats with incredible effects. The film followed a billionaire who creates the world's first dinosaur theme park using extinct dino DNA, and invites a team of experts to tour the park, hoping to get their approval to win over investors -- and that's when things predictably go very, very wrong. Now, 21 years later (and with the third sequel, Colin Trevorrow's Jurassic World,' coming to theaters next June), we revisit the cast of the film and see what they're up to now.
Sam Neill, Dr. Alan Grant
Then: Sam Neill played Dr. Alan Grant, a leading paleontologist in his field who is particularly intrigued by velociraptors. Grant is skeptical of John Hammond and his team's abilities.
Now: Neill sat out the second 'Jurassic Park' film, but reprised the role of Alan Grant for 'Jurassic Park III.' He's also appeared in 'Event Horizon,' 'Bicentennial Man,' and 'Daybreakers,' and starred on the Showtime series 'The Tudors' and the short-lived network drama 'Alcatraz.' More recently, he appeared in the films 'The Vow' and 'Escape Plan.
Laura Dern, Dr. Ellie Sattler
Then: Laura Dern, daughter of legendary actor Bruce Dern, played Dr. Ellie Sattler, a paleobotanist who specializes in ancient plant life. Dern had previously appeared in the David Lynch films 'Blue Velvet' and 'Wild at Heart.'
Now: Dern reprised her role as Ellie (briefly) in 'Jurassic Park III,' and has since appeared in films like 'I Am Sam,' David Lynch's 'Inland Empire,' and 'Everything Must Go.' She was the star of the short-lived and recently-canceled series 'Enlightened,' and recently appeared in 'The Master' with Joaquin Phoenix. She can be seen next in 'The Fault in Our Stars.'
Jeff Goldblum, Dr. Ian Malcolm
Then: Quirky and charismatic actor Jeff Goldblum played Dr. Ian Malcolm, a mathematician and chaos theorist who disagrees with Hammond playing God. Goldblum previously starred in 'The Fly' and 'Earth Girls Are Easy.'
Now: Goldblum went on to reprise his role in the sequel, 'The Lost World: Jurassic Park,' and starred in films like 'Independence Day,' 'Igby Goes Down,' and 'The Life Aquatic with Steve Zissou.' He played Detective Nichols on 'Law and Order: Criminal Intent' from 2009 to 2010, and has had recurring roles on 'The League,' 'Portlandia,' and 'Glee.' He can be seen next in 'The Grand Budapest Hotel,' which reunites him with his 'Life Aquatic' director Wes Anderson.
Richard Attenborough, John Hammond
Then: Legendary actor, producer, and director Richard Attenborough played John Hammond, billionaire CEO of InGen and the mind behind Jurassic Park. Attenborough had been acting since the 40s, and directed films like 'Gandhi' and 'A Bridge Too Far.'
Now: Attenborough briefly reprised the role of Hammond for 'The Lost World: Jurassic Park,' and later appeared in the films 'Miracle on 34th Street,' 'Hamlet,' and 'Elizabeth.' His final credited appearance was in the 2002 film 'Puckoon,' and he lent his voice to the 2004 Spanish drama 'Tres en el camino.' He acted as the head of many charitable organizations and trusts over the years, and remained a life member on many councils, including several for the arts. Attenborough died last August at the age of 90.
Ariana Richards, Lex Murphy
Then: Ariana Richards played Lex Murphy, John Hammond's granddaughter, who comes to the park for fun. Richards was a child actress who also appeared in the movie 'Tremors,' as well as episodes of 'Empty Nest' and 'The Golden Girls.'
Now: Richards went on to star in 'Angus' and reprised her role as Lex in 'The Lost World: Jurassic Park.' She had roles in a number of television movies and guest-starred on 'Boy Meets World' before reprising her role in the 2001 direct-to-video 'Tremors' sequel 'Tremors 3: Back to Perfection.' Richards is currently a successful artist whose paintings are done in the style of early impressionists. Though her main focus is now on her artwork, she did appear in the 2013 TV movie 'Battledogs.'
Joseph Mazzello, Tim Murphy
Then: Joseph Mazzello played Tim Murphy, John Hammond's grandson and Lex's younger brother, who also happens to be a huge fan of Dr. Grant's work.
Now: Mazzello found steady acting work over the years: as a kid he appeared in 'The River Wild,' 'Three Wishes,' and 'Simon Birch.' As a teen you may have seen him in 'Raising Helen' or in episodes of 'CSI' or 'Without a Trace.' In 2010, he starred in the HBO miniseries 'The Pacific,' and has since had recurring roles on 'Coma' and 'Justified.' He's also starred in the films 'The Social Network' and 'G.I. Joe: Retaliation.' He can be seen next in the films 'Dear Sidewalk' and 'Undrafted.'
Wayne Knight, Dennis Nedry
Then: 'Seinfeld' star Wayne Knight played Dennis Nedry, the architect of the park's computer systems who is unhappy with his job, so he sells off the dino DNA to a competitor and shuts down the systems, causing all hell to break loose.
Now: Knight also starred on the long-running sitcom '3rd Rock from the Sun,' and starred in the film 'Space Jam.' Over the years he's lent his voice to animated films like 'Toy Story 2' and 'Kung Fu Panda,' and shows like 'Green Lantern: The Animated Series' and 'Pound Puppies.' He currently stars on the sitcom 'The Exes.'
Samuel L. Jackson, Ray Arnold
Then: Samuel L. Jackson played Ray Arnold, the park's chief engineer who tries to help get the park back online when Dennis shuts it down. 1993 was a big year for Jackson, who also appeared in 'Menace II Society,' 'Loaded Weapon 1,' 'Amos and Andrew,' and 'The Meteor Man,' but it would still be another year until he made 'Pulp Fiction,' his breakthrough film.
Now: Jackson went on to star in films like 'The Long Kiss Goodnight,' 'Deep Blue Sea,' and the 'Star Wars' prequel trilogy. His resume is long, and chances are you've seen many of his films, like 'Black Snake Moan' or 'Snakes on a Plane.' He's starred in the Quentin Tarantino films 'Jackie Brown' and 'Django Unchained,' and plays Nick Fury in the Marvel movie universe, in films like 'The Avengers' and the upcoming 'Captain America: The Winter Soldier.' He recently starred in 'Oldboy,' and can also be seen next in the 'RoboCop' remake.