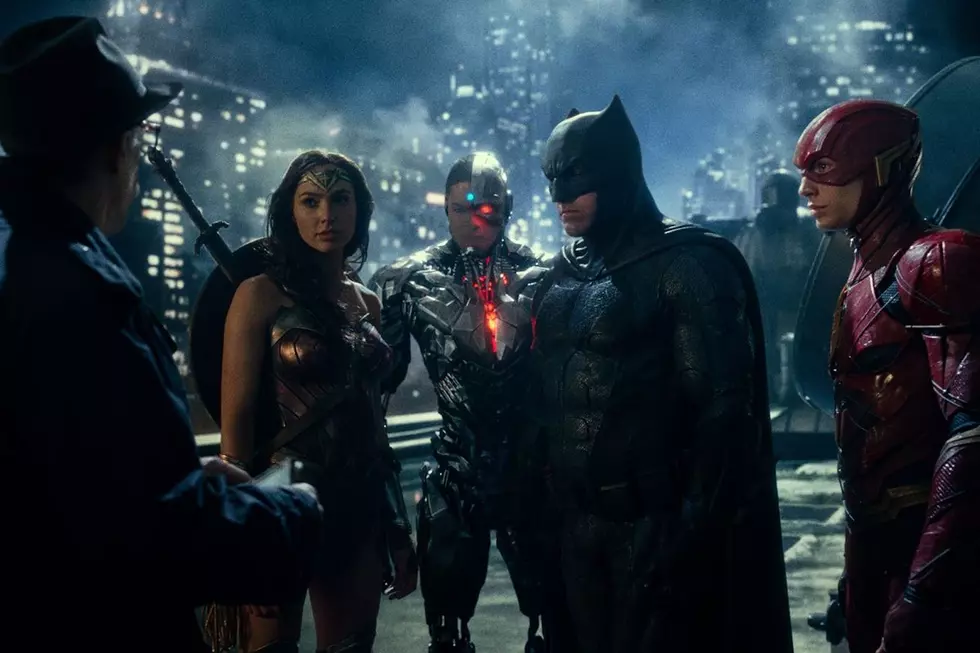 New Report Reveals Why Warner Bros. Didn't Delay 'Justice League' Despite Reshoots
Warner Bros.
Justice League was the biggest filmic failure of 2017, garnering mostly negative reviews from critics and opening way under its optimistic projected take on its first weekend, making less and less money at the box office ever since. It's obvious that the behind-the-scenes on this movie is quite a story, and a new lengthy postmortem from The Wrap, courtesy of a Warner Bros. insider, takes us through the process of making the movie, from directors with clashing visions to studio shakeups, from time constraints to one very persistent mustache.
The Wrap's report, based on intel from an anonymous insider, starts all the way back with Man of Steel, and Warner Bros.' inability to get Christopher Nolan to do for Superman what he did for Batman with The Dark Knight trilogy. Zack Snyder provided a darker take on the Kryptonian, one that fans didn't exactly warm up to, and his gritty versions of DC's most beloved heroes continued to present themselves in Batman v. Superman just a few years later.
BvS was the movie whose baggage Justice League was mired in from the start. The Wrap's report mentions that Warner Bros. is a studio that likes to show strength, and replacing a director that fans didn't exactly adore, they thought, would make people more nervous about the movie than if they kept him on. So Snyder stayed, until he had to leave the project due to a tragedy in his family.
For that same reason of showing strength as a studio, WB refused to delay the movie's November 17 release date — another decision that might have helped the project in the long run. One executive mentioned to The Wrap that CEO Kevin Tsujihara and president Toby Emmerich didn't want to delay the movie because they might lose their bonuses before their merger with AT&T. Another insider said that bonuses are given to execs as a reward for good decisions, and delaying the movie probably would have been a better one.
After Snyder left, Joss Whedon took over, and one insider describes the movie as a "Frankenstein" of two directors' extremely different visions. To many, hiring Whedon seemed like a last-ditch attempt to mitigate Snyder's dark-and-grittiness with the kind of lightness and humor that audiences responded extremely well to in Patty Jenkins' Wonder Woman. It didn't work, instead making the film an exercise in whiplash, somber and serious one moment, quippy and fun the next.
For now, the studio is still looking forward to the next few projects lined up for the DC universe. Justice League was supposed to be the movie that gave people hope for the series (besides Wonder Woman). Now it looks like it's up to James Wan's Aquaman. As they say in Atlantis, BOO-YAH.
Gallery – DC Movie Easter Eggs: