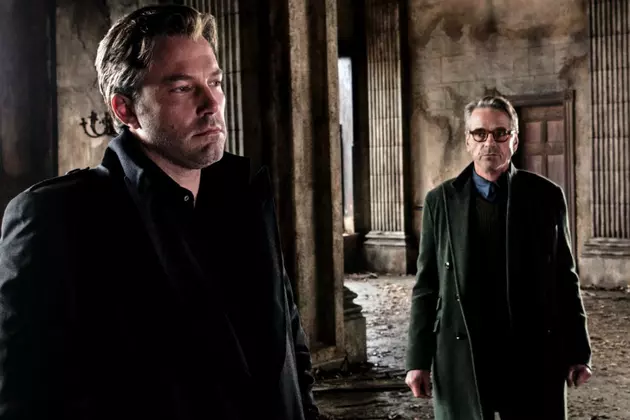 'Justice League' Recruits Jeremy Irons' Alfred to Keep Batman in Line
Warner Bros.
One of the better — and perhaps somewhat undervalued — parts of Batman v Superman: Dawn of Justice was Jeremy Irons' portrayal of Alfred, Bruce Wayne's longtime advisor / caretaker / BFF. Although it wasn't directly referenced on screen, the official companion book for Zack Snyder's film reveals that this iteration of Alfred is much more than a butler — he's a former special services operative with a wealth of knowledge and combat skills. We may get to see Alfred's talents on display sooner rather than later, as Irons is officially returning for Justice League.
As confirmed to Showbiz 411, Irons will reprise his role as Alfred for Justice League, followed by the standalone Batman movie, which will be directed by Ben Affleck from a screenplay he co-wrote with DC's Geoff Johns. Though the new Bat-film doesn't yet have a release date, it's good to know that we won't have to wait long to enjoy more scenes of Alfred nagging Bruce Wayne to settle down and have some damn children already. There were some unintentionally humorous moments in Batman v Superman, but Irons' portrayal of Alfred as an overbearing surrogate mother was genuinely delightful.
Snyder is currently in production on Justice League: Part One in London, and if the rumors are to be believed, the director has been clashing with Warner Bros. over his vision for the DC movie universe following Batman v Superman's underwhelming performance. Despite Seth Grahame-Smith's departure from The Flash and rumors of James Wan's potential exit from Aquaman, Justice League remains on track for its November 17, 2017 release.
A History of Batman On Screen, In Pictures