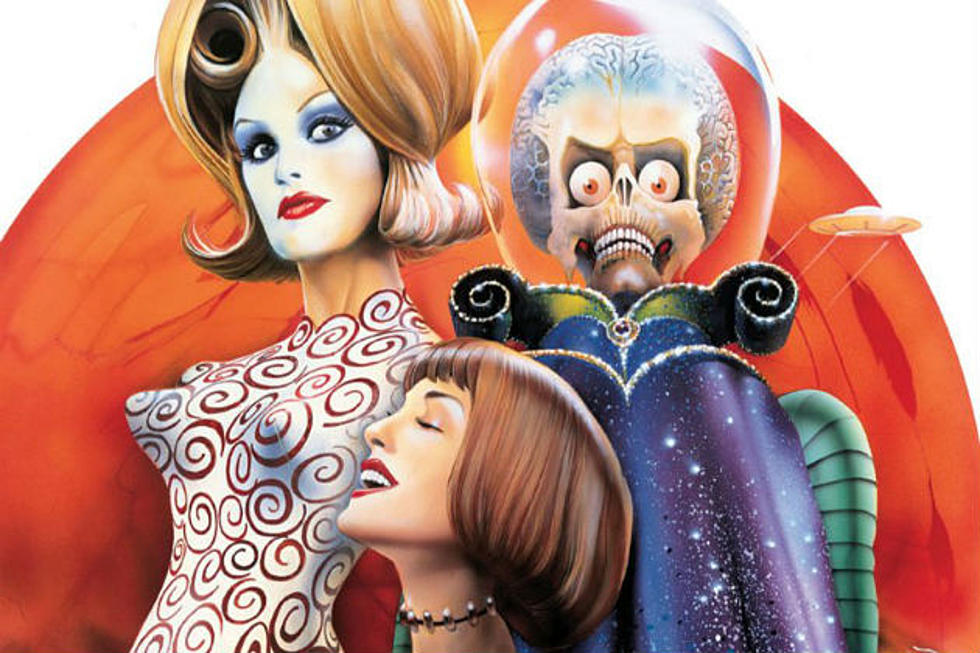 See the Cast of 'Mars Attacks!' Then and Now
Warner Bros.
In 1996, Tim Burton unleashed 'Mars Attacks!' on audiences, a sci-fi comedy featuring an amazing ensemble cast including the likes of Jack Nicholson, Natalie Portman and Pierce Brosnan. A riff on classic B-movies and based on the cult trading cards of the same name, the film tells the story of a group of martians who attack our planet and the unlikely hero who discovers the very silly way to destroy them. (Hint: it involves country music). We can't believe it's already been 17 years since the film first hit theaters, so join us for a look back at its all-star cast and see what they're up to now!
Jack Nicholson, President James Dale/Art Land
Then: Jack Nicholson played President James Dale and also had a small role as the obnoxious Art Land, husband of Barbara. Warren Beatty was the first choice for the President, but had to drop out and was replaced by Nicholson, who had played the Joker in Burton's 'Batman.'
Now: Nicholson has since appeared in the films 'As Good As It Gets,' 'The Departed' and 'About Schmidt.' His most recent role was in 2010's 'How Do You Know,' and it's been rumored that he's retired from acting, though he's maintained that's not the case just yet.
Glenn Close, First Lady Marsha Dale
Then: Glenn Close played Marsha Dale, wife of the President and First Lady of the United States. Meryl Streep, Stockard Channing and Diane Keaton were considered for the role -- Keaton went on to star with Nicholson in 'Something's Gotta Give.'
Now: Close has recently starred on the television shows 'The Shield' and 'Damages,' and appears in the upcoming Marvel film 'Guardians of the Galaxy.' Aside from her busy acting career, with more films coming in 2014, she's been advocating for mental illness awareness and treatment, having founded Bring Change 2 Mind, an organization combating the stigma and discrimination faced by those who suffer from mental illness.
Annette Bening, Barbara Land
Then: Annette Bening played the flighty Vegas-stationed Barbara Land, whose character was modeled off of Ann-Margret's performance in 'Viva Las Vegas.' Susan Sarandon was originally cast in the part.
Now: Bening, who has also appeared in the films 'American Beauty' and 'The Kids Are All Right,' recently starred in 'Ruby Sparks' and in 'Girl Most Likely' with Kristen Wiig.
Lukas Haas, Richie Norris
Then: 'Boys' star Lukas Haas played Richie Norris, a Kansas teenager who unwittingly discovers the martians' weakness and becomes a hero.
Now: Haas has appeared in the films 'Brick,' 'Alpha Dog' and 'Inception,' and recently had supporting roles in 'Lincoln' and 'Jobs.' He's also maintained a role on the FOX TV series 'Touch.'
Natalie Portman, Taffy Dale
Then: Natalie Portman was still a young actress with only four credits to her name when she was cast in 'Mars Attacks' as Taffy Dale, the daughter of the President. She had previously appeared in 'Leon: The Professional' and 'Beautiful Girls.'
Now: Portman has appeared in films like 'Closer,' 'V for Vendetta' and 'Black Swan,' and recently reprised her role as Jane Foster in 'Thor: The Dark World.' She can be seen next in the Western drama 'Jane Got a Gun.'
Pierce Brosnan, Donald Kessler
Then: Pierce Brosnan played Donald Kessler, a professor who attempts to negotiate peace with the martians. Hugh Grant was the first choice for the role.
Now: Brosnan became the fifth actor to play James Bond, appearing in four films between 1995 and 2002. He reunited with his 'Mars Attacks' co-star Sarah Jessica Parker in 2011 for 'I Don't Know How She Does It,' and recently appeared in Edgar Wright's 'The World's End.' In addition to acting, she's also the face of Dior's fragrance branch. She is married to Benjamin Millepied.
Danny DeVito, Rude Gambler
Then: Danny DeVito, who previously played the Penguin in Burton's 'Batman Returns,' had a small role as "Rude Gambler."
Now: DeVito stars on the series 'It's Always Sunny in Philadelphia,' which was recently renewed for a 10th season. He also lent his voice to the animated film 'The Lorax' as the titular character, and is married to actress and former 'Cheers' star Rhea Perlman.
Jim Brown, Byron Williams
Then: Former record-setting NFL Cleveland Browns running back Jim Brown played Byron Williams, an employee of the Luxor in Las Vegas and an impromptu hero. Brown had also appeared in several classic films like 'The Dirty Dozen,' 'The Running Man' and 'I'm Gonna Git You Sucka.'
Now: Brown currently serves as a special adviser to the Cleveland Browns and is part-owner of the New York Lizards Lacrosse team.
Sarah Jessica Parker, Natalie Lake
Then: Sarah Jessica Parker played Natalie Lake, a reporter who boards the martian ship with Kessler and has her head attached to her pet chihuahua's body. Parker previously starred in Burton's 'Ed Wood.'
Now: Parker played Carrie Bradshaw on the long-running 'Sex and the City' television series and two feature films. She had a recent recurring role on 'Glee,' and is married to actor Matthew Broderick.
Martin Short, Jerry Ross
Then: Veteran comedic actor and former 'SNL' star Martin Short played Jerry Ross, a slimy White House employee.
Now: Short played Uncle Jack on 'Arrested Development' and reunited with 'Mars Attacks' co-star Glenn Close for a season of the FX drama 'Damages.' He lent his voice talent to Burton's animated film 'Frankenweenie,' and can be seen next in Paul Thomas Anderson's 'Inherent Vice.'
Michael J. Fox, Jason Stone
Then: Michael J. Fox played reporter Jason Stone. The part was originally intended for Johnny Depp, and it was one of the few times the actor turned down a role in a Burton film.
Now: Fox revealed his struggle with Parkinson's disease in 1999 and subsequently founded the Michael J. Fox Foundation. He semi-retired from acting in 2000, but continued to make appearances on shows like 'Scrubs,' 'The Good Wife' and 'Curb Your Enthusiasm.' He now stars on his own semi-autobiographical sitcom on NBC, 'The Michael J. Fox Show.'
Lisa Marie Smith, Martian Girl
Then: Former model Lisa Marie Smith, who simply went by the name "Lisa Marie," was dating Tim Burton at the time 'Mars Attacks' was filmed -- she played the role of the martian who dresses up as an attractive and mysterious lady to gain entry to the White House. Smith also appeared in 'Ed Wood.'
Now: Smith would go on to appear in Burton's 'Sleepy Hollow' and 'Planet of the Apes' before they ended their relationship in 2001. Recently she appeared in Rob Zombie's 'The Lords of Salem' and in 'Silent Night,' the loose remake of 'Silent Night, Deadly Night.'