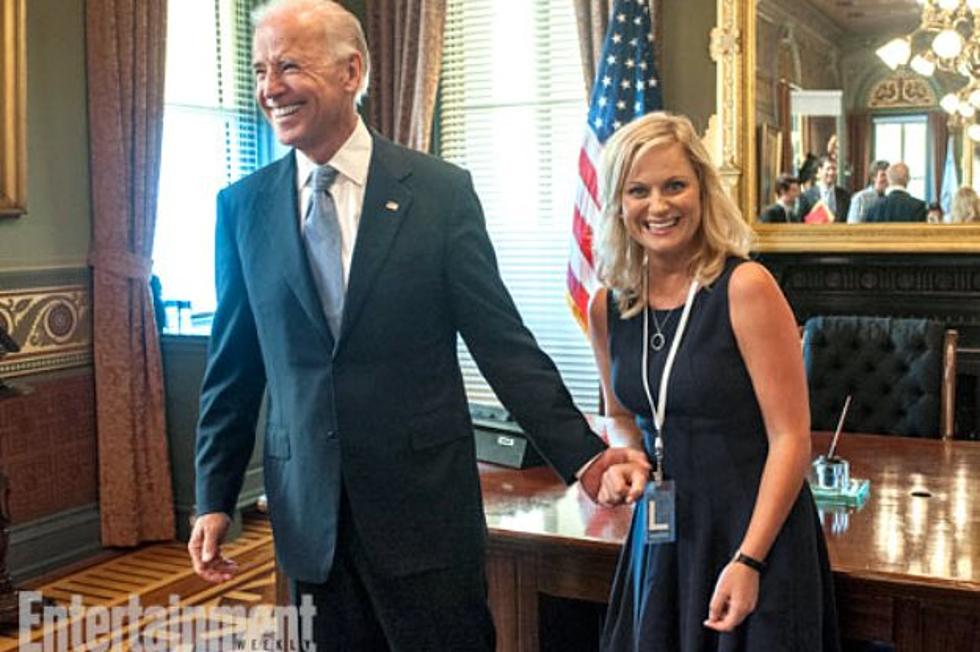 'Parks and Recreation' Elects VP Joe Biden For Cameo
NBC / Entertainment Weekly
While many couples jokingly maintain a "celebrity sex list" of stars with whom it's okay to cheat on their significant other, 'Parks and Recreation's' Ben Wyatt may come to regret Leslie Knope's. The character has long been vocal about her fixation on Vice President Joe Biden, an attraction that will finally be put to the test as the current re-elected VP will guest in an upcoming episode! But with his renewed busy schedule, just what appearance could the Vice President make, and how will Leslie Knope react?
Vice President Joe Biden no doubt has a rather busy week, but it's nothing compared to an upcoming appearance on 'Parks and Recreation'! Entertainment Weekly has revealed that the politician will make a brief appearance in the November 15 episode, being introduced to Leslie Knope as a cap to Ben's time in Washington D.C. As for Leslie herself, well, let's just say that the Pawnee City Councilwoman might lose her waffles if she so much as opens her mouth around her long-time crush.
The appearance was filmed in Washington D.C. along with 'Parks and Recreation's' other political cameos in the season premiere, and had to be written in such a way that would neither reflect the results of Tuesday's election, nor be aired during the electoral campaign. 'Parks and Recreation' showrunner Mike Schur spoke to EW about the cameo, saying:
Given that Eleanor Roosevelt and Bella Abzug are no longer with us, this is probably no. 1. [Leslie] has a lot of female heroes that cross party lines. She has a lot of social figures that she considers heroes, but the funniest hero is Joe Biden.

It was amazing to have her meet Olympia Snowe and Barbara Boxer because that meant something to her politically. But this transcends that. She's meeting the man that she's in love with on some deep level. It was a bigger deal to us in some ways that she meet Joe Biden than it was that she meet Barack Obama.
You can check out a preview of the November 15 scene below, as well as a supercut of Leslie Knope's various 'Parks and Recreation' references to Biden underneath! Tell us who you'd like to see guest in the comments!