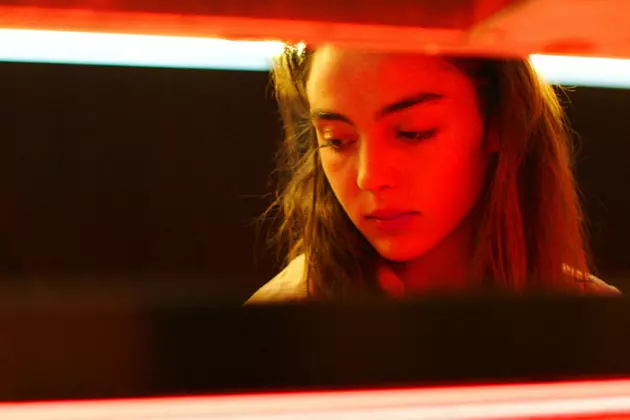 'Raw' Review: A Deliciously Gory Coming-of-Age Allegory
Focus World
Raw is the debut feature from French director Julia Ducournau, a fact that is nothing short of astonishing from the opening moments of this inventive and beautifully shot new horror film. To say that Ducournau's cinematic introduction is assured would be an understatement; it's a shrewd, insightful, and surprisingly funny film that feels like the work of a more accomplished filmmaker who has refined their talents over the course of many films and years. Though it's not perfect, Raw is one of the smartest, most rewarding horror movies in recent years.
Ducournau seizes on the concept of viscera and what it means to be visceral. That approach is vital for Raw, which deftly portrays coming of age with humor, horror and heart, accentuated by moments that are exquisitely grotesque. The film, originally titled Grave, centers on Justine (Garance Marillier), a young woman from a strict vegetarian family who leaves home to attend veterinary college. Comforted slightly by the presence of her older sister Alexia (Ella Rumpf), Justine's first weeks at college are a rude awakening, often quite literally, as "rookies" are forced through an intense hazing ritual.
That ritual features recognizable hallmarks: Pranks, disruptive invasions of privacy, buckets of blood, mindless chanting, et al. But it also sets up a wonderful — albeit overt — metaphor when Justine is forced to consume a rabbit liver, which first induces an allergic reaction of sorts before sending her down a carnivorous spiral that grows increasingly dangerous. With Raw, Ducournau uses the concept of consuming meat as a symbol that accommodates various analogies, from sexual awakening to drug experimentation to the notion of intrinsic identity — and how confusing the latter can be for a young person (particularly a sheltered one) thrust into an environment where weaknesses are exploited and insecurities thrive.
Based on recent reports of viewers passing out during screenings at TIFF, you can probably guess where Justine's newfound carnivorous proclivities are headed, but Raw is not as graphic as you've been led to believe (your mileage my vary, of course). Ducournau undercuts the more gruesome images with moments of irreverent humor and dark comedy. While the meat-as-metaphor concept is fairly obvious, it also touches on humanity's innate hypocrisy and our ability to hold competing beliefs simultaneously. Justine is repulsed by meat, yet finds it irresistible.
There is a moment in the second act of Raw that is both repulsive and reassuring for Justine, who discovers a previously unknown connection between herself and her older sister. Ducournau wisely considers the degrees of difference between Justine and Alexia, and how two women from the same family with the same proclivities could respond, cope, and succumb in distinctive ways. As a parable, Raw depicts dependency as a juvenile rite of passage that can be tossed aside with enough willpower, or a devastating addiction that renders its host helpless. As a thoughtful allegory, Raw explores the essential nature of identity, and how recognizing who and what we are, and coping with the attendant difficulties, is imperative to becoming a fully-realized adult.
In a truly sorrowful turn of events, Ducournau conveys a bitter truth: Not everyone can or will find a livable solution that allows them to function. Raw gracefully walks that nebulous line between fetish and fixation, showing how easy it could be to give in to excess and indulgence with no thought paid to comprehension and context. There is a difference between self-awareness and self-actualization; the former is not enough to engender the latter, and it certainly doesn't excuse the mistreatment and abuse of others.
Despite Ducournau's graceful ability to combine various metaphorical threads together to effectively create an uncanny narrative, Raw does tend to skew slightly to the campier side of things. Its final scene, though thematically relevant and aptly comedic, is a little too heavy-handed, undermining Ducournau's deft balance of subtle and blunt elements. It's also somewhat redundant given the expert thematic work throughout, and how much can be gleaned from what isn't explicitly said.
Blending the irreverent humor and gory coming-of-age allegory of Ginger Snaps with the grotesque, visceral compulsions of Trouble Every Day, Raw is a unique and refreshing addition to cinema — and yet another example of France's remarkably artful and existential approach to horror.