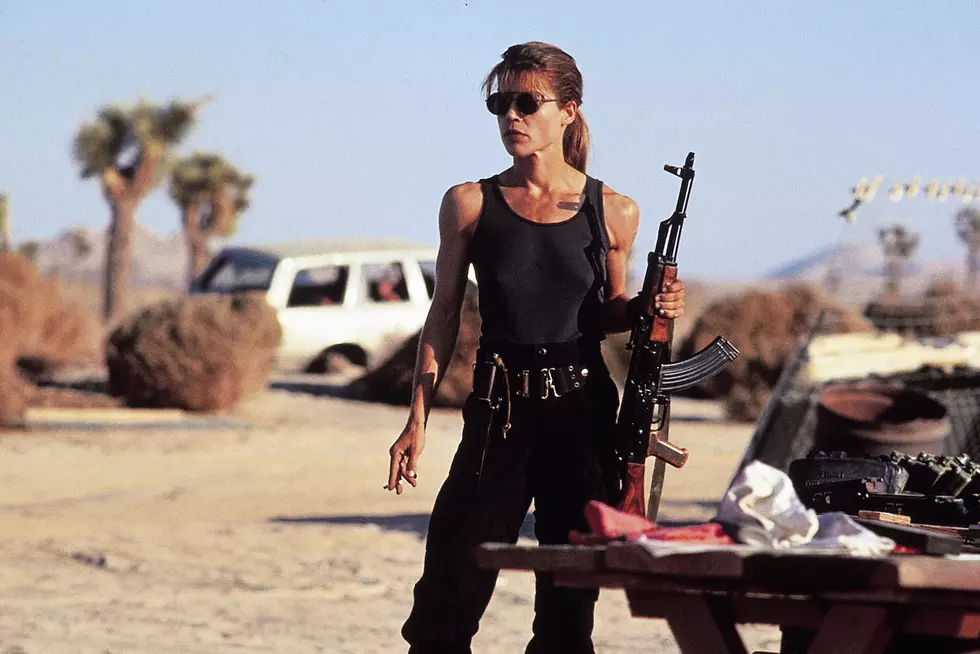 'Terminator' Reboot Reveals First Promo Banner and Possible Title
TriStar Pictures
Reboots of classic films are often met with annoyance and ire; can't we just leave good movies alone? But something's in the air this year and there's more than one reboot that actually sounds worthwhile. One is the new Halloween, and the other: The new Terminator. How can you not be stoked to see Arnold back in a reboot/sequel (one that will totally ignore Genisys), and Linda Hamilton?
Details are still unknown about the upcoming film from James Cameron, back to produce, and director Tim Miller, but some news arrived via CinecaCon this week (h/t Bloody Disgusting). During Paramount's presentation on Wednesday, the studio shared two new promo banners for the rebootquel. One featured a titular robot in all its shiny metal humanoid glory, and another with the classic shot of Hamilton's Sarah Conner making aviators and puffy bangs cooler look than anything on the planet.
What's most interesting about these though is that they may have confirmed the new film's title. Previously just referred to as T6, these suggest the film might actually just be called Terminator. Now, this could just be a placeholder title until the official one is revealed. But simply Terminator, without any numerical additions or weirdly spelled subtitles would be a pretty solid title; clean, and to the point.
The new film will be a reboot while also serving as a direct sequel to Terminator 2: Judgement Day, ignoring all other sequels (thank god). We know it will follow a new young heroine living in Mexico City, and Hamilton's Connor reteaming with Schwarzenegger's titular machine. The film also stars Blade Runner 2049 and Tully star Mackenzie Davis, some crazy exciting casting if you ask me, and Agents of S.H.I.E.L.D. actor Gabriel Luna as a new terminator. The film hits theaters July 26, 2019.
Gallery – Reboots That Are Also Sequels: