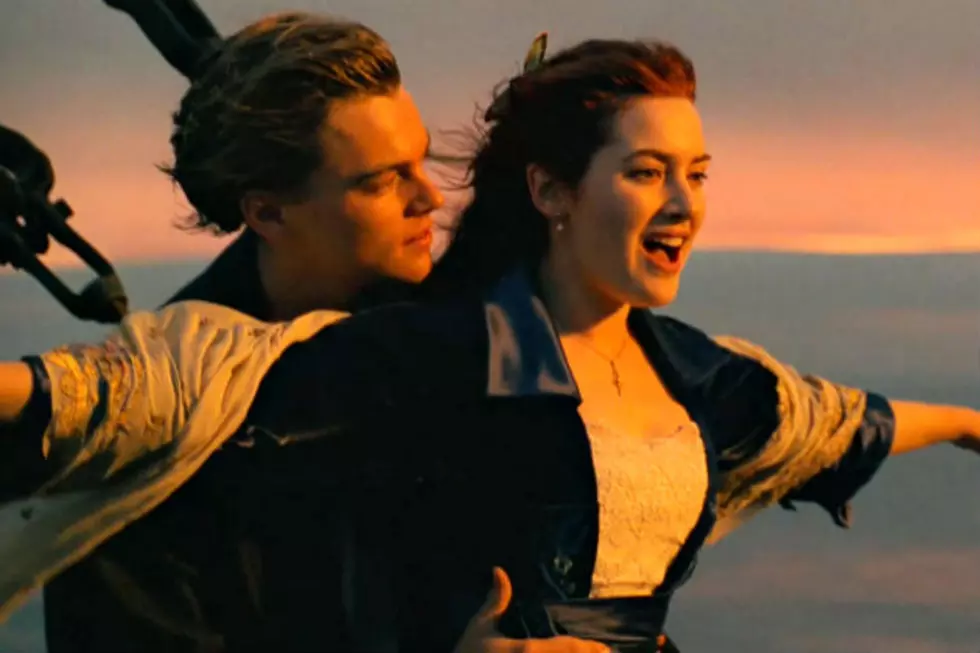 See the Cast of 'Titanic' Then and Now
Paramount
In 1997, James Cameron unleashed 'Titanic,' his epic blockbuster about the ill-fated maiden voyage of the notorious ship and the fictional love story between Jack (Leonardo DiCaprio) and Rose (Kate Winslet). The film was a smashing success and was nominated for 14 Academy Awards, winning 11, including statues for Best Picture and Best Director for Cameron. In 2012, Cameron released a 3D version of the film earning it another $343 million worldwide, taking its total earnings to date well over $2 billion. 14 years later, we celebrate one of the most successful films in history by taking a look back at the cast and seeing where they are now. 
Leonardo DiCaprio, Jack Dawson
Then: Leonardo DiCaprio, star of films like 'What's Eating Gilbert Grape' and 'The Basketball Diaries,' played Jack Dawson, a homeless artist who wins third-class tickets on the RMS Titanic with his friend. Matthew McConaughey and Chris O'Donnell were also considered, as was Jared Leto, who refused to audition. DiCaprio wasn't so easy, either, refusing to read romantic scenes and goofing off in his audition.
Now: DiCaprio's role in 'Titanic' made him a major Hollywood star, leading him to roles in 'The Man in the Iron Mask,' 'The Beach,' and 'Catch Me if You Can.' In 2008 he reunited with Winslet for the film 'Revolutionary Road,' and he's also starred in the recent films 'Django Unchained' and 'The Great Gatsby.' But he's most acclaimed for his work with Martin Scorsese in films like 'The Aviator,' 'The Departed,' 'Gangs of New York,' and most recently, the 2013 film 'The Wolf of Wall Street,' which earned DiCaprio his third Academy Award nomination for Best Actor.
Kate Winslet, Rose DeWitt Bukater
Then: Kate Winslet was a little-known actress back then, whose previous film credits included 'Sense and Sensibility' and Peter Jackson's 'Heavenly Creatures.' She campaigned heavily for the role of Rose, the wealthy but troubled heiress, and sent Cameron notes from England regularly, determined to get the part. Claire Danes, who previously starred with DiCaprio in 'Romeo and Juliet' had also been considered, but Winslet's screen test impressed Cameron and she eventually won him over with her insistence that she was Rose.
Now: 'Titanic' was Winslet's breakout role, and since then she's appeared in films like 'Quills,' 'Eternal Sunshine of the Spotless Mind,' 'Little Children,' 'The Reader,' and 'Contagion.' She starred in the HBO miniseries 'Mildred Pierce,' and reunited with DiCaprio for the drama 'Revolutionary Road.' More recently she appeared in the films 'Movie 43' and 'Labor Day,' and can be seen next in 'Divergent,' the first in a planned trilogy of films based on the popular young adult novels.
Billy Zane, Cal Hockley
Then: Billy Zane played Cal Hockley, Rose's arrogant fiance and heir to a steel fortune. When Matthew McConaughey was deemed a little too old for the role of Jack, he was offered the part of Cal instead, but turned it down. The part went to Zane, who was known for roles in 'Tombstone' and 'The Phantom.'
Now: Zane is mostly a B-movie actor, appearing in films like 'Bloodrayne,' 'Surviving Evil,' 'The Roommate,' and 'The Scorpion King 3: Battle for Redemption.' Over the years he's guest-starred on the shows 'Charmed,' 'Samantha Who?,' and 'The Deep End,' and recently appeared in the horror movies 'Ghost of Goodnight Lane' and 'Scorned.'
Frances Fisher, Ruth DeWitt Bukater
Then: Frances Fisher portrayed Rose's mother, Ruth DeWitt Bukater, who insists that Rose marry Cal in order to maintain their family's wealth. She had previously starred in 'Unforgiven' and 'Striptease.'
Now: Since then, you've probably seen Fisher in movies like 'Gone in 60 Seconds,' 'In the Valley of Elah,' or 'The Roommate,' which reunited her with Billy Zane. And although Matthew McConaughey missed his chance to co-star with her in 'Titanic,' Fisher appeared with him in the 2011 film 'The Lincoln Lawyer.' Fisher recently appeared in 'The Host' and 'Plush,' and can be seen next in the upcoming film 'The Congress.'
Bill Paxton, Brock Lovett
Then: Bill Paxton played Brock Lovett, a present day treasure hunter looking for the necklace that once belonged to Rose, so he seeks the help of an elderly Rose and her granddaughter. Paxton had previously appeared in James Cameron's films 'The Terminator,' 'Aliens,' and 'True Lies,' and he co-starred with Billy Zane in 'Tombstone.'
Now: Paxton went on to star in films like 'A Simple Plan,' 'Frailty,' 'Club Dread,' and 'Haywire.' He played patriarch Bill Henrickson on the HBO series 'Big Love,' which ran from 2006 to 2011, and has recently appeared in the films '2 Guns' and 'The Colony.' Up next, he's got a four-episode arc on 'Agents of S.H.I.E.L.D.' and supporting roles in the films 'Edge of Tomorrow' and 'Million Dollar Arm.'
Suzy Amis, Lizzy Calvert
Then: Former model Suzy Amis played Lizzy, Rose's granddaughter. Amis had previously starred in the films 'Blown Away' and 'The Usual Suspects.'
Now: Amis met director James Cameron while working on 'Titanic' (obviously), and the two began a relationship. They married in 2000, and Amis hasn't acted since 1999, when she appeared in direct-to-video film 'Judgment Day.' In 2005, Amis founded MUSE Elementary, an independent, non-profit school in California.
Danny Nucci, Fabrizio De Rossi
Then: Danny Nucci played Fabrizio De Rossi, Jack's similarly penniless friend who goes with him when they win two third-class passenger tickets to the RMS Titanic in a poker game. Nucci also played characters who were killed off in 'Eraser' and 'The Rock,' two other major blockbusters released between 1996 and 1997.
Now: Nucci's appeared in 'World Trade Center,' 'The Sandlot: Heading Home,' and 'Sinatra Club.' He's found more success on television, guest-starring on 'House,' 'The Mentalist,' 'Criminal Minds,' 'Castle,' and different versions of 'CSI.' He recently guest-starred on the CW's 'Arrow,' and currently stars on the ABC Family series 'The Fosters' as Mike Foster.
Kathy Bates, Margaret "Molly" Brown
Then: Kathy Bates played the headstrong Molly Brown, one of the characters who was based on a real-life passenger aboard the Titanic. Brown was given the nickname "The Unsinkable Molly Brown" for heroically commandeering a lifeboat for herself and other women. Country music star Reba McEntire had initially won the role of Molly Brown but had to drop out of the film due to scheduling conflicts.
Now: Bates has since appeared in the films 'The Waterboy,' 'About Schmidt,' 'Failure to Launch,' and 'The Family That Preys.' In 2008 she reunited with Leonardo DiCaprio and Kate Winslet for 'Revolutionary Road,' and since then has appeared in the films 'The Blind Side' and 'Midnight in Paris.' Bates had a recurring role on 'The Office' and starred on her own short-lived TV series, 'Harry's Law.' Currently, she stars on 'American Horror Story: Coven,' and will appear next on 'Mike and Molly.'
Victor Garber, Thomas Andrews
Then: Victor Garber played Thomas Andrews, the builder of the RMS Titanic, who is also a very kind and practical man. Garber was known for roles in 'Sleepless in Seattle' and 'The First Wives' Club.'
Now: Garber is perhaps best known for his role as Jack Bristow, the father of Jennifer Garner's character on the hit series 'Alias,' which ran from 2001 to 2006. He's also appeared in the films 'Legally Blonde,' 'Milk,' and 'You Again,' and lent his voice to 'Kung Fu Panda 2.' He recently starred in 'Argo,' and has guest-starred on '30 Rock,' 'Damages,' 'The Good Wife,' and 'Sleepy Hollow.' He currently co-stars with Lisa Kudrow on 'Web Therapy,' the Showtime comedy series which is now entering its fourth season.