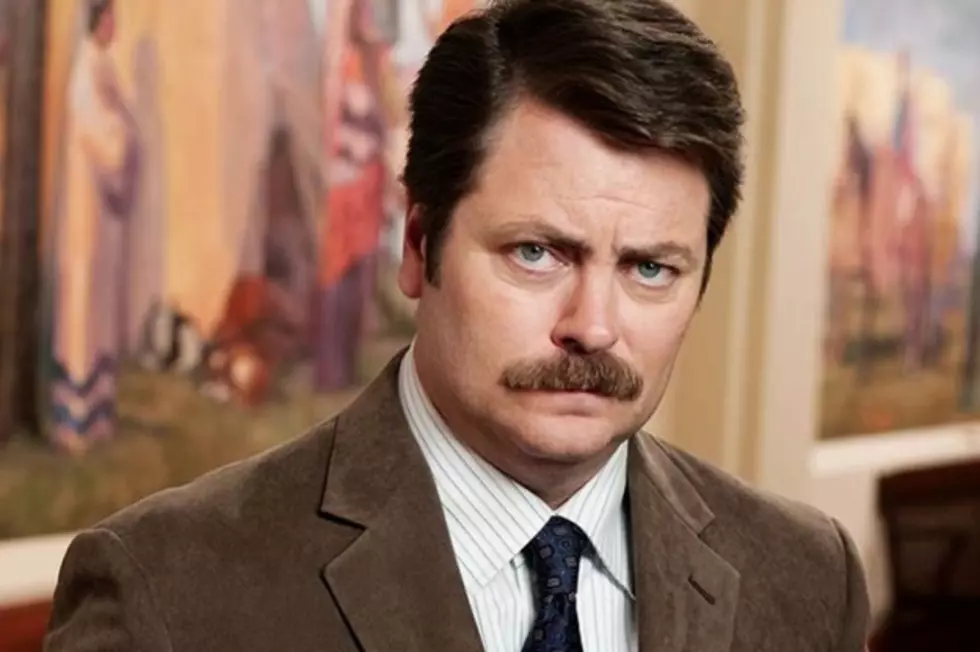 Way Back When: Nick Offerman
NBC
You know and love him as Ron Swanson on NBC's 'Parks and Recreation,' but Nick Offerman had a ton of roles before he landed the one that made him a household name. In today's Way Back When, we take a look back at Offerman's earlier work.
'Profiler' was a silly little show sort of like 'Law & Order: SVU,' about a profiler who works for a violent crimes task force that often helps the FBI solve grisly murders and such. In this episode, Nick Offerman (along with Pat Healy!) plays a blue collar guy who just so happens to murder women with his dumb friend when they're not talking about sports:
Offerman played an environmentalist on this 1999 episode of the hit series 'The West Wing.' Here, he tries to convince Allison Janney's character CJ that wolves need their very own highway. Only Nick Offerman could pull this scene off with a straight face, but can we all agree after seeing 'The Grey' that we should leave wolves alone? Click the image below to watch the video.
In this 2003 episode of 'The King of Queens,' Offerman plays a guy with an awesome eyepatch whose car breaks down on Thanksgiving, so Doug lets him use his house phone, which annoys Carrie -- clearly she's not acquainted with Nick Fury, or she'd know that dudes who show up randomly with eyepatches are usually a good thing.
Okay, this one is very, very NSFW. Unless your workplace is okay with you looking at Nick Offerman's penis. On this episode of 'Deadwood,' Nick Offerman is naked and shaking his junk around. We have no idea what's going on because the only clip we could find has Spanish dubbing, but we assume he must be very drunk. Also, he's almost unrecognizable with that shaggy hair. Ron Swanson would never approve.
Offerman had a recurring role on 'George Lopez' as Randy, and though we couldn't find much to confirm this (not that anyone would want to remember starring in an episode of 'George Lopez,' let alone eight of them), we did find this on YouTube -- apparently the reason the user uploaded this clip was to point out the horribly grating laugh track, and it seriously is one of the worst we've ever heard. But we're more concerned with why Nick Offerman is tied to a chair. Again, Ron Swanson would never approve.
'Miss Congeniality 2: Armed and Fabulous'
Wow, we take it back. Now this is one of the worst things we've seen on YouTube: the fight scene from 'Miss Congeniality 2,' which features Nick Offerman as "Karl Steele," a guy who's really into wearing leather, apparently. But what makes this video the worst is that the user couldn't upload it regularly without it being removed for copyright violation, so they put some horrible metal music over it. As if seeing Nick Offerman looking like this wasn't horrifying enough:
Back before you knew who Nick Offerman was, he played the brother-in-law of Melissa McCarthy's character, back before you knew who Melissa McCarthy was. It's a comedy match made in heaven! And hardly anyone knew about it!