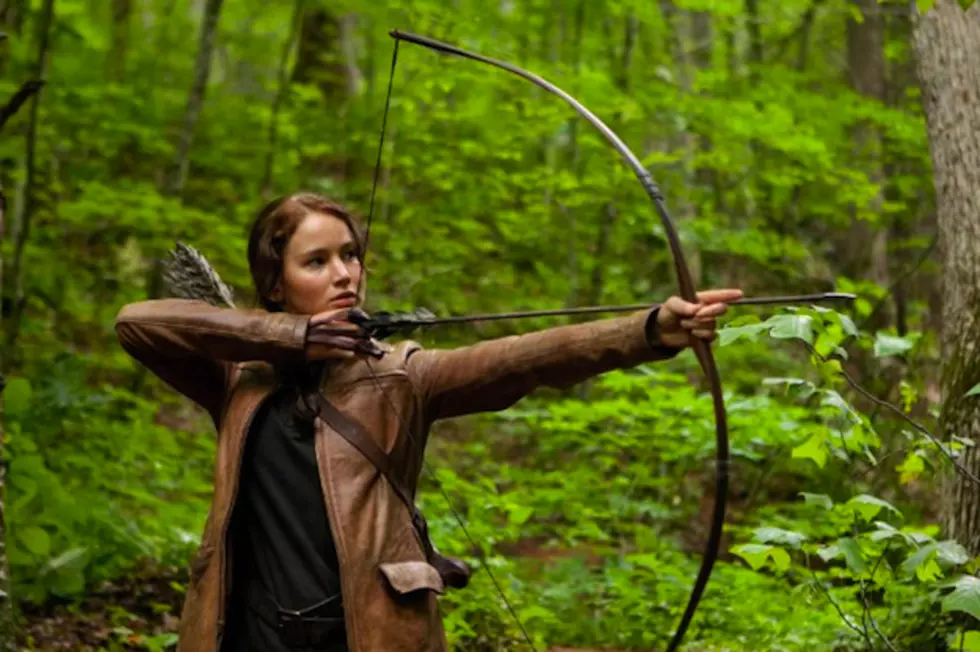 Weekend Box Office Report: 'The Hunger Games' Clings to the Top Spot
Lionsgate
Despite a handful of brand new wide releases, 'The Hunger Games' continued to thoroughly squash its competition without anything remotely resembling mercy, taking the top spot at the box office for the fourth week in a row. With a weekend gross of $21.5 million, the violent, dystopic science fiction flick (but you know, for kids) continued its march to the coveted $400 million mark with no signs of stopping, slowing or giving anything else in the multiplex a break.
1. The Hunger Games: $21,500,000 ($337,070,000)
2. The Three Stooges: $17,100,000 ($17,100,000)
3. The Cabin in the Woods: $14,850,000 ($14,850,000)
4. Titanic 3D: $11,625,000 ($44,419,000)
5. American Reunion: $10,700,000 ($39,900,000)
6. Mirror Mirror: $7,000,000 ($49,468,000)
7. Wrath of the Titans: $6,905,000 ($71,251,000)
8. 21 Jump Street: $6,800,000 ($120,565,000)
9. Lockout: $6,250,000 ($6,250,000)
10. Dr. Seuss' The Lorax: $3,020,000 ($204,483,000)
Just how big is $400 million? To give it a little perspective, only eleven films have managed to cross that line. That full list is pretty much a laundry list of some of the Biggest Movies Ever, including 'Avatar,' 'Titanic,' 'The Dark Knight,' 'Star Wars,' 'E.T.: The Extra-Terrestrial' and 'Toy Story 3.' The list also includes 'Transformers: Revenge of the Fallen,' but hey, nothing's perfect. On a budget of roughly $100 million, that $337,070,000 take is already an enormous victory for Lionsgate. A $400 million gross will do to Lionsgate what the 'Lord of the Rings' films did for New Line: it'll legitimize them, give them the power to make Big Movies (instead of pumping out more 'Saw' movies) and make them a force to be reckoned with. Whether they'll make good on this and stick around and quickly flounder like New Line is a question for time. Right now, Lionsgate is sitting on top of the world, ma.
Of the new releases this week, Bobby and Peter Farrelly's surprisingly divisive 'The Three Stooges' opened the strongest with $17 million. That's not the kind of number that gets the super nice champagne sent to your house, but it's the kind of number that ensures your continued career in the mid-range studio comedy scene. Although many critics have gone out of their way to savage the film (our own Jordan Hoffman loved it), it's apparently playing really well with young audiences. With 'Dr. Seuss' The Lorax' all but out of the picture, can the Stooges grow some legs and power through April? It's a definite possibility. In any case, the film will probably bottom out around $50 million unless something miraculous happens. However, 'The Three Stooges' couldn't have cost too much and it'll perform well when it hits DVD and every young boy in the world wants a copy. Because young boys like seeing men fall down, you see.
The third place, $14.8 million opening for 'The Cabin in the Woods' is unfortunate, but expected. Even with 92% on Rotten Tomatoes and insane praise from the horror community, it's always hard to sell a film where telling you exactly why it's great is a spoiler in of itself. Last week's column stupidly suggested that 'The Cabin in the Woods' may have had what it took to take the number one spot ('The Devil Inside,' one of the worst horror films to ever stumble onto the big screen, opened to upwards of $30 million earlier this year), but it looks like director Drew Goddard will have to feel content with the knowledge that he's made a genuinely important entry in the horror genre. If 'John Carter' is this year's 'Speed Racer,' then 'The Cabin in the Woods' is this year's 'Scott Pilgrim vs The World.'
The other new release this week was the Guy Pearce-starring sci-fi action movie 'Lockout,' but as that $6 million opening indicates, no one saw it. Not even you. Even if you think you saw it, you actually didn't. You only saw the trailer before you saw 'The Hunger Games' for the eighth time.
As for the rest of the top ten, 'Titanic 3D' held strong, taking in $11 million and bringing its total gross to $44 million. For 'Titanic,' it's all icing on top of icing at this point. The cake was buried a long time ago. 'American Reunion' took a 50% tumble and suddenly, last week's prediction of a $70-$80 million gross is looking a little less likely, especially with summer right around the corner. The same applies to 'Mirror Mirror' which hasn't evolved into the sleeper hit it needed to be. Elsewhere, 'Wrath of the Titans' has managed to outgross 'John Carter' so it won't look like a total disaster (but it's definitely a bust) and 'Dr. Seuss' The Lorax' is gracefully exiting stage left with $204 million in the bank.
Remember that nice champagne that wasn't sent to the Farrelly brothers? It arrived at the homes of directors Phil Lord and Chris Miller to thank them for '21 Jump Street.' A reasonably cheap comedy that won critical accolades before grossing upwards of $120 million? We can only guess how many scripts are currently piling on up Lord and Miller's desks.
Outside of the top ten, 'Journey 2: The Mysterious Island' barely nudged over the $100 million mark. Now it can safely vanish without a trace. Meanwhile, 'The Raid: Redemption' didn't crack the top ten, but it held onto the eleventh spot, taking in just over a million bucks and bringing its total gross to $2,568,000. It's never going to do blockbuster numbers, but by relying on word of mouth and a slow and steady increase in screens, the film is milking its intended audience for everything they're worth. 'The Raid: Redemption' will only truly flourish when it hits home video, but having a couple extra million in the bank is never a bad thing.
Next week brings us...not much of anything, really. Can 'The Hunger Games' grab that fifth week?