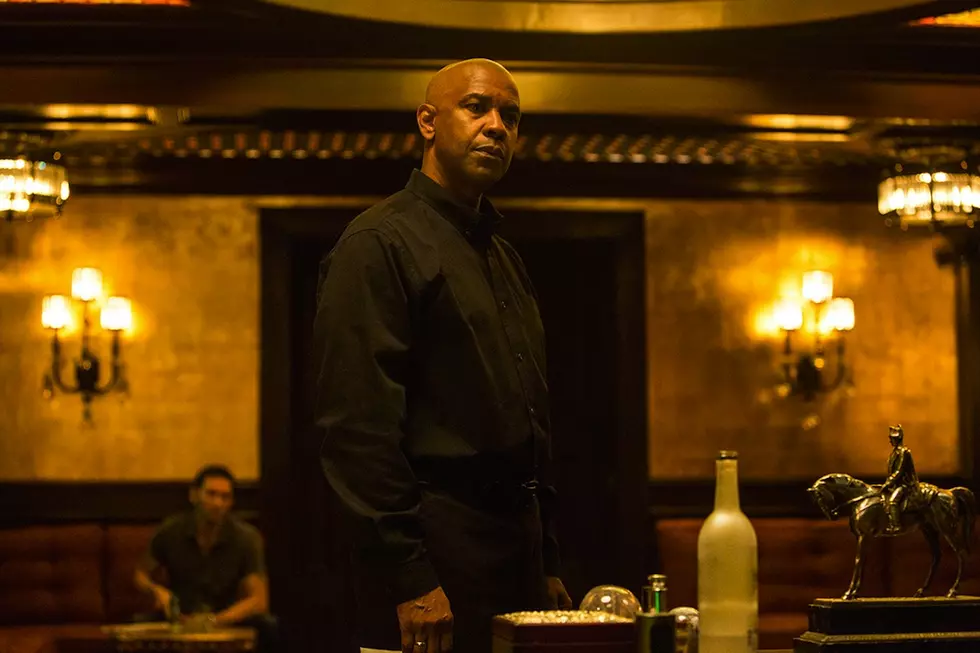 Weekend Box Office Report: 'The Equalizer' Triumphs While 'The Boxtrolls' Underperforms
Sony
When you put Denzel Washington in an action movie, you've written your meal ticket for the foreseeable future. Few actors are as consistent as Washington with their opening weekends, even when the project looks like something everyone has seen countless times before. The unfortunate flip side of that coin is that a strange and risky project like 'The Boxtrolls' opens to only half the gross of 'The Equalizer.'
Film
Weekend
Per Screen
1
The Equalizer
$35,000,000
$10,816
$35,000,000
2
The Maze Runner
$17,500,000 (-46.2)
$4,810
$58,018,000
3
The Boxtrolls
$17,250,000
$4,980
$17,250,000
4
This is Where I Leave You
$7,010,000 (-39.4)
$2,444
$22,557,000
5
Dolphin Tale 2
$4,835,000 (-45.5)

$1,432
$33,665,000
6
No Good Deed
$4,600,000 (-53.0)
$2,160
$46,623,000
7
A Walk Among the Tombstones
$4,234,000 (-66.8)
$1,560
$20,871,000
8
Guardians of the Galaxy
$3,789,000 (-27.7)
$1,546
$319,192,000
9
Let's Be Cops
$1,515,000 (-44.0)
$988
$79,628,000
10
Teenage Mutant Ninja Turtles
$1,450,000 (-45.3)
$915
$187,182,000
With a $35 million opening weekend, 'The Equalizer' continued the trend of "movies where Denzel Washington kills a whole bunch of people" performing extremely well at the box office. He may not have the same drawing power as certain franchises or characters, but he's one of the few actors who will practically guarantee a strong opening in this day and age. If 'The Equalizer' follows the typical patterns of Washington's films, it should end up with a strong $80-$100 million final gross.
The future of 'The Boxtrolls' is less certain. Although the stop-motion animation family film opened with a decent $17 million, it's going to need to do significantly more business if it hopes to reach profitability. To be fair, Laika's previous project, 'ParaNorman,' opened to only $14 million before it sprouted legs and sprinted to $56 million, so this one could turn around and make up for this soft opening with sheer endurance.
'The Maze Runner' fell to second place, taking a big 46% dip. That's a rough percentage, but it's not going to matter. This movie is already well on its way to being profitable and the sequel is already in the works. This movie is about kickstarting a franchise that will make the real money, not about making money itself. Modern franchises are weird.
'This is Where I Leave You' dropped to fourth place, grossing $7 million for a $22 million total. Those aren't bad numbers, but they certainly aren't the numbers you'd expect from a movie with that cast. In comparison, 'Dolphin Tale 2' has made $33 million so far, and will probably give the star-studded dramedy a run for its money.
Spots six and seven belonged to films that are getting punished with negative word of mouth. Both 'No Good Deed' and 'A Walk Among the Tombstones' suffered cataclysmic drops this weekend, which feels like the moviegoing crowds directly acting to their misleading advertising. However, the former became an instant success on its opening weekend and can afford to ski by at this point. The latter, not so much.
In eighth place, 'Guardians of the Galaxy' has finally started to show signs of slowing down after two months of release. With a $3 million weekend and a $319 million gross, it's the biggest success of the year by far and every penny added after this is just extra syrup or whatever other delicious dessert metaphor you want to use.
And finally, the last two slots belong to 'Let's Be Cops' and 'Teenage Mutant Ninja Turtles,' both of which will end their runs more successfully than anyone expected while still failing to hit major milestones ($100 million and $200 million respectively).