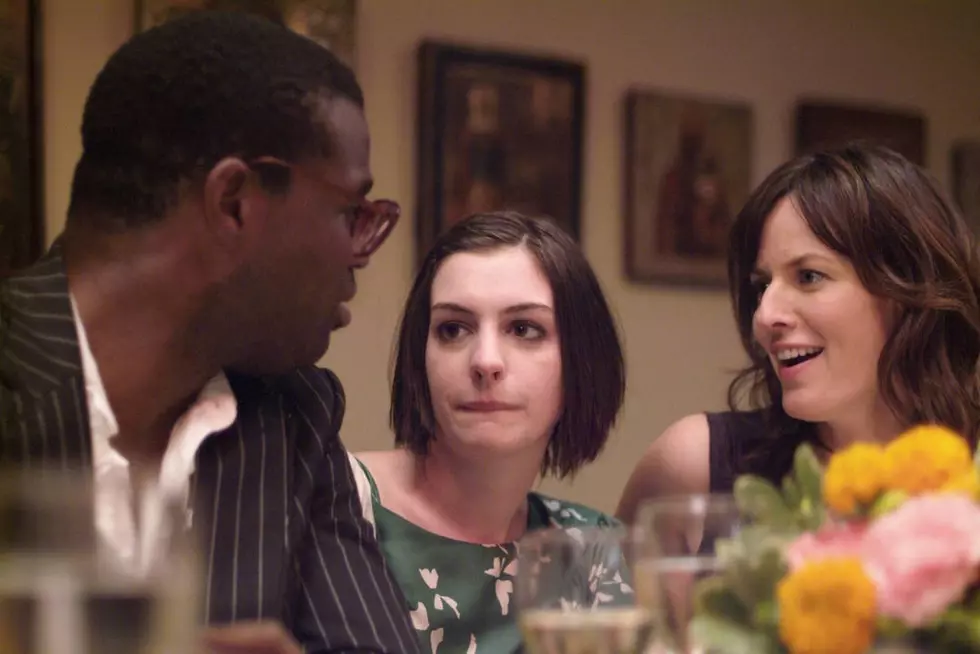 ScreenCrush Staff Picks for What To Watch the Weekend of April 28
Sony Pictures Classics
If you can't decide what to watch this weekend, ScreenCrush's Staff Picks are here to help. They're like the recommendations at an old video store, except you don't have to put on pants or go outside to get them. Here are four things to watch this weekend:
Britt Hayes:
The third season of this hilarious and searingly insightful sitcom premieres this weekend on Amazon Prime, and if you're like me, you're probably currently buried under a monstrous pile of stuff to watch — like The Handmaid's Tale — but even if I have to put that on the back burner (again), I will make time to watch the new season of Catastrophe. Created by and starring comedian Rob Delaney and the madly brilliant Sharon Horgan, the series began with a simple set-up: American ad exec goes to London and has a one-week stand with an Irish schoolteacher who winds up pregnant. Catastrophe mines such fantastic comedy, pathos and yes, poignance from situations that alternate between painfully realistic and hilariously absurd. The late Carrie Fisher plays Rob's judgmental and completely unreasonable mom, and though her role was smaller and more sporadic in the first two seasons, Delaney and Horgan have said that her character is a bit more developed in Season 3 — giving you just one more reason to catch up with this excellent show.
Catastrophe is available on Amazon.
---
Erin Whitney:
This week we lost a great figure of cinema history when Jonathan Demme died. He was one of the most versatile talents in the industry, so instead of recommending his best known works, like The Silence of the Lambs or Philadelphia, I'm suggesting you check out Rachel Getting Married. The small-scale drama features Anne Hathaway in what's arguably her best role to date as Kym, the black sheep of her family. Fresh out of rehab, Kym arrives at her sister Rachel's (Rosemarie DeWitt) wedding where deep-seated family tensions and grudges slowly reveal themselves throughout the weekend. It's one of Demme's most empathetic films, a dramedy that grapples with the heartache of loss and forgiveness while unpacking the complexities of addiction and depression. It's the type of movie that will get you laughing as you're wiping away tears.
---
Kevin Fitzpatrick:
I've resisted AMC's Into the Badlands until now, if only because high-concept martial arts drama seemed out of place among the network's prestige dramas. Yet here we are two years later with a second season earning rave reviews, and now a third, Walking Dead-size order on the way. The series follows a vaguely post-apocalyptic world devoid of guns, in which martial arts and melee weapons rule, governed by seven distinct "Barons." Each one has their own personal army of "Clippers," among them Daniel Wu's Sunny, who questions his role upon meeting a young boy with mysterious powers. It's just weird enough to earn a fantasy label, but the martial arts and stunt choreography really are leagues beyond anything you'll find in Iron Fist. The first season ranks in at a meager six episodes; perfect for a weekend's Netflix binge. Trust me, it's worth the investment.
Into the Badlands Season 1 is available on Netflix.
---
Charles Bramesco:
Something I've learned about myself over the past couple years is that the only way I can relax at the end of the day is with a good single-camera sitcom, and so most of my time on streaming sites is spent trying to fill the Office-sized hole in my heart. NBC's new true-crime mockumentary Trial and Error has done a marvelous job over the past few weeks, collecting a solid comic ensemble with The Office bit player Nicholas D'Agosto playing a lawyer trying to get John Lithgow's small-town perp out of a murder charge. Sherri Shepherd is the clear standout as their ditzy secretary with a laundry list of obscure psycho-maladies. While taking the hot air out of Making a Murderer and the like, the writers have some loopy fun and I peacefully drift off to sleep with a smile on my face.
Trial and Error is available on Hulu.