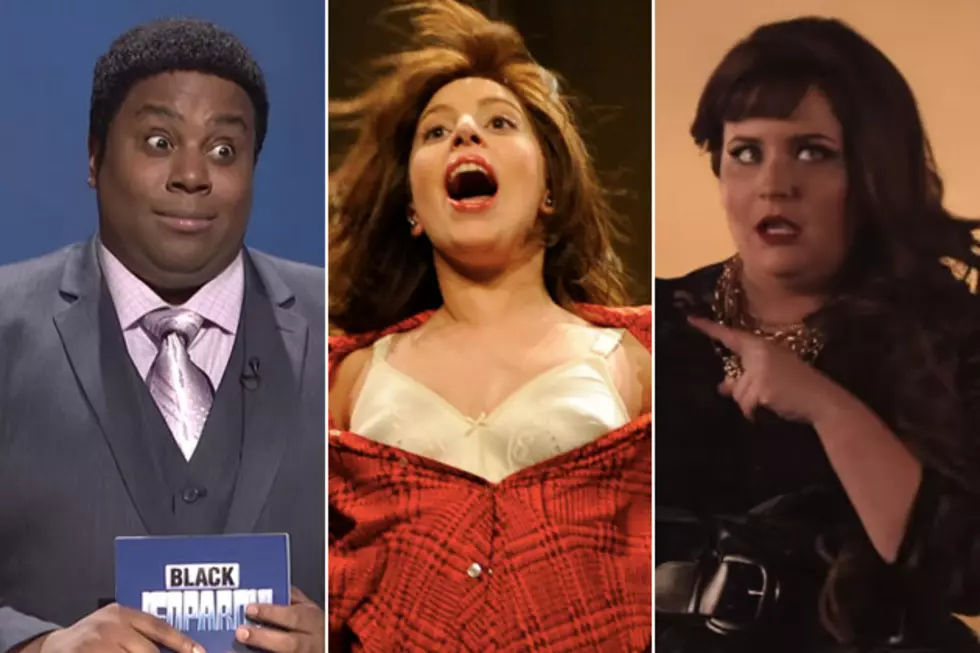 The 10 Best 'SNL' Sketches of the 2013/2014 Season
NBC
The 39th season of 'Saturday Night Live' is over. From the beginning, it was a strange season -- gone were so many of the show's powerful voices: Hader, Samberg, Wiig, Sudeikis, Armisen -- yet this allowed new voices to be heard. And that's the thing about being new on 'SNL': not everything is going to hit. But, in compiling this list of the ten best sketches from the 2013-2014 season, there were some tough choices to be made (sorry, 'Bugs'). And, sadly, for inclusion, the sketch had to have actually appeared on the live show (sorry, 'Wing').
And, yes, this list is heavy with prerecorded material as opposed to live performances. (Perhaps it's not completely fair to compare, but, this is a testament of just how strong the prerecorded sketches are in a post-'Digital Short' world.) And it's also notable that none of the best sketches were recurring sketches (though, I could see at least one of these coming back next season). So, behold: The ten best sketches from this past season of 'Saturday Night Live.'
10. 'Flirty'
After finding success with a particular type of humor (which is featured later in this list), it was refreshing to see Kyle Mooney and Beck Bennett try something a little different. Especially Mooney here, who drops his ironic "bro" voice and, instead, turns up the earnestness as a guy who has a crush on his neighbor, played by Vanessa Bayer.
9. '4th Grade Talent Show'
John Milhiser didn't exactly have a breakthrough season -- and, honestly, I really do hope we get to see more of him next season -- but he really pulled something off here alongside Lady Gaga as two parents trying to instruct their child during a fourth grade talent competition. The beginning of this past season relied heavily on current popular culture references (less so as the season moved on), so this really stood out as just a great sketch comedy idea and great physical comedy by both Milhiser and Gaga.
8. 'Divorce Meeting'
I now have 'I Don't Want to Know' by Fleetwood Mac on my iPhone so, at any moment, I can picture the looks on both Paul Rudd and Vanessa Bayer's faces as this song is blasted as a divorce attorney's ring tone. And, honestly, I'm not sure anyone in the history of 'SNL' has the ability to change her expression from "pissed" to "pure joy" better than Vanessa Bayer.
7. 'Ohh Child'
'Ohh Child' certainly wins the award for "sketch with the biggest twist ending.' So much so, that I still don't like discussing the ending as I'm afraid I'm going to spoil something -- which is a weird feeling because this is a comedy sketch, not a full-length feature film. Anyway, a sketch that portrays itself as being about a GPS system that makes it difficult to sing along to a favorite song, becomes something else entirely.
6. 'Beer Pong'
If it had aired, 'Wing' would have been the quintessential Bennett-Mooney offering from this past season. Instead, here, Beck Bennett and Kyle Mooney flex their love for ironic "bro" humor as they try to entice two potential fraternity members with the many, many perks of their particular fraternity.
5. '(Do It On My) Twin Bed'
A holiday ode to the problems associated with taking your current adult relationship back home and onto your tiny childhood bed. This is one of those sketches that you will see time and time again on every 'Best of SNL Holiday Sketches' from here on out for the rest of eternity. There was a strange combination of "in your face" comedy combined with something that was really awkward and sweet. Anyway, that combination really worked.
4. 'New Horror Trailer'
Is there really much doubt that if Wes Anderson ever really did make a horror movie, that its trailer wouldn't look a lot like this and feature Paul Simon's 'Me and Julio Down by the Schoolyard' as its soundtrack? As a statement/homage to Wes Anderson, this is perfect. (As an aside: Until just now, I hadn't watched this since the Edward Norton-hosted show and I just laughed out loud five times.)
3. 'Black Jeopardy'
How this didn't become a recurring sketch yet, I have no idea. Granted the right host is needed. While Jay Pharoah, Sasheer Zamata and Kenan Thompson are all wonderful, it does need a host who can portray wide-eyed innocence and embarrassment -- the wrong tone could easily undermine what's being attempted here -- and Louis C.K. pulled this off this perfectly.
2. 'Dragon Babies'
I really do hope we see Rick Shoulders again. Anyway (like I've written at length before) Mike O'Brien has the ability to somehow combine both the peculiar and a level of earnestness that makes his humor very unique. At one point in this sketch, Rick Shoulders, a former Chicago police officer, while voicing a children's cartoon about dragon, fires his gun into the floor beneath him, injuring a bystander. We should be horrified by Rick Shoulders, yet we feel empathy for Rick Shoulders. Speaking of O'Brien...
1. 'Monster Pals'
It's just remarkable how touching this sketch turns out to be. Two monsters sit at a bar and one of them, Jim, decides it's time to get the surgery that will make him look human. The rest of the sketch is about his friend (played by Mike O'Brien) trying to locate his friend, Jim. It's funny, touching and weird all at the same time. It's difficult to end a sketch -- and too often the main criticism of a comedy sketch is that it has no ending. Here, the punchline is that O'Brien's monster gets the surgery, but opts for the cheaper version, so now he looks like Mike O'Brien and his pal, Jim, looks like James Franco -- which, again, is somehow touching. This is without a doubt the best sketch of the season.