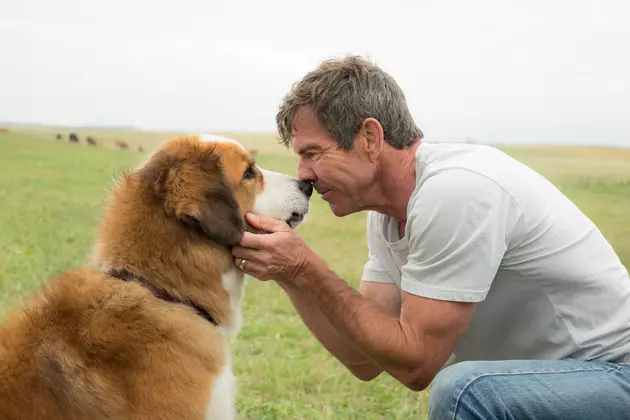 American Humane Disproves 'A Dog's Purpose' Animal Abuse Video
Universal
With everyone's feeds full of horrible news stories these days, you've probably already forgotten about the video of alleged animal abuse on the set of A Dog's Purpose. Back in January, TMZ shared leaked footage of animal handlers aggressively dragging their canine star into a tank of water. The clear signs of the dog's panic caused an internet firestorm, with star Josh Gad distancing himself from the project and PETA calling for an immediate boycott of the film. A Dog's Purpose still performed well enough in its opening weekend, but the scandal no doubt cost it ticket sales at the box office.
Well, it turns out that what we saw on film wasn't quite what actually happened. Earlier this week, Variety (via Vulture) ran a guest column by American Humane CEO Dr. Robin Ganzert to discuss her company's investigation into the treatment of the dogs on the set of A Dog's Purpose. According to Ganzert, the video was edited to suggest that the dog was forced into the water, despite that not being the case.
Here is the key excerpt from Ganzert's piece:
The preliminary findings and eyewitness reports indicate that the footage was misleading and edited. In fact, evidence supports the finding that the two scenes shown in the manipulated video were filmed at different times. Production stopped after the dog showed signs of stress and the dog was never forced to swim in the water against his will.
While American Humane might have been the organization tasked with overseeing the ethical treatment of animals on the set of A Dog's Purpose, Ganzert's letter also claims these findings are the result of an "independent, third-party investigation," suggesting that American Humane isn't just clearing themselves of any wrongdoing to prevent further loss of income. Animal lovers will be pleased to hear that the German shepherd in question was not forced to go into the water against his will and that A Dog's Purpose was seemingly on the up-and-up for all animals involved.
Of course, American Humane's investigation did not explain why a movie about a dog dying multiple times was targeted specifically to animal lovers, but since the only people levying charges of audience cruelty here are film critics, I think we can go ahead and let this sleeping dog lie.