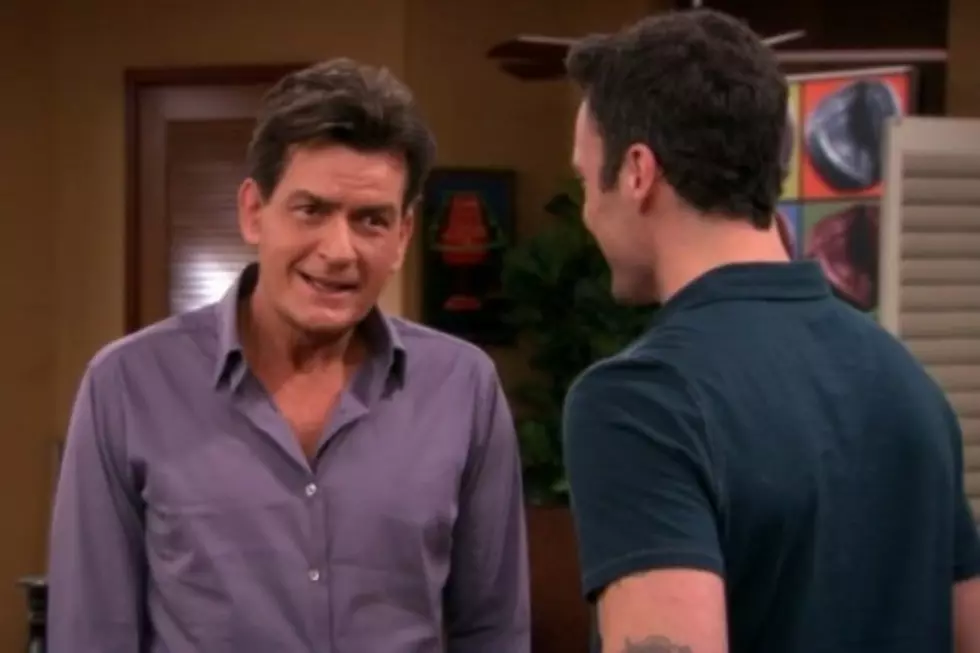 'Anger Management' Review: "Charlie and the Cheating Patient"
FX
'Anger Management' continues on its 90-episode, two-year run with its 38th overall episode, "Charlie and the Cheating Patient," as Charlie begins to suspect Jen's boyfriend Sean (Brian Austin Green) is having an affair with Lacey, while Patrick and Ed console Nolan when his apartment gets burglarized.
Previous episode, "Charlie Dates a Serial Killer's Sister," saw Charlie inadvertently finding himself involved with inmate Wayne's sister Wynona (LeAnn Rimes), while Nolan showed Patrick his bizarre relationship with Lacey. So what did the latest episode bring? Were there more laughs to be had in the 38th half-hour of 'Anger Management,' or do we feel cheated?
Read on for your in-depth recap of everything you need to know about 'Anger Management' episode 38, "Charlie and the Cheating Patient"!
A blissful Sean and Jen enter Charlie's kitchen, before Sean and Charlie rejoin the living room therapy session in progress. Ed and Patrick still have their issues in living with one another, while after the session, Charlie seems to notice a bit of chemistry in a shoulder brush between Sean and Lacey. Later on during his commitment study with Kate, Charlie brings up the brief moment, to which Kate corroborates people's first instincts are often correct.
Patrick learns over the phone that Nolan has been robbed, and rushes Ed to go console him, while Charlie arrives at Jen's house to break the bad news of Sean's cheating. Once Jen realizes Charlie's only evidence lies in the shoulder bump, however, she quickly throws him out. Meanwhile, Patrick and Ed show up to Nolan's desolate apartment to find he'd only lost his TV and PlayStation, and keeps a parakeet for a pet. Ed brings out his gun, insisting they'll be protected as they stay to comfort Nolan.
Sean arrives angry to Charlie's house, having been thrown out anyway after Jen checked his phone to find calls from Lacey, whom he'd only called in the interest of finding a club job. Charlie initially refuses Sean's cover stories and denial tactics, but calls Lacey to confirm the job search, and apologizes to Sean for his mistake. A short while later, Charlie visits Jen to find her packing Sean's things, before patching things up between the two, and leaving Sean and Jen to reconcile.
Back at Nolan's apartment, Nolan leaves the room as Patrick continues to insist that Ed's gun will cause nothing but trouble. Patrick agrees to hold the weapon as a display of its safety, but accidentally fires the one chambered round into Nolan's parakeet. Nolan rushes out, but only staples the bird back to its post, the creature having been dead and stuffed for some time.
Charlie takes Sean out to dinner to apologize for the whole mess, also inviting Lacey without Sean's knowledge. Once Charlie mentions that Sean has been living with Jen however, Lacey flips and admits they'd been sleeping together for weeks. Sean again attempts a number of excuses, but to no avail. Later that night, Charlie arrives to Jen's to find Lacey already called her with the news, leaving Jen to drown her sorrows in bourbon and ice cream.
Finally, Charlie offers to send Jen on a vacation to console her, and she returns a week later with her new hippie boyfriend Canvas, having made a detour to Burning Man instead of the resort.
On the story side of things, we appreciated the nods to continuity with Patrick and Ed still living together, even if the odd couple dynamic seems to have run its course. A bit less effective was the glimpse into Nolan's lifestyle, considering Patrick had been spending time with him weeks earlier, and shouldn't necessarily have been so surprised. Elsewhere, Sean continues to be a likeable presence, though the show will clearly have to do a bit of footwork to justify his inclusion in the series going forward.
Did you enjoy the latest from 'Anger Management''s ongoing run, or did it make you burn with rage? Join us next week for another all-new 'Anger Management' episode recap of "Charlie and the Virgin" on FX!