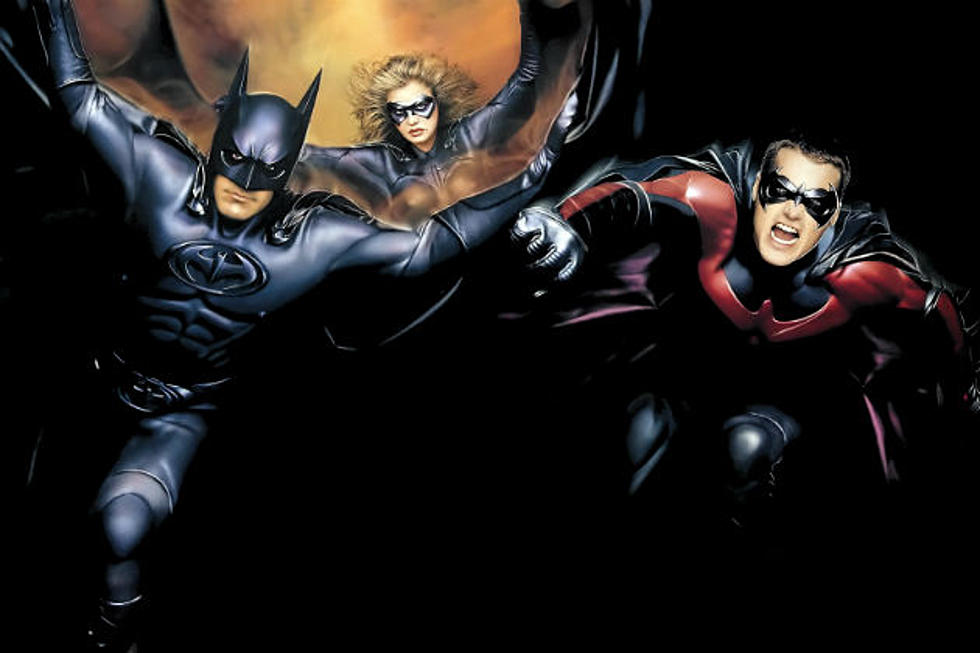 See the Cast of 'Batman and Robin' Then and Now
Warner Bros.
In 1997, Joel Schumacher released 'Batman and Robin,' his follow-up to 'Batman Forever,' starring George Clooney as the caped crusader. That time around, Batman teamed up with Robin and Batgirl to stop villains Mr. Freeze (Arnold Schwarzenegger) and Poison Ivy (Uma Thurman) from freezing the world and repopulating it with mutant plants (yes, really). Although the film was a massive success, it garnered many negative reviews and is considered to be one of the worst Batman films ever made. Seventeen years later, we take a look back at the cast of the strange '90s superhero film and see where they are now.
George Clooney, Bruce Wayne/Batman
Then: George Clooney played Bruce Wayne/Batman, replacing Val Kilmer, who played the hero previously in 'Batman Forever.' Clooney was the star of the medical drama series 'ER' and also appeared in the film 'From Dusk Till Dawn,' but the latter was his first blockbuster film role.
Now: Clooney went on to become a major force in Hollywood, appearing in 'Three Kings,' the 'Ocean's Eleven' trilogy, and the Coen Brothers' films 'O Brother, Where Art Thou,' 'Intolerable Cruelty' and 'Burn After Reading.' Clooney directs as well as acts, helming and appearing in the films 'Confessions of a Dangerous Mind,' 'Good Night, and Good Luck,' 'The Ides of March,' and just recently, 'The Monuments Men.' He also recently starred in 'Gravity,' and can be seen next in 'Tomorrowland.'
Chris O'Donnell, Dick Grayson/Robin
Then: Chris O'Donnell reprised his role from 'Batman Forever' as Dick Grayson/Robin, Batman's sidekick whose circus performer parents were killed when he was a boy. O'Donnell also appeared in the films 'The Three Musketeers' and 'In Love and War,' the latter of which starred Sandra Bullock, who would star with Clooney in 'Gravity' many years later.
Now: O'Donnell also appeared in films like 'The Bachelor,' 'Vertical Limit' and 'Kinsey,' and guest starred on 'Two and a Half Men' and 'Hawaii Five-0.' He had a recurring role on 'Grey's Anatomy' and currently stars on 'NCIS: Los Angeles.' He recently appeared on an episode of 'Who Do You Think You Are,' in which celebrities trace their heritage to surprising results.
Alicia Silverstone, Barbara Wilson/Batgirl
Then: 'Clueless' star Alicia Silverstone played Barbara Wilson, the niece of Alfred, Bruce Wayne's butler. She eventually becomes the hero Batgirl. In the comic, Batgirl is actually Barbara Gordon, Commissioner Gordon's daughter, but the part was rewritten for the film to keep her closer to the Wayne home.
Now: Silverstone also appeared in 'Excess Baggage,' 'Blast from the Past,' 'Scorched' and 'Beauty Shop.' She was the star of the 2003 sitcom 'Miss Match,' and she lent her voice to the main character of the animated series 'Brace Face' from 2001 to 2005. After working on several unsold sitcom pilots, Silverstone recently had a recurring role on 'Suburgatory' and reunited with her 'Clueless' director Amy Heckerling for the vampire comedy 'Vamps.' She also appeared in the indie comedy 'Ass Backwards.'
Arnold Schwarzenegger, Dr. Victor Fries/Mr. Freeze
Then: Action icon Arnold Schwarzenegger, star of such classics as 'The Terminator' and 'Total Recall,' played Mr. Freeze, a molecular biologist and Olympic athlete who goes mad when his wife becomes terminally ill. Director Joel Schumacher originally considered Patrick Stewart for the role, but then thought they needed someone who looked more muscular and chiseled.
Now: Schwarzenegger went on to reprise his role from the 'Terminator' films in 2003's 'Terminator 3: Rise of the Machines,' and also appeared in the films 'End of Days' and 'The 6th Day' before taking time off to act as Governor of California from 2004 to 2011. He returned to acting in 2012, making his first appearance in 'The Expendables 2,' and followed it up with starring roles in 'The Last Stand' and 'Escape Plan.' He can be seen next in 'The Expendables 3' and 'Sabotage,' and he will be re-suiting up for a new 'Terminator' trilogy and a new 'Conan the Barbarian' movie.
Uma Thurman, Pamela Isley/Poison Ivy
Then: Uma Thurman played Dr. Pamela Isley, a botanist who becomes the villainous Poison Ivy and teams up with Dr. Freeze after being doused in toxins and poison. Thurman was previously known for roles in 'Pulp Fiction' and 'Beautiful Girls.'
Now: Thurman went on to appear in the films 'Gattaca,' 'Be Cool' and 'My Super Ex-Girlfriend,' and reunited with her 'Pulp Fiction' director Quentin Tarantino for the 'Kill Bill' films. She recently appeared in the films 'Bel Ami,' 'Playing for Keeps' and 'Movie 43,' and can be seen next in Lars von Trier's controversial two-part film, 'Nymphomaniac.'
Elle MacPherson, Julie Madison
Then: Supermodel Elle Macpherson played Julie Madison, a reporter and Bruce Wayne's girlfriend. Macpherson had been branching out into acting, appearing in the films 'If Lucy Fell,' 'The Mirror Has Two Faces' and 'The Edge.'
Now: Macpherson started her own business, Elle Macpherson Inc., and in addition to launching lingerie and maternity lines, she continued to model. She also had a brief recurring role on the sitcom 'Friends' as Joey's roommate, and is currently the host of the reality competition shows 'Britain and Ireland's Next Top Model' and 'Fashion Star.'
Vivica A. Fox, Ms. B. Haven
Then: Vivica A. Fox played Ms. B. Haven, Mr. Freeze's sexy assistant. Fox was known for roles in 'Independence Day' and 'Set It Off.'
Now: Fox went on to appear in the films 'Soul Food,' 'Idle Hands,' 'Teaching Mrs. Tingle' and 'Two Can Play That Game.' She then reunited with her 'Batman and Robin' co-star Uma Thurman for the 'Kill Bill' films, in which she played Vernita Green, aka Copperhead. She had a recurring role on 'Curb Your Enthusiasm' and guest starred on 'Melissa and Joey,' 'Drop Dead Diva' and 'Raising Hope.' She also appeared in the films 'The Slammin' Salmon' and 'Home Run.'