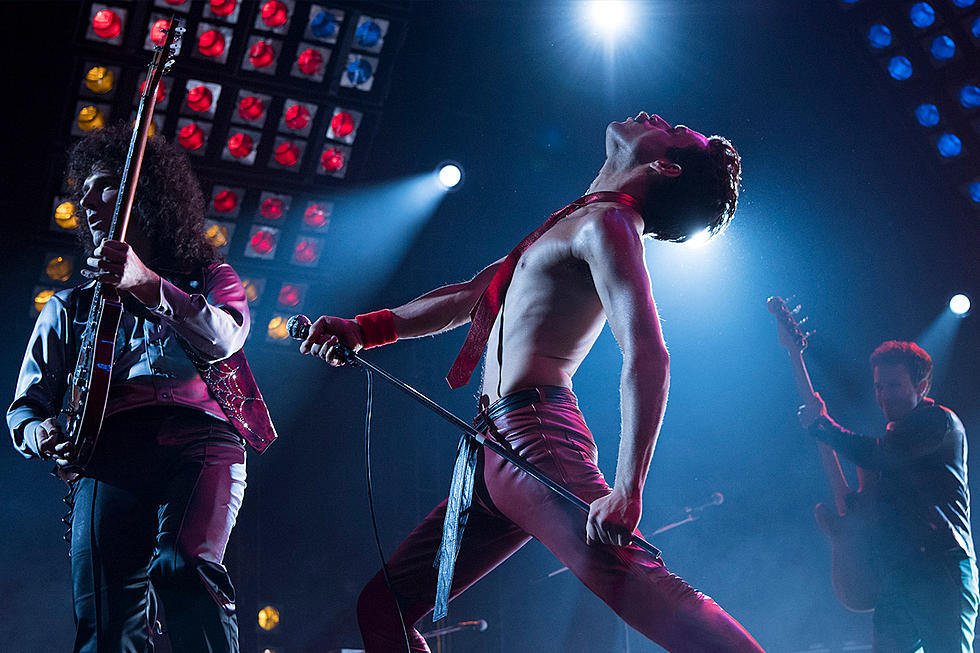 'Bohemian Rhapsody' Review: It Will Rock You … To Sleep
Fox
If Bohemian Rhapsody is to be believed — a pretty big if, I admit — before Queen could record their classic album A Night at the Opera, they had to first pitch the idea to a record label exec named Ray Foster, played in the film by Mike Myers. (The fact that Myers, star of Wayne's World and its famous "Bohemian Rhapsody" sing-a-long, now plays the man who nearly squashed Queen's dreams of recording that song is the only joke in this entire movie.)
A concept album steeped in opera? A six-minute single with bizarre words like Galileo and Scaramouche? It'll never work, Foster says. He begs the band to stick to the formula of anthemic rock that made them a success. "Formulas," Freddie Mercury replies, "are a complete and utter waste of time."
If Freddie Mercury really said those words, he would have hated this movie. It's rooted in real events, of course, but all of those events are filtered through a template established by countless musical biopics: A naive raw talent breaks free of disapproving parents and rises to stardom before losing himself in drugs and partying, leading to an inevitable artistic collapse followed by an equally inevitable comeback. And like so many of those other rock star biographies, the emphasis is on cramming as many songs and famous life events as possible at the expense of everything else.
So pointless details get lengthy explanations while crucial facets of the characters are totally unexplored — Freddie's complicated sexuality is left almost entirely off-screen and the rest of Queen is treated like sentient musical instruments with '70s rock wigs, but a microphone stand gets its own origin scene. And the whole movie's timeline is ludicrously condensed. Freddie proposes to his girlfriend moments before the band walks in to announce they are headed off for their first American tour; Freddie finally finds a man he's spent years searching for and visits his parents for the first time in a decade on the morning of the famous Live Aid concert. That was a heck of a day!
Bohemian Rhapsody's recreation of Queen's Live Aid set is the movie's clear highlight; if there's one thing director Bryan Singer gets right, it's the magical energy of a great rock concert. Throughout the film, the booming sound mix rattles your seat and reverberates through your body in a way I've felt at plenty of rock shows, but never before in a movie theater. While your eyes are never tricked into thinking you're back at Wembley Stadium in 1985 (Rami Malek's lip syncing to Freddie Mercury's vocals is sometimes a little too exaggerated), your ears legitimately might be.
There's not much else to recommend here, though; just like the film's soundtrack, Bohemian Rhapsody's plot sticks to the greatest hits. Malek's Freddie, born Farrokh Bulsara, meets guitarist Brian May (Gwilym Lee) and drummer Roger Taylor (Ben Hardy) seconds after their band's former lead singer has quit. Freddie renames the group Queen and adds several dashes of flamboyance to their stage attire and presentation. Despite naysaying record executives and journalists, and constant infighting between all four members of the band, Queen becomes one of the biggest rock acts in the world — until Freddie's hard-partying lifestyle threatens to derail their career.
These scenes of debauchery — including one where Freddie sexually harasses a waiter — could play very differently after the release of whatever story about Esquire is working on that prompted Singer to preemptively rebut its charges before it was ever published. For now, it's interesting to see how Bohemian Rhapsody treats Freddie and his lifestyle. Through most of the movie, his only serious relationship is with a woman — a clothing-store clerk named Mary (Lucy Boynton) who Freddie calls the love of his life. Even after he accepts his homosexuality, Freddie seems to carry a torch for Mary, while his interactions with men are mostly very chaste. His most significant relationship with a gay man, his manager Paul Prenter (Allen Leech), is strictly professional — and eventually Paul becomes Bohemian Rhapsody's villain, blamed for supplying Freddie with drugs and groupies, and then manipulating him into leaving Queen and signing a solo recording contract with CBS Records.
Although Malek looks the part, and has Freddie's dance moves down, his performance is all stiff British accent and overbite (Mercury was born with four extra teeth). Singer never gets beyond the superficial to tell us anything profound or meaningful about Queen or Freddie Mercury or the perils of rock stardom. As a filmmaker, he seems most at home directing Bohemian Rhapsody when Queen is on stage, and their epic rock performances — complete with CGI to complete the illusion of performing in front of massive crowds —bring them closer to the kind of superheroic material Singer's spent much of the last two decades making. Beyond that, nothing really matters to me.
-Bryan Singer is the only credited director, even though he was fired from the film with several weeks left in production and replaced by Dexter Fletcher. Whatever Singer did or didn't direct, there aren't any noticeable shifts in tone or style or pacing. Bohemian Rhapsody doesn't feel like a patchwork job.
-In his two scenes, Mike Myers has the same Scottish accent he used to play the dad in So I Married An Axe Murderer. If you can make it through his part without imagining him screaming "Freddie! Paper! Now!" you're a better person than I.
-One more Live Aid note: It's also maybe the most extreme example in cinema history of my least favorite biopic cliché: When a film ends with the hero, who was so often misunderstood in life, receiving a rousing standing ovation just before their death. Thanks to Live Aid's worldwide audience literally more than a billion people get to participate in the applause for Freddie Mercury. (Mercury didn't die until 1991, but the movie claims he already had AIDS at the time of Live Aid, and was sick in the days leading up to the concert.)
-Hey, speaking of ending a musical biopic with a rousing final performance and standing ovation: Do you think Bryan Singer has ever seen Walk Hard?