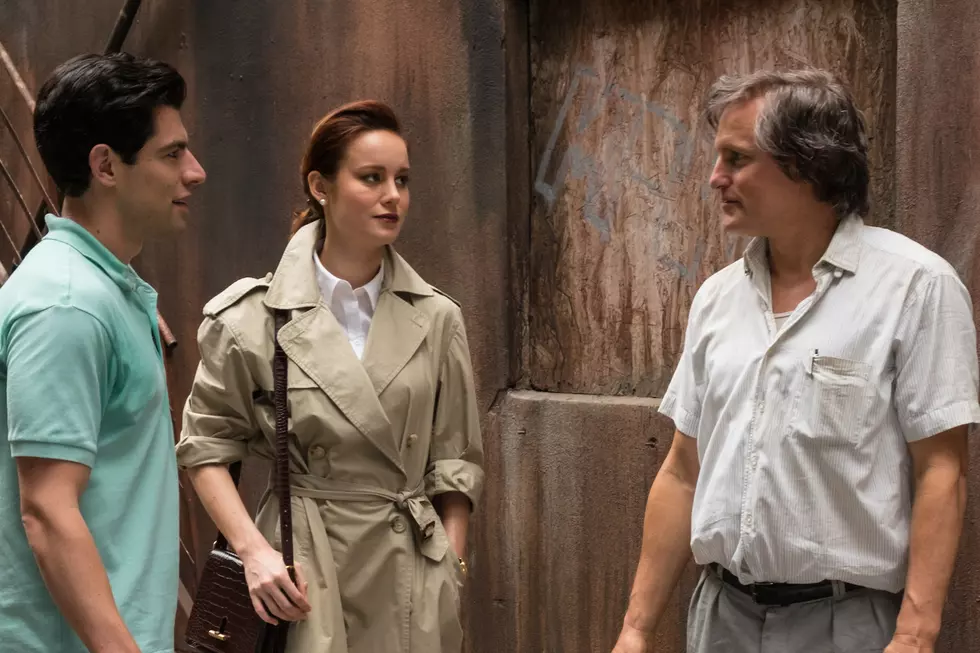 Brie Larson Knew Woody Harrelson Was Right for 'The Glass Castle' After They Got Trapped in a Thunderstorm
Lionsgate
In The Glass Castle, Woody Harrelson plays a man constantly living on the edge. His Rex Walls is an alcoholic father with good intentions and untraditional, even dangerous parenting methods. In the film, Destin Daniel Cretton's adaptation of Jeannette Walls' New York Times best-selling memoir of the same name, Brie Larson portrays the adult version of the author as she reflects on her tumultuous childhood and complicated relationship with her father, Rex. It was only after Larson was trapped by a thunderstorm with Harrelson in real life, unsure if she was entirely safe or not, that the Oscar winner knew Harrelson was the right fit for the role.
During a press luncheon in Manhattan earlier this week, Larson, Walls, and Naomi Watts, who portrays the author's mother, Rose Mary Walls, got together to chat about the film and bringing Walls' life story to the screen. Larson said that after she landed the role, which finds her reuniting with her Short Term 12 director, she needed to take some time for a personal break. "I had just signed on for the project and I was just about to do the Room awards season stuff," Larson said. "I felt really conflicted about everything. I felt like I needed this grounding and [Harrelson] kind of scooped me up."
Larson took a trip to Hawaii where she hung out with Harrelson, whom she's remained friends with since the two worked together on the 2011 drama Rampart. But when a thunderstorm hit, Larson and Harrelson were trapped in a remote house on the island:
I got to this place that's in the middle of nowhere in Hawaii and a thunderstorm came in and I was trapped there. We didn't have food, so we had to wander around through tall grasses to find the neighbor's house to pick through their garden. And I always felt like I was on the edge of "Am I safe? Or not?" [Laughs] Because [Harrelson] kind of likes to make people feel like they're on the edge of their comfort zone.
And that was the moment Larson realized Harrelson had to portray Rex, a character who often masks tragedies as adventures in The Glass Castle.
It was during that trip that Rex hadn't been cast yet and I just started freaking out like, 'This is him.' So I started saying to Destin, 'This is weird, this is Rex.' […] He has this way of being so many things. He's such a contradiction and so unafraid to be all of it, to be all of himself, and that's what I really love about [Walls'] story.
Larson went on to explain that those contradictions and unorthodox character traits are what drew her to the book and Cretton's adaptation. "What would happen if we're all just everything we are and threw out rules and ideas about what everyone thought we were supposed to be?" she said. "That doesn't mean we're the most traditionally great parents and supportive in the way everybody needs; you're just yourself."
The Glass Castle, co-written by Cretton and Andrew Lanham, also stars Max Greenfield as Jeannette's fiance David, and Ella Anderson and Chandler Head as the younger versions of Jeannette. The film hits theaters on August 11.