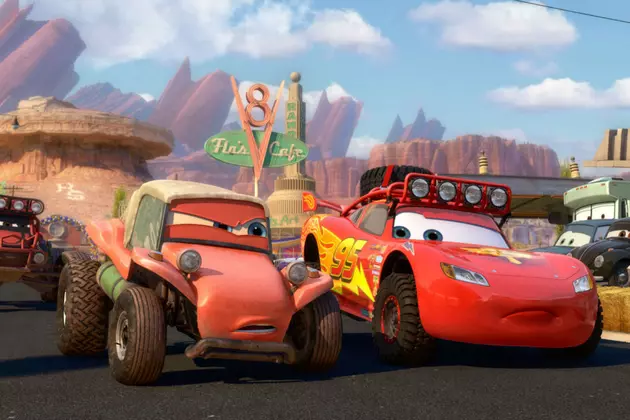 'Cars 3' Will Be an 'Emotional Story' With New Competition For Lightning McQueen
Pixar
Finding Dory hits theaters next week, but Pixar has already been hard at work planning another major sequel — and though it might not be one you're too thrilled about, it's definitely going to make plenty of fans happy. Cars 3 will hit theaters next summer, and we have some new plot details and a couple of pieces of concept art to get you all revved up for Pixar's next animated adventure.
As far as Pixar films go, the Cars movies aren't particularly the greatest but they've been fairly successful at the box office and even more successful when it comes to selling merch. And given the somewhat negative reception of the sequel, a third installment seemed inevitable. Pixar's John Lasseter tells Entertainment Weekly that Cars 3 will course-correct the franchise a bit, offering a more "emotional story" while paying tribute to the Doc Hudson character voiced by Paul Newman:
We've got some great new characters, some great racing in it. It's a very emotional story. It's a little bit more akin to Cars 1, where you get into a deep emotion with him. It's really a special story. It's very emotional and his relationship with Doc Hudson, and his memory of Doc Hudson.
Pixar has a proven formula, but the Cars movies don't typically adhere to the same emotional beats — maybe because audiences have a harder time empathizing with sentient automobiles, or maybe people really can't deal with Larry the Cable Guy (that'd be me). Either way, Cars 3 could probably benefit from some emotional fine-tuning.
As for those new characters, Cars 3 will introduce Cruz Ramirez, a young Hispanic female race car who helps renew the competitive spirit of Owen Wilson's Lightning McQueen. You can see her in the new concept art below, courtesy of USA Today:
In that same article, director Brian Fee offered a few more details about Cruz:
Cruz Ramirez is trying to figure out how this old dog can learn some new tricks. Think of where he'd be in his career now in real time. (McQueen) is not an old man, but he's one of the older cars on the circuit with new rookies coming in. People start to wonder and ask when he might retire.
Now that Lightning is getting a bit older, his competition is getting younger and way more intense. Fee describes one newcomer in particular:
Jackson Storm is the face of these rookies who have come onto the scene. And McQueen is in a position where his entire racing generation is being pushed out. But it's too early to be shown the door right now.
Cars 3 hits theaters on June 16, 2017.