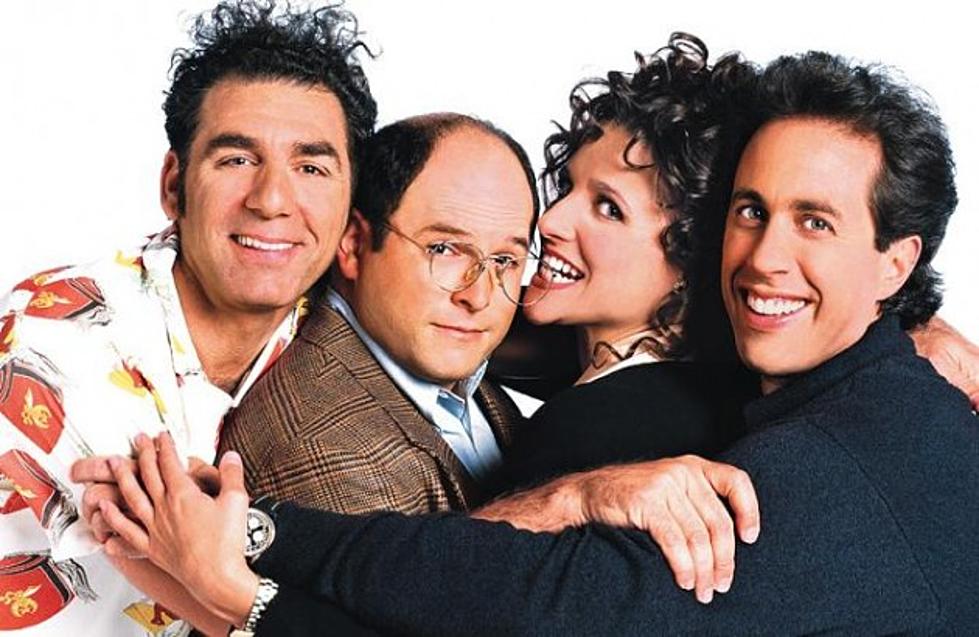 Does the 'Seinfeld' Curse Exist? We Look Back at the Post-'Seinfeld' Sitcoms
NBC
With Julia Louis-Dreyfus' new show 'Veep' premiering on HBO this Sunday, we thought it would be fun to take a look at the cast of 'Seinfeld' and some of the projects they've been involved in since the show ended in 1998. They haven't always been good (and some have been pretty bad) but it's always good to have them around.
Lucky for us, our favorite neurotic quartet just can't stay off our television screens.
Julia Louis-Dreyfus
Louis-Dreyfus is a legitimate veteran of TV these days, and her experience started long before 'Seinfeld,' as a member of the 'Saturday Night Live' cast from 1982 to 1985.
'Watching Ellie' - Following the success of 'Seinfeld,' she starred with Steve Carell in 'Watching Ellie' on NBC, a show created by her husband Brad Hall that ran from 2002 to 2003. Louis-Dreyfus played Ellie, a cabaret performer, and the show was most notable for its bizarre shift from season one to season two. In the first season 'Watching Ellie' was a single camera show that followed 22 minute segments of Ellie's life, in real time. But when the second season premiered, the show had been revamped as a traditional multi-camera sitcom with a live audience and a laugh track. After only six episodes in the second season the show was cancelled.
'The New Adventures of Old Christine' - Louis-Dreyfus couldn't stay away from TV for long -- starting in 2006 she played Christine in CBS' 'The New Adventures of Old Christine,' a sitcom about a single mother juggling her ex-husband, caring for her son, and the management of a women's gym. The show fared much better than 'Watching Ellie,' with solid ratings that helped make it last through 2010.
'Veep' - On her new show, 'Veep,' Louis-Dreyfus plays fictional Vice President Selina Meyer alongside Anna Chlumsky (of 'My Girl' fame), who plays the Chief of Staff, and Tony Hale, who plays her bodyguard. The show is created by acclaimed writer and director Armando Iannucci ('In the Loop').
Jerry Seinfeld
Jerry Seinfeld took his sweet time returning to television, and he always seems to only pop up playing himself. It wasn't until a 2007 guest spot on NBC's '30 Rock' that our favorite stand-up comedian made his small screen return. Seinfeld played a heightened, jerkier version of himself who took a break from his vacation on a super secret island for wealthy people (so secret not even the typically elite Jack Donaghy knew its name) to scold Jack for using his likeness to promote various TV shows.
Two years later Seinfeld participated in a long-awaited reunion with his 'Seinfeld' cast mates on the seventh season finale of Larry David's 'Curb Your Enthusiasm,' followed by a guest stint as -- again -- himself on the short-lived Starz series 'Head Case.'
'The Marriage Ref' - In 2010, Seinfeld executive produced and occasionally participated on NBC's atrocious  'The Marriage Ref,' a panel show where comedians and celebrities watch clips of argumentative couples and give them humorous (?) advice. If you need any example of why this show was awful: Madonna was asked to be a panelist. Madonna -- career divorcee -- was asked to give advice to married couples.
Jason Alexander
Perhaps the busiest cast member of them all, Jason Alexander lent his vocal talents to two animated series while 'Seinfeld' was on the air: as the titular character in 'Duckman,' which ran from 1994 to 1997, and the short-lived 'Dilbert' series, in which he played the evil Catbert.
'Bob Patterson' - Following 'Seinfeld' Alexander starred as the lead on the ABC sitcom 'Bob Patterson,' a show which he also co-wrote. In it, Alexander played a selfish, narcissistic, but also wildly insecure self-help guru dealing with conflicts between his job and family. The show only lasted five episodes.
'Listen Up' - Alexander tried again in 2004 with the sitcom 'Listen Up!', a series loosely based on the life of Washington, DC sports writer and ESPN analyst Tony Kornheiser. Though the series performed decently in the ratings, critics weren't fond of the show, calling it a cheap ripoff of 'Everybody Loves Raymond' with a less-appealing lead. The series lasted only one season.
Alexander also had a slew of guest roles on shows like 'Star Trek: Voyager,' where he played a brilliant alien, and a 2002 episode of 'The Twilight Zone,' where he played Death. But perhaps his best supporting role was on an episode of 'Friends' titled "The One Where Rosita Dies," in which he played a suicidal office supplies manager who goes largely ignored by his co-workers until Phoebe, who's taken a job as a telemarketer selling office supplies, calls him and convinces him that his life is worth living.
Michael Richards
Richards was the cast-member with perhaps the most training as an actor and had won more Emmys for his work on 'Seinfeld' than anyone else in the cast. So it's not surprising Richards was the first one after 'Seinfeld' ended its run to announce a new series.

'The Michael Richards Show' - Banking on the success of 'Seinfeld,' Michael Richards returned to TV in 2000 with 'The Michael Richards Show,' in which he played a goofy detective character. The show was a comedy with mystery elements, but it tested poorly so it was re-purposed as a traditional office-based sitcom. The show lasted a mere few weeks before meeting its demise.
It took nine years for Richards to return to television, and when he finally did it was as himself for the 'Seinfeld' reunion on 'Curb Your Enthusiasm.'
Bryan Cranston
The most successful of all the 'Seinfeld' supporting players is undoubtedly Bryan Cranston. Cranston played dentist Tim Whatley, whom Jerry suspected of engaging in sex acts with his assistant while Jerry was unconscious. Whatley also hilariously converted to Judaism, deciding that he was allowed to tell Jewish jokes and Catholic jokes since he'd played on both teams.
'Malcolm in the Middle' - Cranston went on to star as Hal, the clueless, doting, and excitable father on the series 'Malcolm in the Middle' from 2000 to 2006. Throughout the series' popular run, Cranston was nominated for three Emmys for Outstanding Lead Actor in a Comedy Series (though lost all three times).
'Breaking Bad' - Most recently Cranston has gained acclaim for his award-winning role as Walter White, cancer-stricken husband and father who begins manufacturing meth to provide for his family on AMC's 'Breaking Bad.' Cranston won the Emmy for Outstanding Lead Actor in a Drama Series for three consecutive years.
Jerry Stiller
Though Stiller had plans on retiring after 'Seinfeld' ended its run, he wound up spending another nine seasons on a popular sitcom.
'The King of Queens' - Star Kevin James personally pitched Jerry Stiller to return to TV and join his sitcom saying he knew it couldn't succeed without him. Stiller played a character rather similar to that of Frank Costanza, but the show was highly successful leading Stiller to a star on the Walk of Fame in 2007.
Patrick Warburton
Warburton, who starred as Elaine's on again, off again mechanic boyfriend David Puddy, has lent his vocal talent to various animated shows -- most notably as Joe Swanson on 'Family Guy,' the titular superhero on 'The Tick,' and Brock Samson on the hilarious Adult Swim show 'The Venture Bros.'
'Less Than Perfect' - This workplace comedy was struggling halfway through its second season when producers brought in Warburton as the dopey new anchorman at their TV station. The addition didn't help and the show was canceled after its fourth season.
'Rules of Engagement' - In 2007, Adam Sandler began developing a sitcom for CBS, later casting friend David Spade and Warburton in the lead roles. Though it started as a mid-season replacement (somewhat ironically for 'The New Adventures of Old Christine'), the series performed solidly and has surprisingly just been picked up for its sixth season.