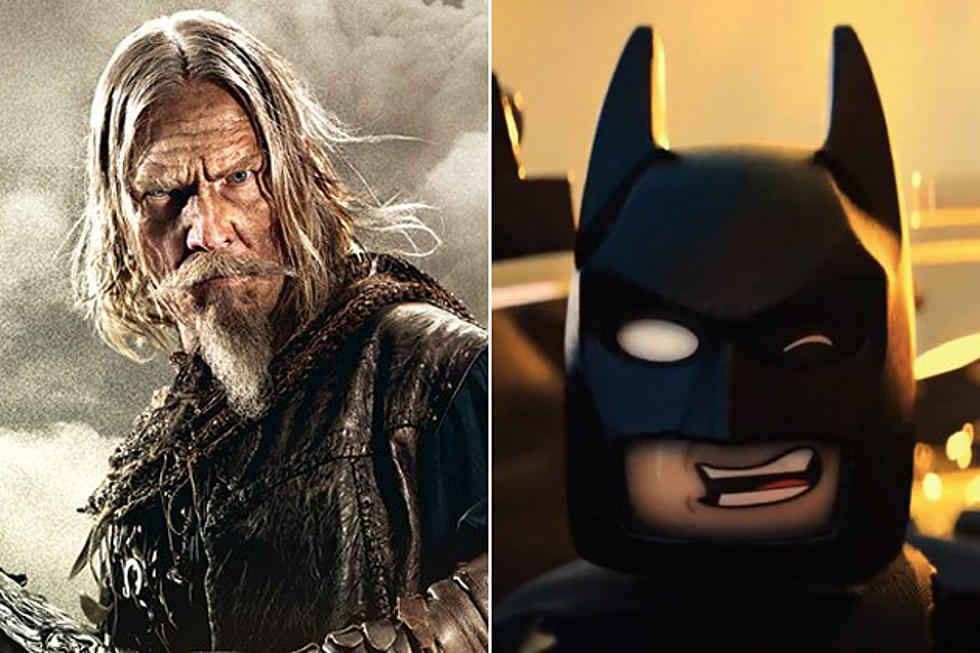 Comic-Con 2013: 'Seventh Son' and 'The LEGO Movie' Panels
Warner Bros.
Legendary Pictures brought an impressive amount of titles from their upcoming slate to Comic-Con 2013. In addition to the much-hyped 'Godzilla' reboot and the George Clooney- and 'Gravity,' 'Seventh Son' and 'The LEGO Movie' got their time to shine in the buzzing Hall H on Saturday, Jul. 20.
Adapted from Joseph Delaney's young-adult novel, 'The Spook's Apprentice,' 'Seventh Son' tells of the young Tom (Ben Barnes), a seventh son of a seventh son, destined to become a "Spook," fighter of darkness, and defeat an evil witch (Julianne Moore). But first, he must apprentice with the local Spook (Jeff Bridges).
'Seventh Son' hits theaters January 17, 2014.
"When Warner Bros. goes big they like to go big!" Following a video introduction of the WB and Legendary logos, complete with Dark Knight-worthy music, the crowd went wild for host Chris Hardwick.
Jeff Bridges came out on the stage representing team 'Seventh Son.' "It's chock full of myth and magic," he said before unveiling an exclusive trailer, featuring extended clips from a bogart (basically a giant troll) attack.
Director Sergei Bodrov and stars Antje Traue, Ben Barnes and Kit Harington joined the stage next to reveal more of the plot.
Jeff plays a witch hunter, who's facing a powerful witch and ex-lover in Julianne Moore's villainous character.
Traue, who starred in 'Man of Steel,' refers to this new film as completely opposite than her experience on the Superman movie, in which she played Faora of the Krypton army.
According to Barnes, Tom Ward is a young pig farmer in the middle of nowhere, who knows he's meant for something greater. Master Gregory turns up one day at his house and Ward is sold to him for a small pack of gold. He's essentially treated like a servant, though a bond forms between them over time, especially when he's trained to become a Spook, fighter of darkness.
"I hadn't heard of [Jeff Bridges] before," he said, though he did recognized him from movies. "The man is my idol, but even moreso now."
Harington plays Jeff's long-term, long-suffering apprentice, whom we meet at the start of the film. He's grown good at what he does, but perhaps not good enough. SPOILER: The trailer essentially depicts his death pretty early on in the movie.
"I've definitely suffered as far as locations are concerned. I was under a rain tower for a couple of days [for 'Seventh Son']," he said.
The trick is marrying CGI with actually practical, amazing things, said Bridges. Bodrov followed up by saying how ambitious this project was. "There's a lot of physical stuff." According to him, when you have a really good actor, it's most important to get emotions from them and forget about CGI.
Traue, who once again reminds us all how she played Faora in 'Man of Steel,' loved the idea of playing around with two swords, but also the drama of battling in a "feathery" dress.
"I had some experience with sword fighting," said Barnes, but for 'Seventh Son,' he had to add in knife-throwing, knowledge of alchemy and this new mythological world. "The action stuff is what's fun about this," he said. "The hardest part is keeping track of where you are in the story."
"I had to do a wire pull, which I've never done before," said Harington, which essentially means he's strapped with wire and not-so-softly "tugged" from behind. "The hardest things to do were the best things to do."
"The big challenge for me was telling the story," said Bridges, who ran across a quote to keep him on track, the essence of which involved "who's willing to pull out your own heart."
The 3D computer-animated adventure tells the story of Emmet, an ordinary, rules-following, perfectly average LEGO minifigure who is mistakenly identified as the most extraordinary person and the key to saving the world. He is drafted into a fellowship of strangers on an epic quest to stop an evil tyrant, a journey for which Emmet is hopelessly and hilariously underprepared.
The film stars Chris Pratt, Will Ferrell, Elizabeth Banks, Will Arnett, Nick Offerman, Alison Brie, Charlie Day, with Liam Neeson and Morgan Freeman, and is scheduled for debut on February 7, 2014.
Though one of the lesser-hyped offerings from the Warner Bros. docket, 'The LEGO Movie' brought out its producers and writers to debut some new footage and reveal new details.
The footage debuted took the form of a mock audition for each of the LEGO figures, including LEGO Batman himself. As the panelists each stated, this is more of a children's film and a film for fans of LEGO.
Although most of the LEGO TV series and animated films are fully CG-ed, 'The LEGO Movie' is half and half. "We don't want people to know which is which," said Phil Lord.
'The LEGO Movie' includes an all-star cast, including Will Arnett, Morgan Freeman and Chris Pratt, but there are a few secret cameos that fans can look forward to.
Announced during the panel were appearances by Channing Tatum as LEGO Superman, Jonah Hill as Green Lantern, and Cobie Smulders of 'The Avengers' fame will be the first film incarnation of Wonder Woman … in LEGO form.
"There's nothing in this that's not LEGO," said Chris Miller. "The explosions are all LEGO, the water is LEGO," which was made clear by the LEGO-based laser beams shooting past Batman's jet in the previously released trailer and the Comic-Con-exclusive footage that debuted.
The film team partnered with both Warner Bros. and the LEGO company to the point where 'The LEGO Movie' was produced in various locations, including Denmark at LEGO headquarters.
"With 'Cloudy with a Chance of Meatballs' and '21 Jump Street,' people were kind of skeptical," said Phil, and people in turn are skeptical about 'The LEGO Movie.' Though admittedly, "this is the weirdest kids film that's been committed to celluloid."