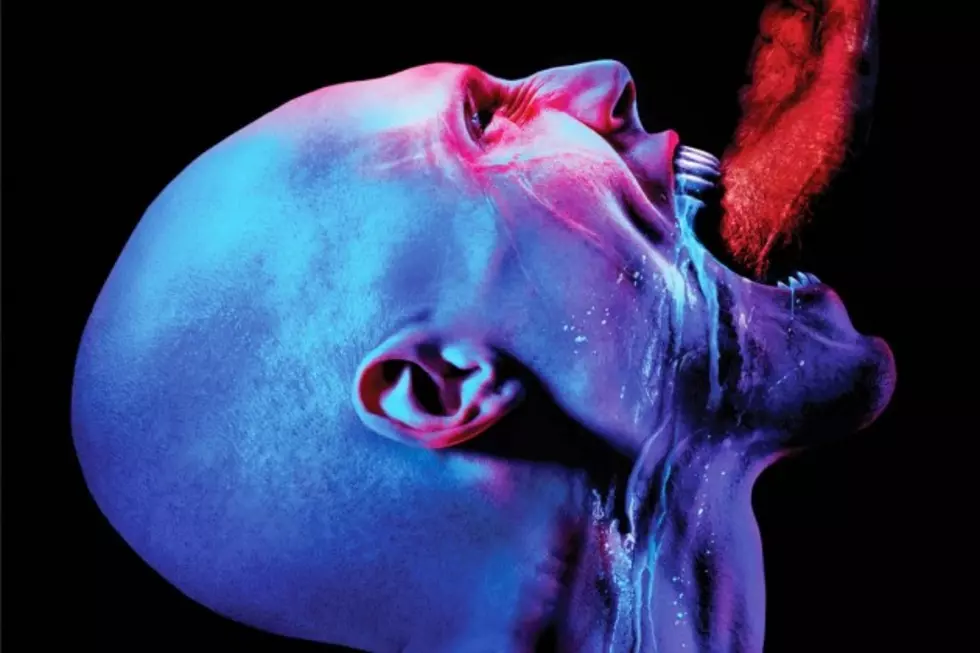 Comic-Con 2015: 'The Strain' S2 Teases Book Changes, Guillermo del Toro-Directed Sequence
FX
FX vampire thriller The Strain will return for Season 2 in only a few hours, but the Guillermo del Toro-adapted series couldn't wait to vomit forth a few wormy details from Comic-Con 2015. In addition to a number of bonus shorts debuted on the panel, del Toro revealed that he himself had directed an important character introduction, and we were on hand at the panel for a full report.
The combined talents of executive producer Carlton Cuse, del Toro, Mike Hogan, Corey Stoll, David Bradley, Mia Maestro, Natalie Brown, Jonathan Hyde, Kevin Durand, Ruta Gedmintas, Miguel Gomez and Richard Sammel graced the stage in advance of The Strain's Season 2 premiere. Here's what they had to say:
Season 2 will consist of approximately 80% new material, deviating from del Toro and Chuck Hogan's original work. Del Toro learned from Carlton Cuse that TV shows are living, breathing entities in need of evolution, also noting that he and Mike Hogan often rewrote each other's work as part of the creative process. Hellboy too, offered some learning experience, as creator Mike Mignola was generous with del Toro about allowing adaptation of his work.
As many will see with the premiere tonight, we were treated to a prologue that Cuse and del Toro had originally envisioned as the start of Season 1. In it, a young Abraham Setrakian in 1932 Romania hears a fable pertaining to the Master's gigantic body, originally that of a Polish noble named Jusef Sardu. Jusef, afflicted with gigantism but generous with the children of his village, was taken on a hunt by his more sinister brother, in hopes of obtaining wolf's blood to cure the disease. A mysterious creature stalked the group and killed all but Jusef, who followed the creature to a cave in hopes of killing it with his cane/sword. Instead, the creature attacked, vomiting his entire essence of worms into Jusef, and claiming his body.
Speaking to Eph's drinking in Season 2, Corey Stoll hoped to distinguish the character's alcholoism from that of House of Cards character Peter Russo, in that Eph is much more functional and wise-cracking under the influence.
The panel took a break to thank some of the crew working on the set, curiously utilizing a short video that featured the cast acting out different members of the crew, including David Bradley as a burnt-out PA, and del Toro himself as a foul-mouthed standards executive. Shouldn't we have met the actual crew, guys? Seems a bit of a mixed message.
Eldritch Palmer will show a bit of a softer side in Season 2, likely even a little romance. Speaking of romance, Vasily Fet and Dutch will certainly be growing closer this season as well, as Gedmintas joked "we're both really tall, rebellious and dark."
Gus, having been isolated from most of the other characters last season, will have more crossover in his role as a vampire hunter.
Both del Toro and Richard Sammel teased the idea of The Master growing apart from Eichorst this year, forcing the undead Nazi lieutenant to strike out on his own. To wit, they even cued up another "spinoff" video, in which an unemployed Eichorst anchored a mockumentary of renting out his blood dungeon, and all the wacky cleanup it entails. It involves a drawing of a penis with a cat's face. That's all we'll say.
Answering a fan question, del Toro confirmed that David Goyer adapted some of his original Strigoi designs for their work on Blade II, having earlier envisioned the "Reapers" as shapeshifters with tentacles, even wings.
In addition the origins of The Master's body, the season will incorporate several other flashbacks, some dating back even farther.
The fourth episode of the season will feature Guillermo del Toro directing a black and white Mexican wrestler sequence, introducing the history of Angel Guzman Hurtado, better known as the Angel de la Plata, or Silver Angel, as played by Joaquín Cosío. According to del Toro, it was his favorite day on set thus far.
So reads the official Season 2 synopsis:
As the second season unfolds, the transformation has begun. It can no longer be denied — New York City is rapidly falling to an evil epidemic, and no one is coming to its rescue. Its citizens must fight or die. Dr. Ephraim Goodweather (Corey Stoll) and his unlikely allies tried to take down the embodiment of this evil — the Master — and failed.

Now Eph and Dr. Nora Martinez (Mia Maestro) concentrate on creating a biological weapon to wipe out the creatures, while Abraham Setrakian (David Bradley) searches for an ancient book he hopes will reveal the strigoi's entire history…and possibly a way to kill them.

Meanwhile, the Master is out for revenge, unleashing new and even more terrifying breeds of bloodthirsty creatures after our team. Our team must find a way to defeat him before the infection spreads too far and becomes irreparable … before they become monsters themselves.
The Strain will return next Sunday to follow up tonight's season premiere, but which disgusting detail has you the most excited for Season 2?