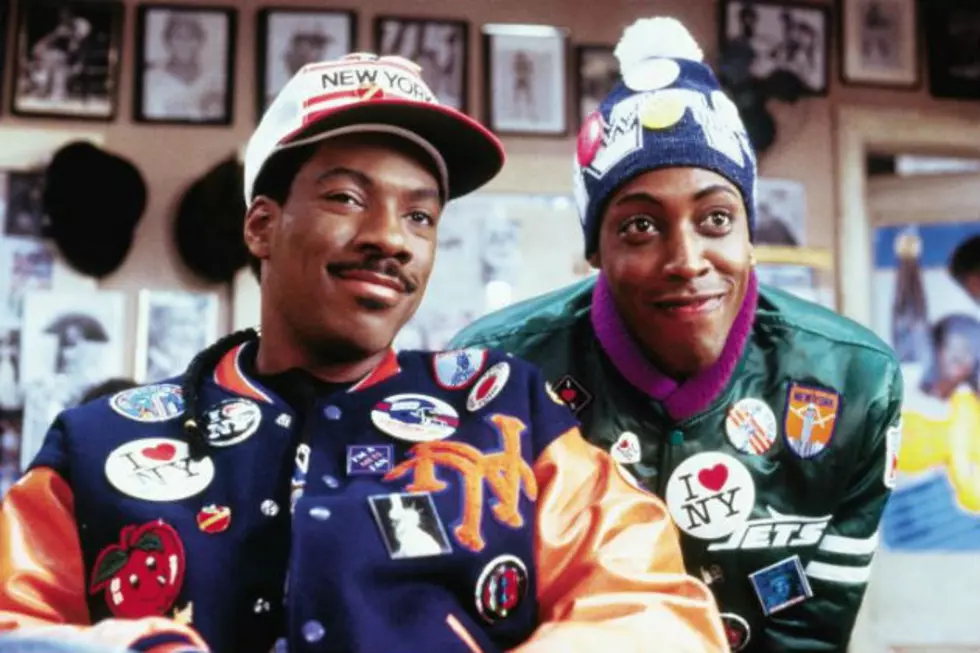 See the Cast of 'Coming to America' Then and Now
Paramount
Released way back in 1988, John Landis' 'Coming to America' became an instant comedy classic. Starring Eddie Murphy and Arsenio Hall in two of their most iconic roles, the movie follows an African prince who disowns his royalty in search of a down-to-earth American wife to avoid the marriage his parents have arranged. Now, 25 years later, we take a look back at the cast and see what they're up to these days.
Eddie Murphy, Prince Akeem
Then: The stand-up 'SNL' star and blockbuster comedy actor played Prince Akeem, but he also played the parts of several other supporting characters in the film, marking the first time Eddie Murphy played more than one role in a movie -- something that would become a trademark in his films.
Now: Though Murphy vowed never to work with director John Landis again, he personally asked Landis to direct 'Beverly Hills Cop 3.' The actor recently starred in 'Tower Heist' and 'A Thousand Words' and is planning a third 'Nutty Professor' movie.
Arsenio Hall, Semmi
Then: Arsenio Hall only had one film role (a bit part in 'Amazon Women on the Moon') before joining the cast of 'Coming to America' as Semmi, Prince Akeem's friend and advisor.
Now: Hall went on to host a notorious late-night talk show and has appeared in several movies, including 'Black Dynamite.' He makes the rounds on the talk-show circuit, and has recently appeared on 'Piers Morgan Tonight' and 'The Wendy Williams Show.' This fall, he'll return to the world of late-night with a new talk show on CBS.
James Earl Jones, King Jaffe Joffer
Then: With his great, booming voice, James Earl Jones was known best for lending his vocal talents to the 'Star Wars' films as Darth Vader. In 'Coming to America,' he played King Jaffe Joffer, Akeen's disapproving father.
Now: James Earl Jones has had memorable roles in 'Field of Dreams,' 'The Sandlot' and 'The Lion King.' He took a break from acting in 2008, but returned in 2012 in the film 'Gimme Shelter.'
John Amos, Cleo McDowell
Then: In 'Coming to America,' John Amos' fast-food chain owner, Cleo McDowell, refers to Akeem as "Kunta Kinte," a reference to the miniseries 'Roots.' (Amos actually played the role of Kunta Kinte in that series.)
Now: You probably recognize Amos from any number of TV roles, including a recurring spot on 'The West Wing,' and guest appearances on 'Psych' and 'Lie to Me.'
Shari Headley, Lisa McDowell
Then: The former 'Cosby Show' actress portrayed Lisa, the headstrong object of Akeem's affections.
Now: Shari Headley went on to star in daytime soaps 'All My Children' and 'Guiding Light,' and she has appeared in films like 'Johnson Family Vacation' and 'Towelhead.' Headley used to be married to Christopher "Play" Martin from the hip-hop duo Kid 'n Play, and the pair have a son together.
Eriq LaSalle, Darryl Jenks
Then: Eriq LaSalle made a handful of guest appearances on shows like 'One Life to Live' and 'Another World' before starring as Darryl, Lisa's jerky boyfriend in 'Coming to America.'
Now: LaSalle went on to have a recurring role on the network drama 'ER,' and recently starred in a few episodes of the series 'Blackout.' The actor also directs, and has helmed episodes of 'The Ringer' and 'Law and Order: Special Victims Unit.'
Frankie Faison, Landlord
Then: Prior to starring in 'Coming to America' as Akeem's scheming landlord, Frankie Faison had starred in 'Manhunter' and 'Maximum Overdrive.'
Now: You probably know Faison best for playing Police Commissioner Ervin Burrell in the HBO series 'The Wire.' Faison currently portrays Sugar Bates, a prizefighter-turned-barkeep in the Cinemax series 'Banshee.'
Samuel L. Jackson, Hold-Up Man
Then: Samuel L. Jackson was a relatively unknown actor being mentored by the legendary Morgan Freeman when he landed the small but memorable role of the robber in 'Coming to America.'
Now: Samuel L. Jackson is everywhere these days, most notably as Nick Fury in Marvel movies like 'The Avengers' and 'Iron Man 2.' He also gave one hell of a performance in Quentin Tarantino's 'Django Unchained,' marking his third collaboration with the director. Up next, you can see him in the 'RoboCop' remake.
Cuba Gooding Jr., Boy Getting Haircut
Then: Cuba Gooding Jr. made his big-screen debut with a bit part as a boy in the barber shop in 'Coming to America.'
Now: The actor went on to make a name for himself, earning an Academy Award just six years later for his role in 'Jerry Maguire.' Gooding Jr. is in three films this year alone: 'Machete Kills,' 'The Butler' and he has a cameo in Joseph Gordon-Levitt's directorial debut, 'Don Jon.'