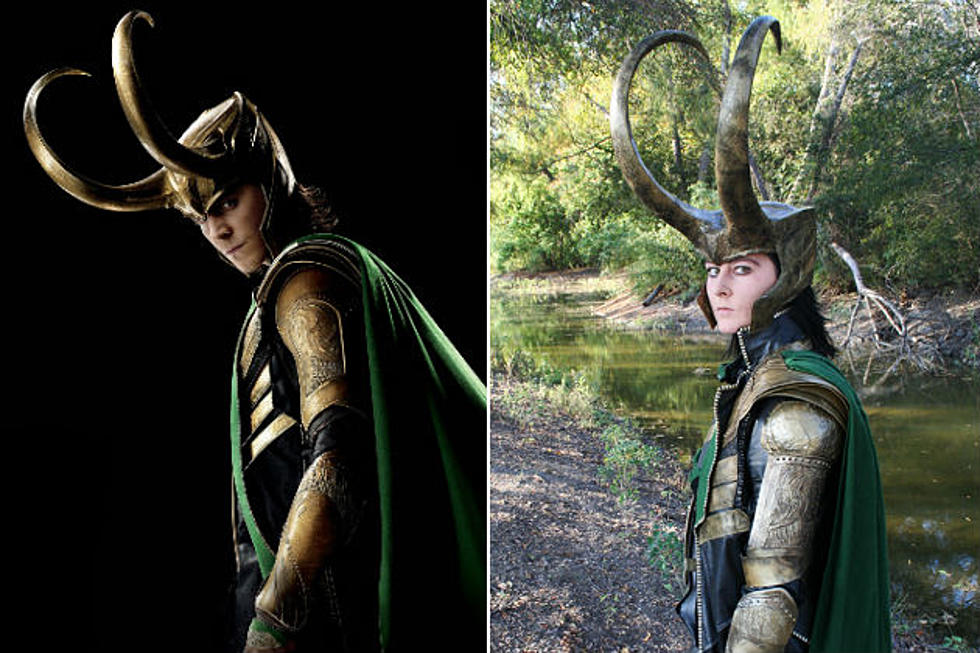 Cosplay of the Day: 'Avengers' Lady Loki
Marvel Studios/Lane Devlin
Who knew Loki from 'The Avengers' could be such a lovely lady? This cosplayer and ScreenCrush reader sent in her Loki cosplay and we think it's totally worthy of the Cosplay of the Day.
Meet ScreenCrush reader Lane Devlin, who sent in one of our first reader submissions for Cosplay of the Day! Lane lives in Austin, Texas and put together this kick-ass Loki cosplay based on Tom Hiddleson's costume from 'The Avengers.' You guys have heard of 'The Avengers,' right? It was only like, the biggest superhero movie this year. (Fans of 'The Dark Knight Rises,' feel free to start in on us!)
Lane sent us a lovely e-mail along with her photos, and in it she explained all the effort she put in to making this costume:
I put this all together myself, and it took me four months solid with day in and day out work to complete it! I'd never sculpted or used silicone and resin so it was all very much a learning experience! I had a blast with it though, and I'm pretty satisfied with the final product. It just goes to show that you can teach yourself how to do pretty much anything these days using the internet as a tool.
See, guys? If you're thinking that cosplay might be too hard, just look to Lane for inspiration. With only the internet to help and no experience with the materials she needed to make her costume, she was able to put together a pretty amazing outfit.
Check out more photos of Lane below, including a look at her helmet in progress:
A here's a photo of Lane out of costume for comparison.
Do you have cosplay photos you would like to submit for consideration? E-mail to staff [at] screencrush.com!