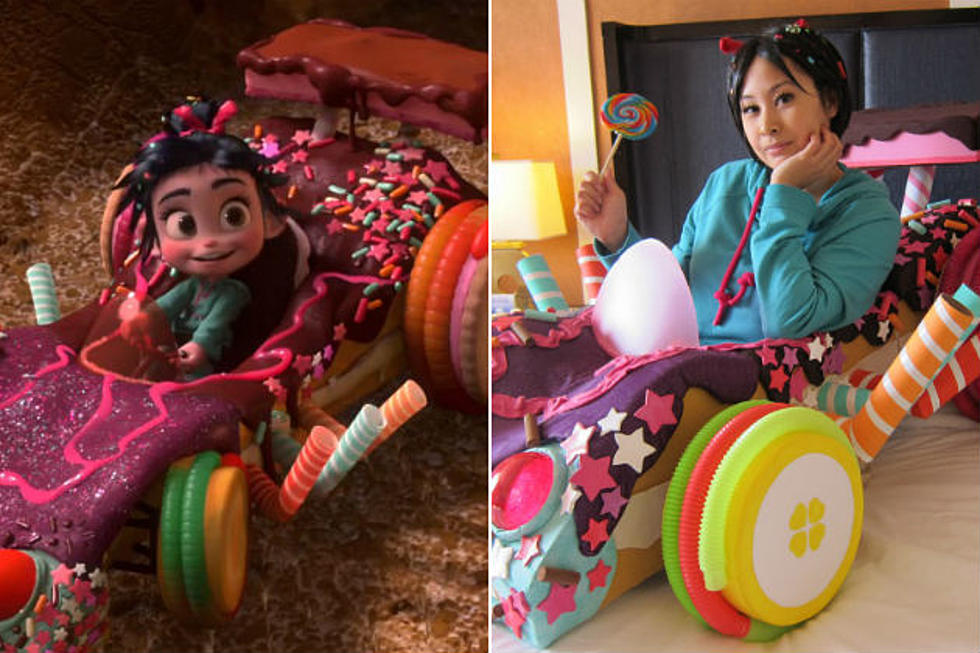 Cosplay of the Day: Vanellope Von Schweetz Has a Pretty Sweet Ride
Disney/IkariyaManga
We've featured cosplay of 'Wreck-It Ralph's' Vanellope Von Schweets before, but nothing beats this take on the character, which includes a pretty rad candy-coated ride.
Laura C. and Ikariya made this incredible go-kart based on Vanellope Von Schweetz's car in 'Wreck-It Ralph.' In the film, Ralph and Vanellope work together to create a sloppy, sticky-sweet car so Vanellope can fulfill her dreams of racing in the Sugar Rush game.
Vanellope cosplay is relatively simple -- a turquoise sweater, a ponytail with candy stuck to your hair, a skirt and striped tights, and a lollipop. But her race car? Not that easy. Laura and Ikariya put together this cart, which includes, by their count, 95 stars, 40-50 hair pieces, 40 feet of piping, 30-40 sprinkles, 35 different kinds and colors of paint, eight exhaust/spoiler pipes, three weeks to build the whole thing, and four ounces of fabric paint for the striped leggings Vanellope wears. Laura recommends you sew the leggings instead of painting them, though.
The pair built suspenders into the cart so Laura could wear it while she walked around, and the whole thing is completely collapsible for ease of transport. These two thought of everything. But where is Ralph?!
Check out some pics of Laura in her Vanellope Von Schweetz cosplay below!
Do you have cosplay photos you would like to submit for consideration? E-mail to staff [at] screencrush.com!